Dozens Dead In Attacks On Checkpoints In Egypt's Sinai
Militants affiliated to ISIS launched a wave of simultaneous attacks on military positions in the restive peninsula on Wednesday morning.
Dozens of people have been killed in Egypt's northern Sinai region after militants affiliated to ISIS launched simultaneous attacks on military checkpoints in the peninsula, medical and military sources have said.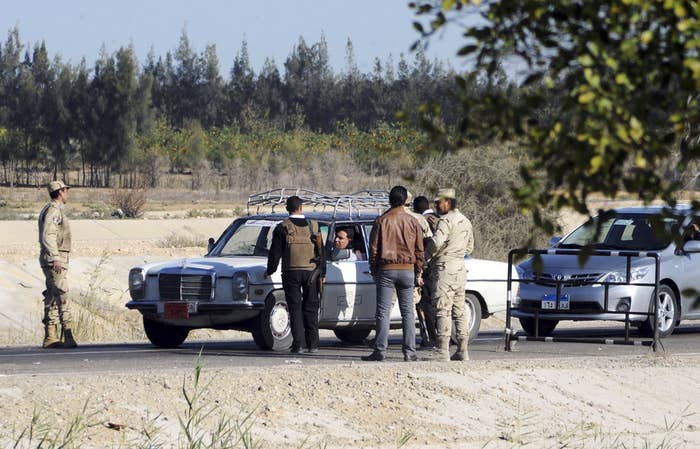 The number, identities and breakdown of those killed have not yet been officially confirmed, and the attack is ongoing. Officials speaking on the condition of anonymity to AP said 50 soldiers had died. Earlier, Osama el-Sayad, a doctor at El-Arish General Hospital in the provincial capital, told Reuters that 30 bodies had been brought in, "some of whom were wearing army fatigues."
Egypt has deployed fighter jets to the region — which sits between Israel, Gaza and the Suez Canal — in a bid to quash the attack.
Sinai Province — ISIS's Egyptian affiliate — claimed responsibility for the attack in a post on Twitter, Reuters said.
A Facebook post reportedly also by the group said fighters targeted 15 army and police positions, and carried out three suicide bombings, two of them targeting checkpoints and another hitting an officers' club in el-Arish, AP reported. The majority of the attacks took place in the town of Sheikh Zuweid.
However, Egyptian military spokesman Gen. Brigadier Mohammed Samir said that five positions had been attacked by 70 militants, and 22 had been killed by the Egyptian military in a post on his official Facebook page. He put the soldiers' death count at 10.
The attacks on the insurgency-hit region comes after Egyptian President Abdel-Fattah el-Sisi vowed to step up the country's battle against ISIS yesterday, AP said.
On Monday, Egypt's top public prosecutor Hishem Barakat was killed by a car bomb in Cairo.