Austrian authorities said Friday that the number of bodies found in the back of a truck abandoned by a roadside near the town of Parndorf, close to the Hungarian border, Thursday stands at 71.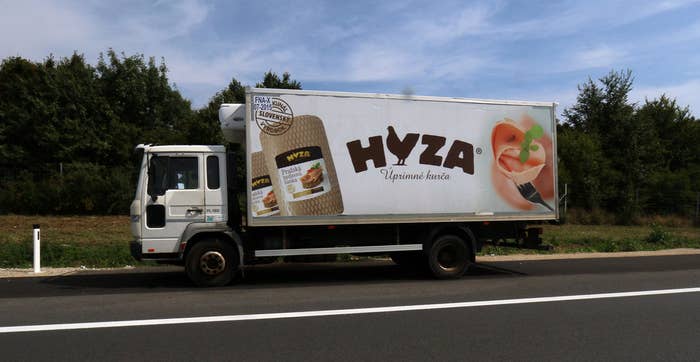 Speaking at a news conference in Eisenstadt Friday, Hans Peter Doskozil, the chief of Burgenland police, said the total number of bodies found was 71, including 58 men, 8 women, 4 children, and one infant, Al Jazeera reported.
Doskozil added: "One of the children is a one to two-year-old girl and one child is an eight to nine-year-old boy," according to ITV.
He added that three people were arrested in Hungary Friday morning, including a Bulgarian man who is believed to be the owner of the truck.
The people found in the truck appeared to be refugees from Syria who most likely died from suffocation, the BBC reported. Doskozil confirmed a "Syrian travel document" had been found among the bodies, ITV said.
On Thursday, Doskozil said the heavily decomposed state of the bodies — believed to be those of refugees — made ascertaining the identity and number of dead difficult, and initially estimated it could be between 20 and 50 people.
Doskozil said the truck had Hungarian license plates, according to the Associated Press. It was abandoned Wednesday at that latest, and its doors were left open, exposing the bodies to police, he added. Temperatures in the area have been as high as 90 degrees fahrenheit (32 celsius) recently.
The truck is said to have been reported to police when staff at a nearby service station were suspicious after the vehicle remained stationary for over a day, Sky News reported.
The 7.5-ton vehicle was sold to a Romanian citizen in Kecskemét, Hungary in 2013 or 2014, but used to belong to a Slovakian poultry firm, according to NBC News.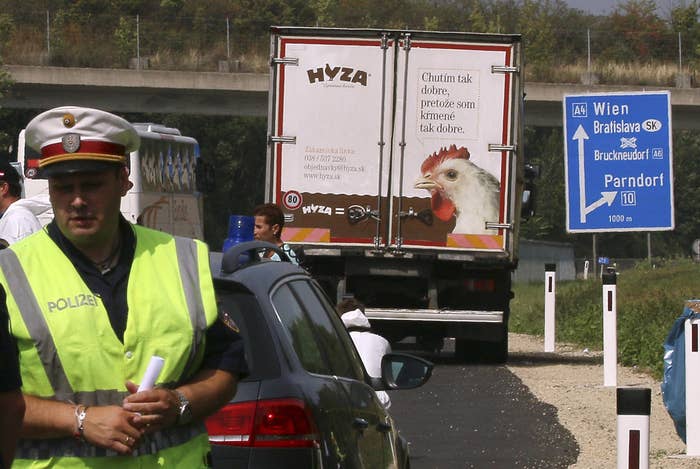 Austrian Interior Minister Johanna Mikl Leitner condemned the role of human traffickers, and said the discovery marked a "dark day" for Austria, according to the BBC.
Lindsey Hilsum of Channel 4 News described a "terrible smell of death" as her news team drove past the truck.
The discovery of the truck came as leaders convened in the Austrian capital Vienna for a summit on the migration crisis in the western Balkans.
Over 100,000 people have crossed into the European Union's borders in the last month alone, as they attempt to flee conflict-hit states such as Syria and Afghanistan, the EU said.
Speaking at a news conference in Vienna Thursday, German Chancellor Angela Merkel said: "We are of course all shaken by the appalling news."
"This reminds us that we must tackle quickly the issue of immigration and in a European spirit — that means in a spirit of solidarity — and to find solutions," she added, according to Reuters.