Some family members of victims of the 2012 Aurora movie theater massacre have tweeted their support for the victims of Thursday night's shooting in Lafayette.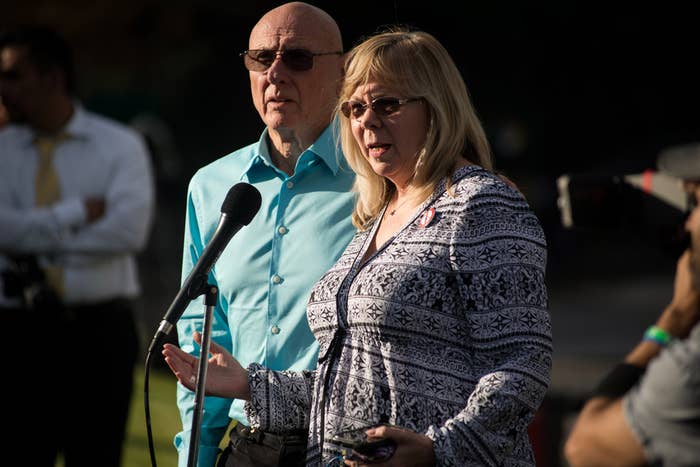 James Holmes was found guilty on Thursday of fatally shooting 12 people at a screening of a Batman film in the Colorado city.
A little over one week later, officials said 59-year-old John Russell Houser opened fire on a packed movie theater in Lafayette, Louisiana, killing two young women, before turning the gun on himself.
With the verdict in the Holmes trial still fresh in their minds, the families of the Aurora victims have been tweeting their thoughts as America comes to terms with another fatal movie theater shooting.
Sandy Phillips, mother of Aurora victim Jessica Ghawi addressed the Lafayette shooting on her Twitter account Thursday evening.
Phillips, who has become a vocal advocate for gun control, said the news from Louisiana had proved traumatic.
Jessica's brother Jordan also tweeted his support:
Caren Teves — whose son Alex died in Aurora — offered her prayers:
Meanwhile, Anita Busch — cousin of Greg and Micayla Medek — called for a national summit on gun violence in a public Facebook post.
And Tom Teves, the father of Alex, released this statement:
Once again, another community is reeling from a senseless act of gun violence and our hearts go out to them, the victims and those whose lives will be forever changed by the tragedy in Lafayette. I know all too well what they are experiencing right now -- exactly what my wife and I felt three years ago when a gunman opened fire in the Aurora movie theater and killed our son Alex along with eleven others and wounded 70 more physically and hundreds mentally. Something is very wrong in our society when Americans can't feel safe in a movie theater, or where they worship, or in a shopping mall. Enough is enough. It's time for our elected leaders to stand up, take action and stop allowing the gun lobby to put profits ahead of lives. It's time for meaningful solutions so that Not One More life is taken by gun violence. Failure to act makes our politicians culpable for this carnage.