Five Men Charged In The Garissa University Shootings
The suspects were named in court on June 4 and will be detained until June 11 when the court will decide their bail terms.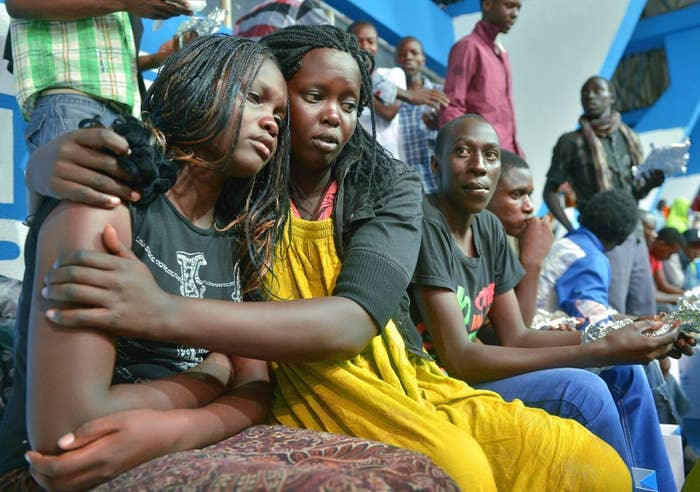 What We Know So Far
The death toll in the attack totaled 148 people.
Another 79 people were injured in the days following the massacre, according to Kenya National Disaster Operation Center.
Five men have been arrested and charged with "terrorism-related offenses."
Militant group al-Shabaab has claimed responsibility for the attack.
Shabaab said it targeted non-Muslims.
The group said it separated Muslim and Christian students, killing and taking the Christians hostage.
Kenya's president promised that his administration would take a severe response against the militants responsible for the attack.
Updates
Five men, who were have been detained since April 4 in connection to the Garissa University College shooting, were formally charged in court today for "committing a terrorist act," the Daily Nation reported.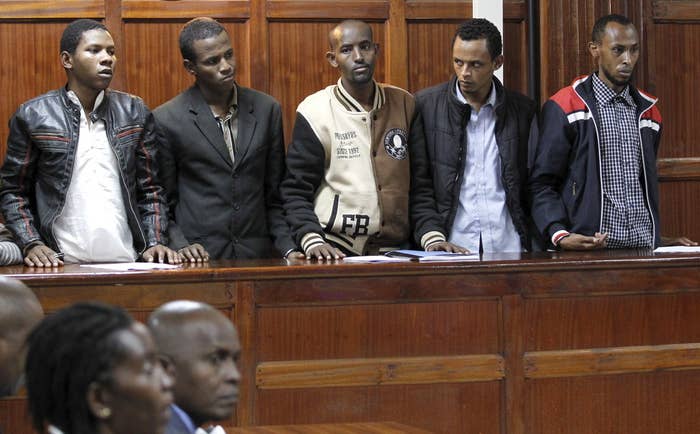 The court named the suspects (from left to right in the above photo) as Rashid Charles Mberesero, who is from Tanzania, Osman Abdi Dakane, Sahal Diriye Hussein, Hassan Aden Hassan, and Mohamed Abdi Abikar. They are alleged to be affiliated with al-Shabaab.
These five suspects are the first to receive formal charges for their role in the mass shooting on April 2, and will remain in police custody until June 11 when the court decides whether to grant them bail.
The Daily Mail also reported that another hearing has been set for August 24 and 25 at the chief magistrate's court.
An official statement from the University of Nairobi's security department, published almost a week before the Garissa University College massacre, warned about the possibility of al-Shabaab carrying out a serious terror attack.
The statement, dated March 26, said:
"Intelligence reports indicate that the al-Shabaab terror group is planning retaliatory attacks on vital installations in Nairobi including a major university. The information is already being processed by the relevant government agencies with an objective of putting the necessary measures in place to foil any such attempts. You are hereby advised to continue being vigilant and diligent while in the University and other crowded places. Be conscious of any suspicious persons and/or luggage as you go about your daily schedules."
It was signed by W.M. Wahome, Chief Security Officer at Nairobi University.
The son of a Kenyan government official is believed by authorities to be one of the four al-Shabaab gunmen who killed 148 people at the Garissa University College campus, on Thursday, Reuters reported.
Abdirahim Abdullahi was reported missing by his father, who promptly alerted security agents. "The father had reported to security agents that his son had disappeared from home and was helping the police try to trace his son by the time the Garissa terror attack happened," government spokesman Mwenda Njoka told Reuters.
The latest revelations come as Christians in Kenya celebrate Easter amid extremely tight security, as priests and churchgoers have been targeted by Islamic extremists in the past.
Kenya's president on Saturday vowed that he would take harsh retaliation against four Islamic militants who opened fire at a school near the Somali border, killing 148 people.
President Uhuru Kenyatta said during a nationally televised statement that those who organized and financed the attack on the school are "deeply embedded in our communities" and that his administration "shall respond in the severest ways possible."
A survivor of the attack at Garissa University College was found hiding in a cupboard in her dormitory on Saturday, two days after terrorists stormed the campus killing almost 150 people.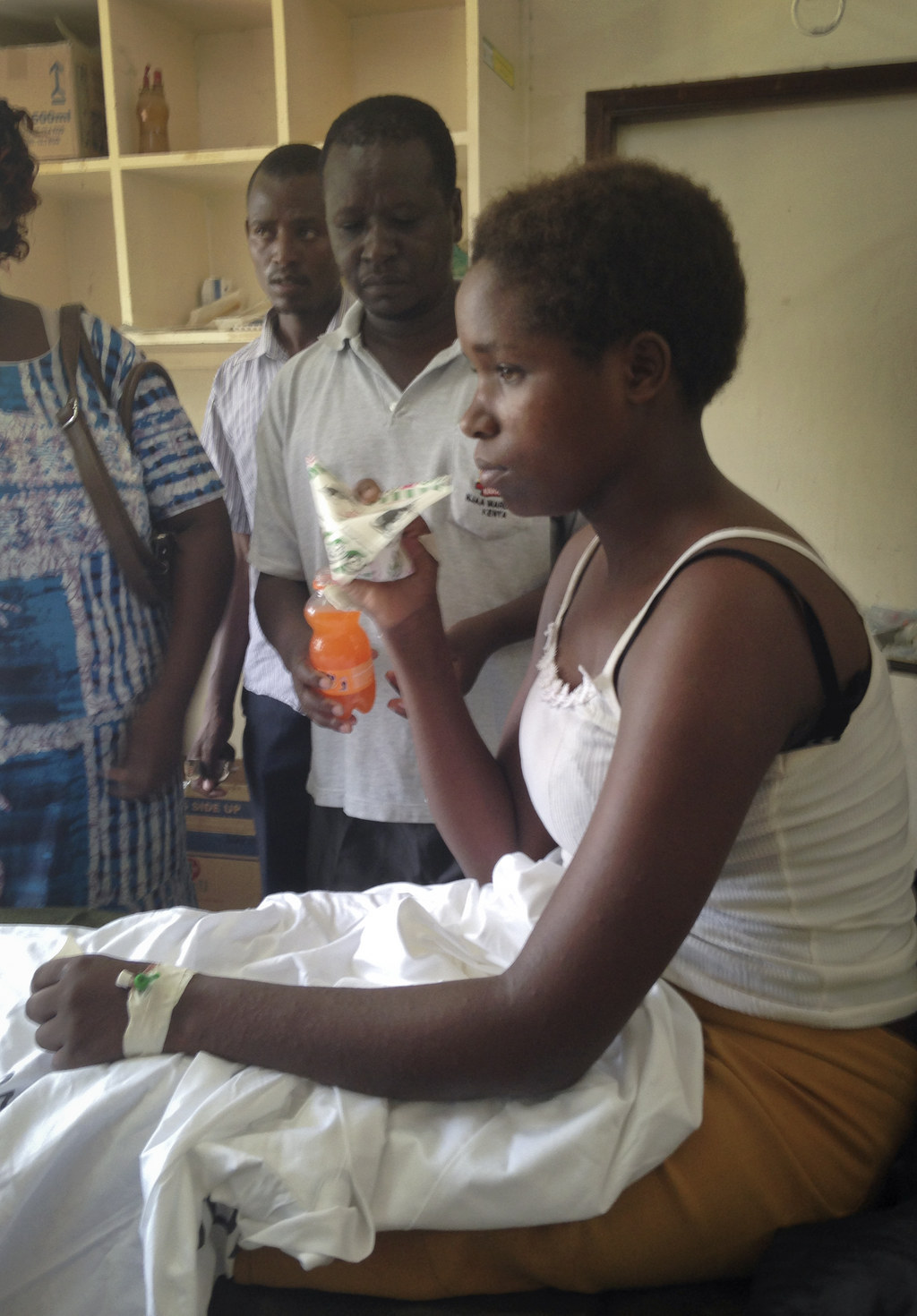 19-year-old Cynthia Cheroitich was rescued shortly before 10 a.m. from inside a wardrobe in which she had covered herself with clothes, the Associated Press reported.
Cheroitich told the AP that she had refused to emerge from her hiding place despite some of her classmates doing so at the demands of the gunmen before being killed.
She said she spent two days praying and drinking body lotion because of her thirst and hunger.
The Christian teenager initially suspected her police rescuers were militants trying to trick her, but only emerged once one of her teachers appealed for her to come out of hiding.
Kenyan authorities arrested three men on Saturday in connection to Thursday's terror attack at Garissa University College, according to local reports.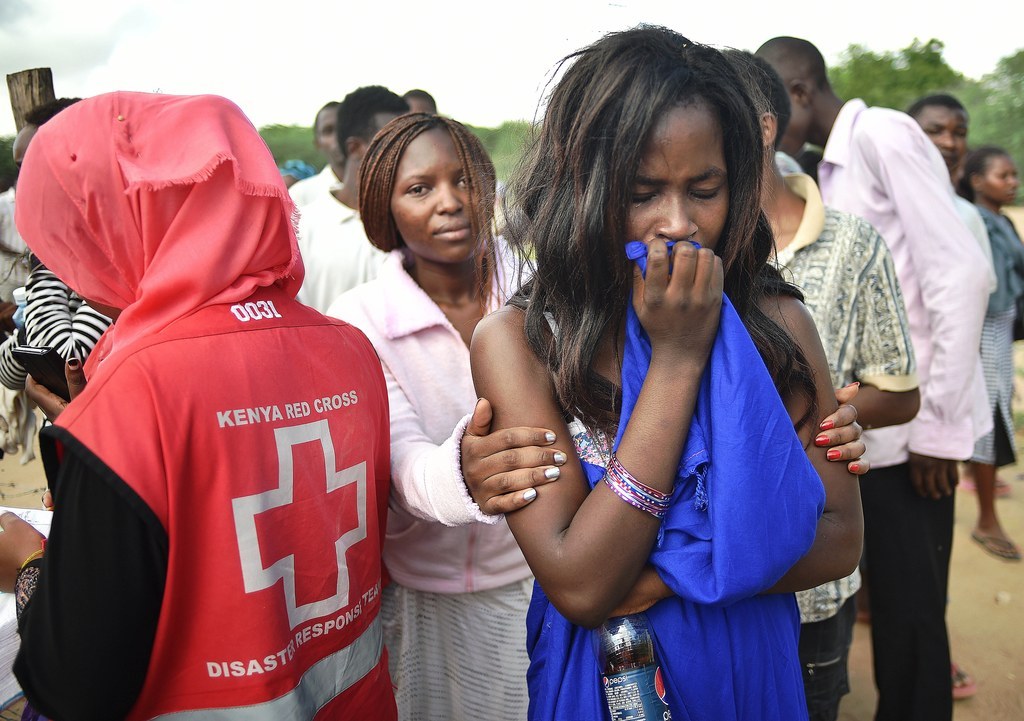 The three individuals were arrested while trying to flee at the Somalia border.
They are believed by officials to be associates of al-Shabaab mastermind Dulyadin Gamadhere.
A total of five suspects are now being held in connection with the deadly attack, the BBC reported.
Kenyan security officials have arrested two more people in connection to the Garissa University College attack, according to the BBC.
Many have also begun to question the possibility of Kenya government having received advance warning of possibly attacks from al-Shabaab, though officials have yet to confirm or deny these accounts.
The Daily Nation reported that on March 25, the administration at the University of Nairobi "warned its students that it had received intelligence information that terrorists were planning an attack on a university and asked them to be vigilant."
Kenyan law enforcement has located one more missing student who was hiding out in Garissa University College's student housing.
One witness, who was injured, said the gunmen separated people by genders. She survived because covered herself in someone else's blood and played dead.
Witness and victim Helen Titus, 21, who was shot in the wrist, told the Associated Press she smeared her classmate's blood on her face and hair and didn't move, hoping the assailants would think she was dead.
The gunmen also told students hiding in dormitories to come out, assuring them that they would not be killed, said Titus, who wore a patient's gown as she sat on a bench in the hospital yard. "We just wondered whether to come out or not," she said. Many students did, whereupon the gunmen started shooting men, saying they would not kill "ladies," Titus said. But they also shot women and targeted Christians, said Titus, who is a Christian.
The gunmen also seemed to know the layout and terrain well, and targeted a lecture hall where Christians were in early morning prayer, she said.
"They investigated our area. They knew everything," Titus said.
The White House released a statement on the Garrisa University College shooting, calling the attacks "cowardly."
The United States is also "providing assistance to the Kenyan Government" and "will continue to partner with them as well as with others in the region to take on the terrorist group al-Shabaab."
The announcement continued, "The United States stands with the people of Kenya, who will not be intimidated by such cowardly attacks."
Interior Cabinet Secretary Joseph Nkaissery announced 147 people died in the attack on Garissa University College. The operation against the four gunmen, he said, has ended.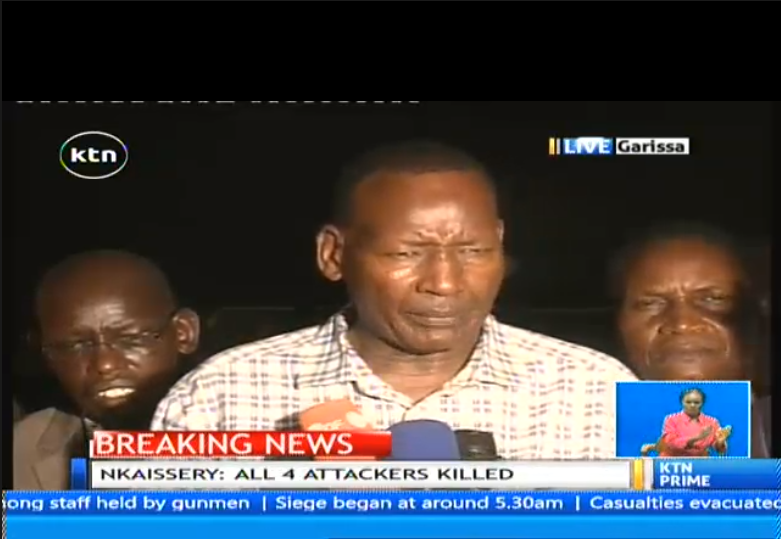 Most of the victims were students. Nkaissery added that the four attackers, two Kenyan police officers, and two security guards also died.
He added that the gunmen wore explosive devices filled with shrapnel.
Kenyan officials say that 518 students have now been accounted for, many of whom have been secured in a military compound near campus.
The names of the four gunmen who led the attack are not yet known, and Nkaissery did not officially confirm their affiliation with al-Shabaab.
"I want to assure Kenyans that although this was a very unfortunate incident, your government has you," he said. "You need to know that your government is there to take care of your security."
The National Disaster Operation Center in Kenya announced an increase in the number of Garissa University students who have been rescued from the attack, up more than 300 from earlier today.
Inspector General Joseph Boinnet has also imposed a 12-hour curfew in selected regions, beginning this evening and ending April 16.
The death toll in the university shooting has now increased to 70, according to the Associated Press.
Nine people who sustained critical injuries in the Garissa attack have been airlifted to Kenyatta Hospital in Nairobi.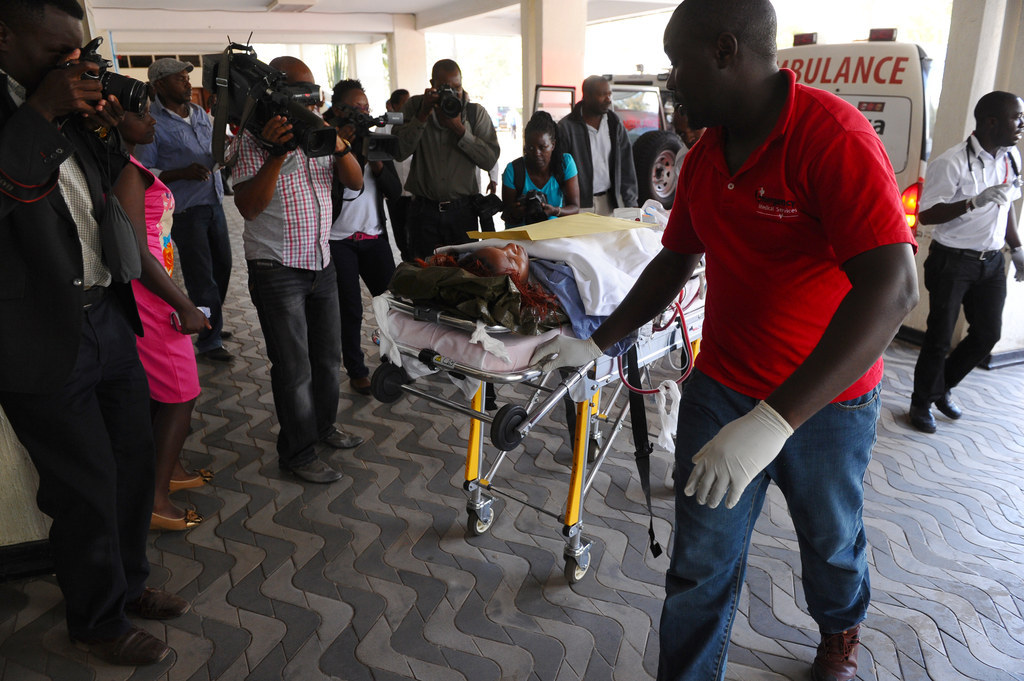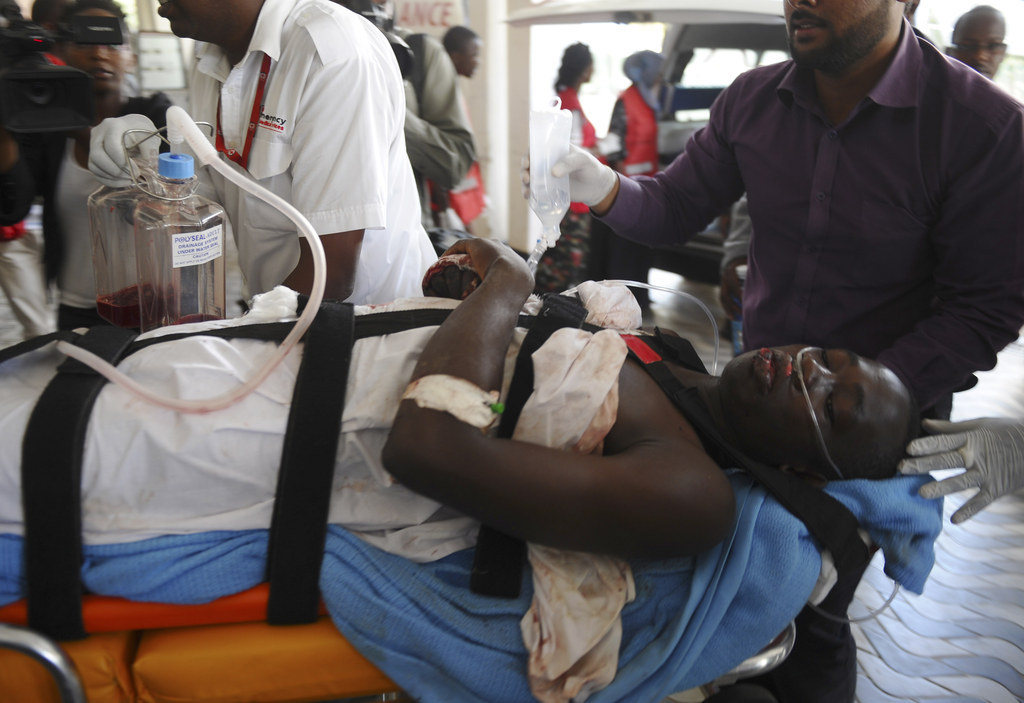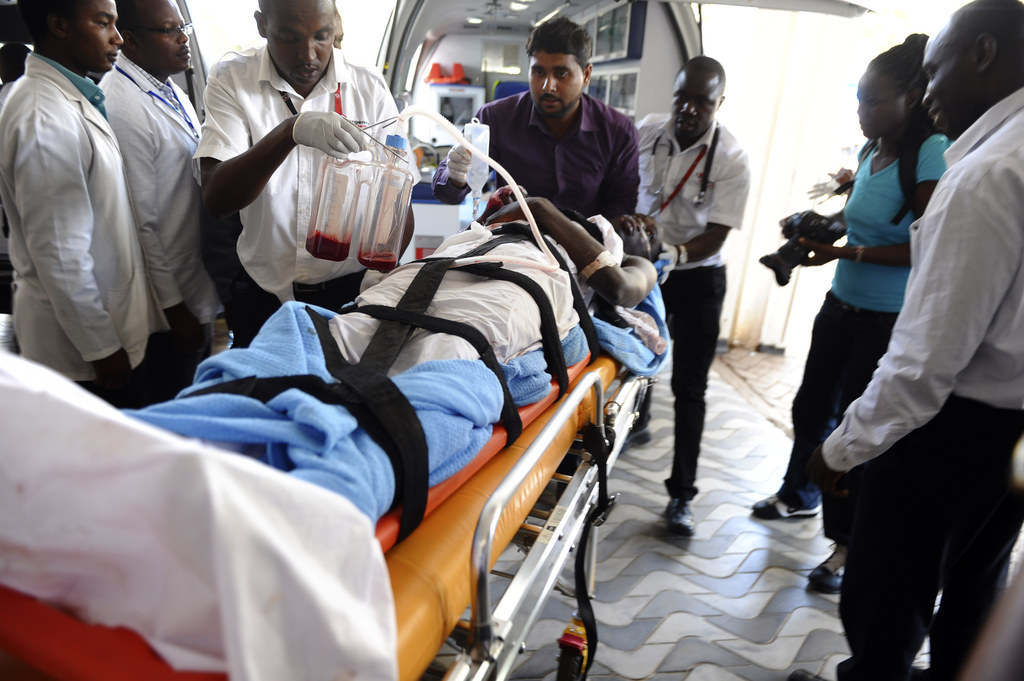 The Ministry of Interior for Kenya has announced that two terrorists have been "neutralised" in the Garissa University shootings.
Kenyan officials have posted a "Most Wanted" alert urging citizens to come forward with information regarding the man responsible for the Garissa University attack. They offer a reward of 20 million Kenyan shillings.
Kenya's National Disaster Operation Center has said that all university staff have been accounted for in Garissa:
Kenyan President Uhuru Kenyatta has made a statement regarding today's attack on Garissa University College:
I am saddened to inform the Nation that early today, terrorists attacked Garissa University College killed and wounded several people and have taken others hostage. The full details of casualties will be communicated in due course by the Cabinet Secretary for Interior and Coordination of National Government who is coordinating operations with the Inspector-General of the Police in Garissa.

On behalf of my Government, I extend condolences to the families of those who have perished in this attack. We continue to pray for the quick recovery of the injured, and the safe rescue of those held hostage.

I also assure the Nation that my Government has undertaken appropriate deployment to the affected area, and is fully seized of the situation. I also urge Kenyans to stay calm as we resolve this matter, and to provide the authorities with any information they may have in connection with any threats to our security. This is a moment for everyone throughout the country to be vigilant as we continue to confront and defeat our enemies.

I further direct the Inspector-General of Police to take urgent steps and ensure that the 10,000 recruits whose enrolment is pending, promptly report for training at the Kenya Police College, Kiganjo. I take full responsibility for this directive. We have suffered unnecessarily due to shortage of security personnel. Kenya badly needs additional officers, and I will not keep the nation waiting.
Kenya's Interior Minister Joseph Nkaissery has told reporters that one suspect was arrested as he tried to flee the scene of the Garissa attack. This from AP:
Kenya's Interior Minister Joseph Nkaissery says one suspected extremist was arrested as he attempted to flee the scene of an al-Shabab attack on a college in northeast Kenya. One survivor said he personally saw five gunmen at the Garissa University College. Nkaissery made the announcement in a press conference in Nairobi, the capital.
The BBC had earlier reported that Nkaissery said a gunman had been killed while fleeing. It is now not clear if this is the case.
Journalist Dennis Okari tweeted from the scene:
The Kenyan Red Cross and local media have said the death toll from the attack on Garissa University College has risen to 15, according to the BBC.
Kenyan Interior Minister Joseph Nkaissery also said that one of the militants had been shot dead by Kenyan security forces while trying to flee, the BBC said.
Eyewitness Collins Wetangula, the vice president of Garissa's students' union, told the Associated Press he was preparing to take a shower at the time of the attack, when he locked himself and three roommates in the door. He added:
All I could hear were footsteps and gunshots, nobody was screaming because they thought this would lead the gunmen to know where they are. The gunmen were saying sisi ni al-Shabab (Swaihi for we are al-Shabab)...

If you were a Christian you were shot on the spot. With each blast of the gun I thought I was going to die.
This BBC News graphic show's the location of Thursday's attack:
Kenya's National Disaster Operations Center has tweeted that 280 of the the university's 815 students have been accounted for, according to Interior Minister Joseph Nkaissery, meaning 535 are unaccounted for:
At least 14 people died when gunmen stormed a university in the Kenyan town of Garissa on Thursday, police officials told Reuters.
The Kenya Red Cross said that 65 people were injured in the attack on Garissa University College, and were transported to emergency care.
Earlier, the Kenya Red Cross said it was working with the Ministry of Health to airlift people with critical injuries to the capital, Nairobi.
The BBC's Africa editor reported that Somalian militant group al-Shabaab claimed responsibility for the attack, and that the gunmen separated Muslim students from Christian students after entering the campus, holding Christian students hostage.
Police said around five masked men shot guards at the university's gate in a dawn raid at around 5:30 a.m. local time (10:30 p.m. Wednesday ET) on Thursday, according to the BBC.
Buildings were surrounded by police and the military as authorities attempted to secure the area, police officer Musa Yego said.
A police officer on the scene told Reuters that two security guards had been killed and that hostages may have been taken, as several students were still trapped inside the campus.
"Two guards who were manning the gate at the university have been killed, we can hear gunshots from inside the compound but at this point we can't tell who is shooting at who or what," the officer said.
The Kenya Red Cross said that about 50 students were freed, but an unknown number of hostages were taken, Agence France-Presse reported.
The north and east of Kenya have been subject to a number of cross-border attacks blamed on al-Shabaab in recent years, the Associated Press said.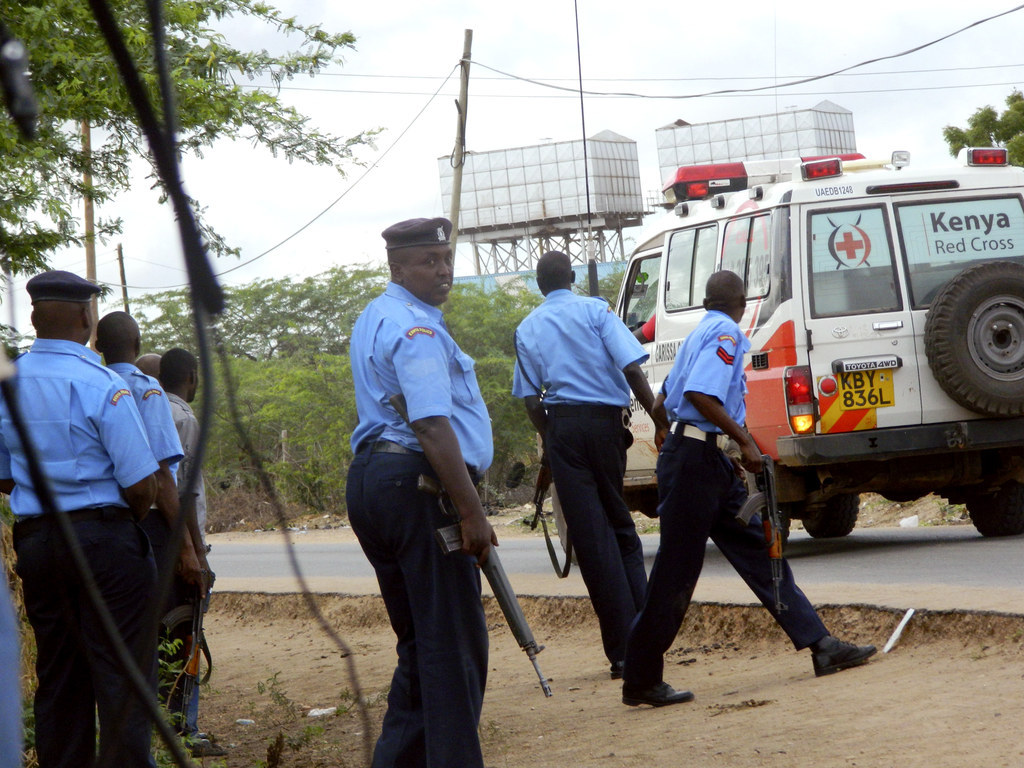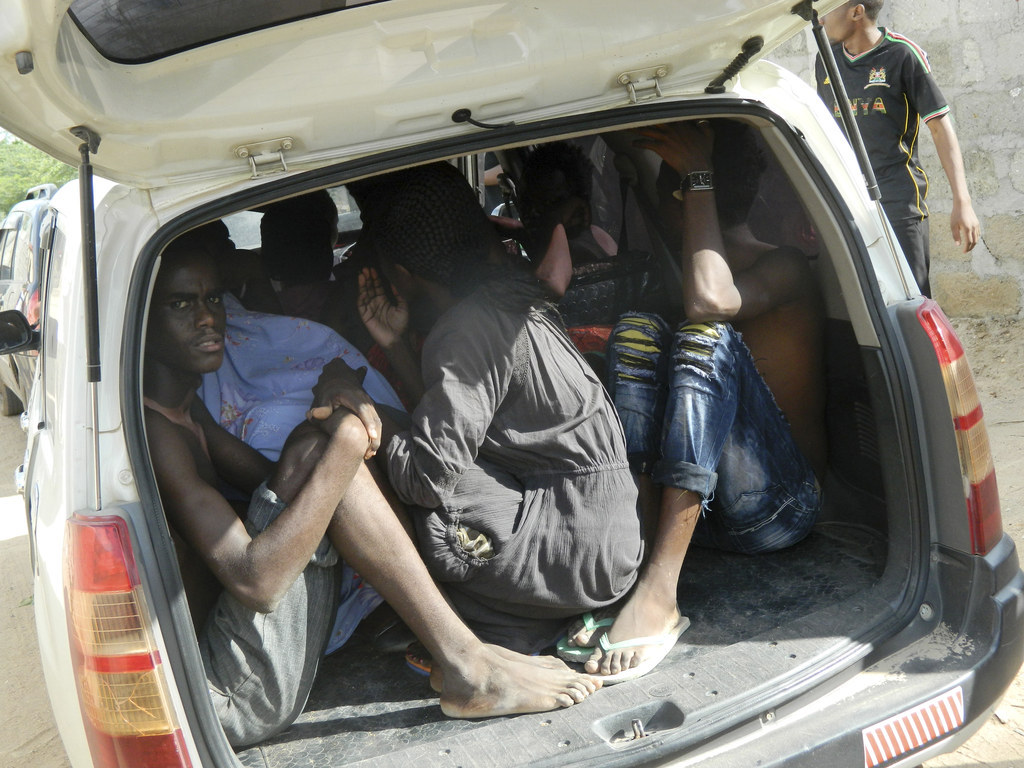 In a statement, Kenya's National Police Service said "the attackers shot indiscriminately while inside the university compound," and that police and security agencies were "engaged in an elaborate process of flushing out the gunmen from the hostels."
A few hours after the attack, at 11:05 a.m. local time (4:05 a.m. ET), Kenya's Interior Ministry said that three out of the university's four hostels had been evacuated, with the attackers cornered in the fourth.