We hope you love the products we recommend! All of them were independently selected by our editors. Just so you know, BuzzFeed may collect a share of sales or other compensation from the links on this page if you decide to shop from them. Oh, and FYI — prices are accurate and items in stock as of time of publication.
You probably already know that weighted blankets have become a popular way to deliver deep pressure stimulation — a firm, gentle pressure that can be calming — to help alleviate anxiety, depression, and sleep problems, including insomnia.
Now you may get similar support through weighted stuffed animals that typically range from 1 to 5 pounds. In addition, some products are also microwavable, freezable, and scented to offer a sense of comfort, relief from stress and pain, and promote better sleep.
"Sleep contributes significantly to mental health, positively and negatively. When sleep needs are not met, it can increase anxiety and depression and perpetuate insomnia," said Dr. Nilong Vyas, a Louisiana-based pediatrician, sleep coach for Sleepless in NOLA, and Sleep Foundation contributor. "However, when sleep needs are optimal, it can have the opposite effect and improve mental health."
Weighted products should be used with caution, especially when it comes to a child's bed, Vyas said.
"A weighted blanket can be used when cuddling with a child over 2 years, before bedtime, and during book time. However, using it for sleep should be discouraged," Vyas told BuzzFeed News. "Similarly, a weighted stuffed animal can be used when a child has a minor injury or hurt feelings to offer comfort and support but not as a soothing item in bed."
Additionally, parents or guardians should be aware of any safety labels, including the recommended age for appropriate use.
"Any stuffed animal or blanket should not be placed in a crib or bassinet of any child 1 year or less. No weighted products should be used for children under 3," Vyas said. "A weighted product that can be microwaved needs to be used with utmost care because it can increase the likelihood of burns."
On the other hand, it's fine for healthy adults to use weighted products, including blankets or stuffed animals, which might help with sleep or provide comfort. Blankets should be about 10% of your body weight (for example, a 15-pound blanket if you weigh 150 pounds), although you may want to discuss their use with your doctor if you have a health condition — particularly one that affects breathing. As we said, they are not appropriate for children under 3 or those who weigh less than 50 pounds.
When buying a weighted stuffed animal, make sure to consider its size, weight, and scent, if that's important to you. Here are some popular options to choose from: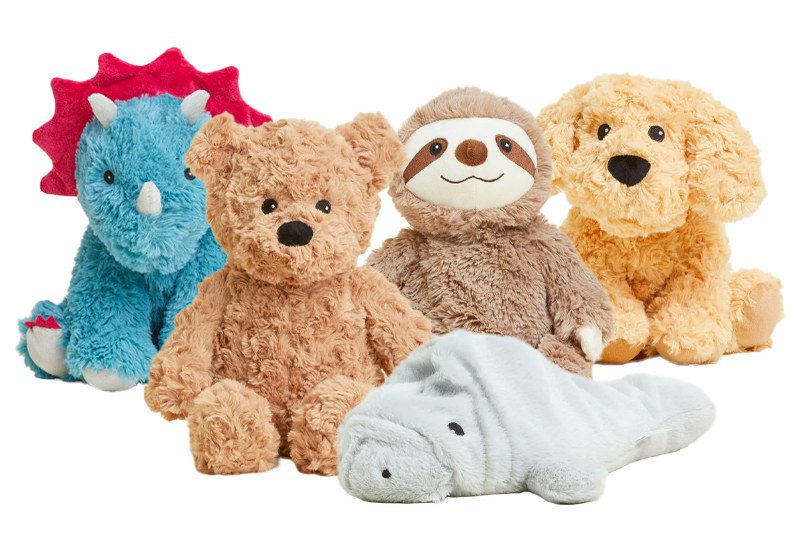 Warmies has a variety of products, including plushies that are weighted and microwavable for a positive sensory experience.
Each stuffed animal is scented with dried French lavender, which might help you get better rest with a bit of aromatherapy.
Warmies recommends heating up the stuffed animal in a microwave for 90 seconds, and it says the heat can last up to two hours. Additionally, the plushie can be used as an ice pack by placing it in the freezer for two to three hours.
"Great product! I got this for myself and it's been very helpful with my anxiety attacks and just for everyday use! I would buy this again!" —Alessandra E.
"I bought these for my boys (6&4) and they absolutely love them. They sleep with them every night after keeping them in the freezer all day. It doesn't last long but gives them some sense of relief on these hot nights." —Krystal
You can buy Warmies stuffed animals from Warmies for around $30, or from Amazon for around $24.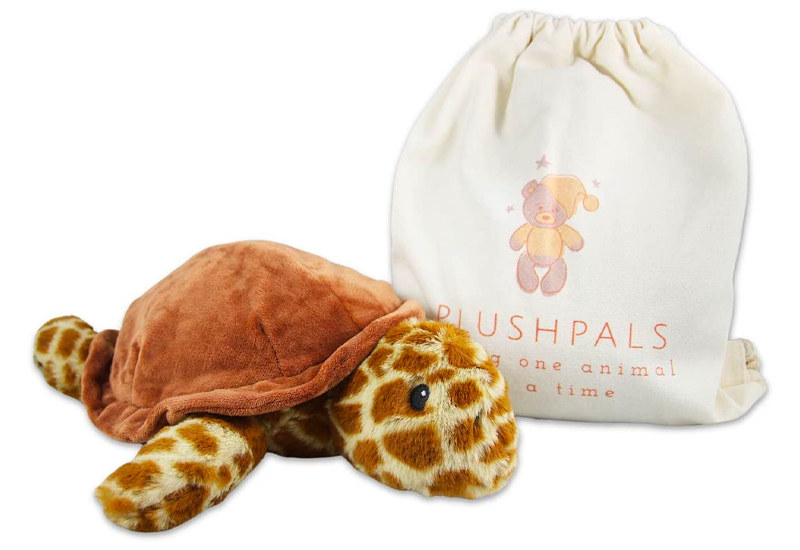 This plushie comes with a small drawstring bag, making it perfect for traveling. The weight of the sea turtle may provide a calming, sensory experience. Additionally, the warmth of the product can be used to treat pains, sinus pressure, migraines, cramps, flu, or muscle inflammation.
This microwavable and freezable, weighted stuffed animal for kids and adults is scent- and allergy-free, and weighs 2.45 pounds. This toy might be a more environmentally friendly option, as it's weighted with clay tourmaline balls that will dissolve after it's thrown away.

"Being a college student, I suffer with a lot of anxiety and was looking for anything to reveal some stress. My PlushPal, Norman, has helped me get better night sleeps and slow my breathing when in tense situations. Even better, it's not only helping me but also the turtles." —Harleigh Drummond
You can buy the PlushPals Weighted Sea Turtle from Amazon for around $24.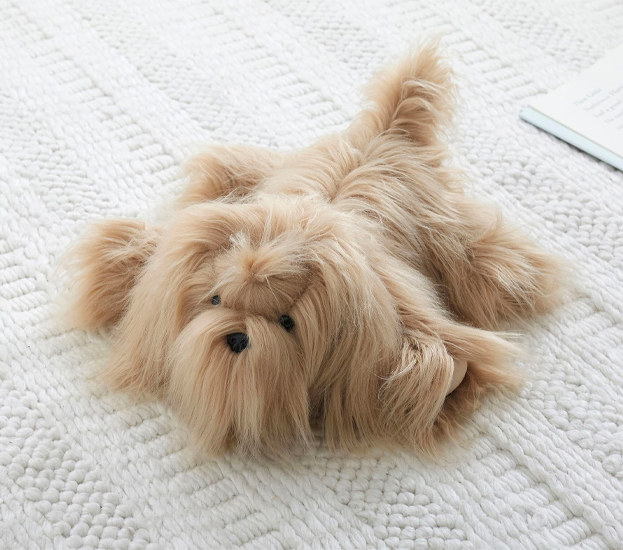 These weighted plushies are made with high-pile faux fur, making them look lifelike. Pottery Barn Kids offers three 5-pound options, including a dog, cat, and bunny.
Heavier weighted products may be unsuitable for children to sleep with. However, for those over the age of 3, a 5-pound stuffed animal might provide deep touch pressure through squeezes, hugs, or holding.
You can buy the dog weighted plush from Pottery Barn Kids for $69.
The sloth heavy hugger is marketed for people over the age of 5 who have anxiety and sensory processing disorders.
The weighted stuffed animal features snaps on each paw to wear on the back and shoulders, and can be used as a backpack. Made for stressful moments, you can snap the weighted sloth onto the front of the body to mimic a hug.
You can add additional products, such as the Mini Me Dressing Vest to practice how to button, snap, zip, and lace clothing.
"I just got my sloth today and it has already proven to be incredibly grounding and comforting for my anxiety and depression. I'm 19 years old and pretty small - it fits snug on me, so for adults i would just recommend that you check the measurements of the arms and legs before ordering if you would like the sloth to fit around your back/chest. Aside from that, it's 4 pounds total and feels really nice to have that weight on you when you're feeling stressed or down - it's like a soft hug :) . Also recommend for ptsd." —Dan
You can buy the Sloth Heavy Hugger from Fun and Function for around $58 to $80.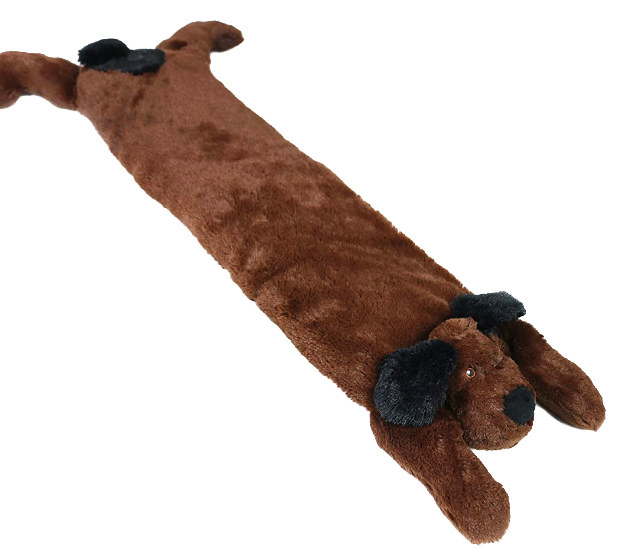 The weighted puppy can be used to provide comfort to people over the age of 3 during stressful situations. This plushie is long (2 feet and 5 inches long) and has an even weight distribution. The hypoallergenic polyester works well for those sensitive to certain fabrics and materials.
"My son struggles with staying calm and sitting while trying to work through his homework. His doctor suggested trying a weighted lap blanket as a calming technique. I found this weighted puppy and decided to give it a try. It really does work at helping my son remain seated and staying calm. He also enjoys sleeping with this puppy as it helps calm him so he can settle into sleep better." —RiverSong
"As an occupational therapist, I use this lap pad often with my patients who like and/or need added deep touch/pressure. They love the soft 'fur' and the just-right weight it provides while working seated tasks at the table. Some of the children like to snuggle up with it while they engage in mindfulness/meditation activities." —Occupational Therapist
You can buy the Huggaroo Weighted Lap Puppy from Amazon for around $50.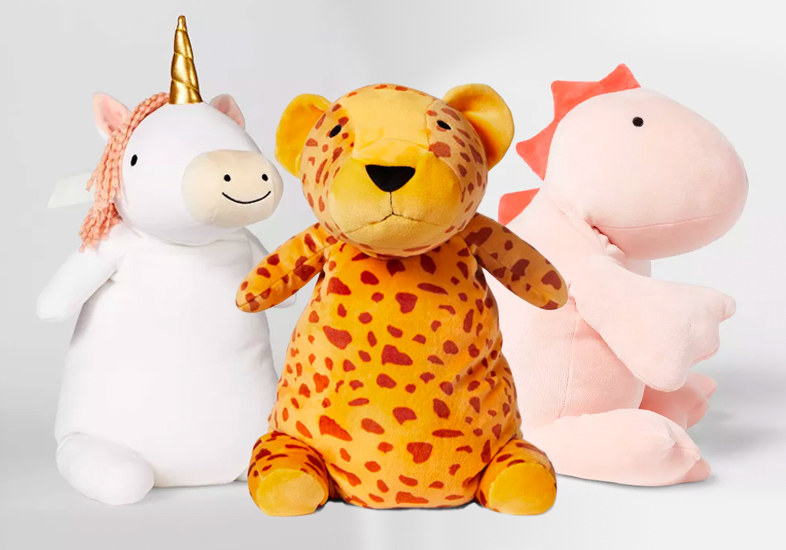 These cute and colorful animals, including a cheetah, green dinosaur, pink dinosaur, and unicorn, weigh a little less than 3 pounds and are recommended for children between the ages of 3 and 9.
Unlike other plushies, these weighted throw pillows are not microwavable or scented.
"These are EVERYTHING! My two youngest have these and then I ended up getting one to see if it would help with my severe anxiety after seeing how my son's cheetah helped him with a neurological disorder he struggles with. The weight of these sweet guys is perfect! They're just so comforting to snuggle up with while lounging, reading a book, watching a show, settling in for the night, etc… grab one! You won't be disappointed!" —HappyMomWifeHappyLife
You can buy the weighted plush throw pillow from Target for $20.