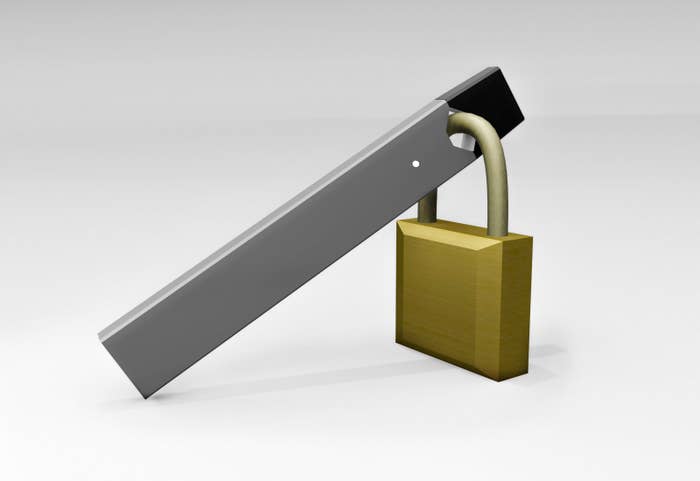 Jasmine Jade Newton, 21, has vaped for four years, but decided to quit nicotine for good on New Year's this year. She replaced her use of e-cigarettes with candy, toothpicks, and the occasional vlog on TikTok to keep herself accountable.
Dropping her vapes into a jar of water, Newton bid adieu to her nicotine habit and explained her vaping habit in a TikTok video: She grabbed her vape 15 to 20 times each day; now she is advising others to follow her on her journey of a nic-free year, posting videos and tips for those who want to join her, Newton told BuzzFeed News.
As a result of the rise in nicotine product use, particularly in young people, and a decline in drinking, many people like Newton are replacing Dry January with No-Nic January in an effort to break free of their vaping addiction. Although young people are less inclined to drink and choose to drink in moderation, 1 in 10 — or more than 2.5 million US middle school and high school students — use tobacco products like e-cigarettes.
Influencers on TikTok, including Vinnie Hacker, Sabrina Quesada, Alyssa Harper, and Annika Osterlund, documented their experience quitting nicotine for their followers, including initial feelings, withdrawals, and hardships. Additional users on the app began holding themselves accountable using the hashtags #nonicotine and #quittingnicotine2023.
As a result, TikTokers are documenting their journeys and sharing tips in the space — including picking up new hobbies, exercising, and switching out vapes for no-nicotine products. They say the community under the hashtag is inspiring and encouraging them to stay nicotine-free.
"I love seeing influencers document their no-nic January! I've been keeping up with Alex Warren's Snapchats of him quitting. I think it's amazing for influencers to use their platform to help others in this journey, as well as sway people to lead a healthier lifestyle," Newton told BuzzFeed News. "I was in high school when I first tried vaping. At the time, I didn't perceive a future of dependence and addiction to nicotine. It's something that creeps up on you."
Although the e-cigarette was created in the early 2000s and marketed in 2007, it wasn't until 2014 that these tobacco products exploded in popularity in the US as Juul was heavily advertised to young people. But even before Juul products were introduced, the e-cigarette industry spent $125 million a year to push the products.
Less drinking, more vaping
Alcohol use is declining among young adults, and the increasing availability of cannabis and vapes (either those that contain nicotine or THC, the active ingredient in weed) may have played a role in the decline.
Alcohol is now more likely to be considered a drug associated with risky activities. A 2022 study on the decline in drinking among young adults, which included 517 people, found that 71% labeled drinking as simply not a pleasure due to its perceived negative consequences, including health issues, a loss of control, loss of memory, and blackouts, and increased concerns about addiction.
"I think it's a possibility that my generation is vaping more than drinking," Newton said. "Vaping becomes an addiction, and some people don't even notice the huge amounts they end up using in as little as a day. I think kids are growing up too fast and trying to get involved in things that aren't good for them because they've become socially constructed as 'cool' and now deemed a part of the typical teenage lifestyle."
Young people are also spending less time in bars and nightclubs, making more informed and individualized decisions about their leisure time. Arts and crafts, reading, watching videos, listening to music, and learning new things were considered alternatives to drinking.
Many children and teens also started using Juul and other vaping products without realizing that they even contained nicotine.
Vaping is an incredibly efficient nicotine-delivery device; it gives people a quick hit of a substance so addictive that millions of people in previous generations couldn't quit cigarettes even when they knew the clear risks of lung cancer and heart attack.
In fact, one Juul pod is equivalent to smoking an entire pack of cigarettes, or 20 cigarettes, which is about 40 milligrams of nicotine for an estimated 200 puffs per pod, according to a 2022 study. (The FDA announced it planned to remove Juul from the market last year, but they are still available for purchase, the company confirmed, due to ongoing reviews and legal challenges.)
Marketing strategies through media such as ads on popular TV shows and social platforms, increase positive perceptions of vaping among younger people. In one 2020 study, more than half of young people reported thinking that vaping was not harmful to their health and continued e-cigarette use because of the "ease of use." Additionally, people were unaware of the withdrawal symptoms that come with vaping.
Despite being marketed as a safer alternative to smoking cigarettes, vaping hasn't been around long enough to know the decadeslong health impact of its chemicals — and the addictive properties of nicotine are still there.
In 2019, an outbreak of a serious lung condition called e-cigarette or vaping use-associated lung injury (EVALI) was attributed to vapes that contained vitamin E acetate. As of 2020, there have been more than 2,800 cases and 68 deaths from EVALI in the US, which has been most often linked to vaping THC purchased from informal sources like friends or online dealers. The FDA has also received reports of seizures and battery-related fires and explosions linked to vaping.
In addition, the sale of child- and teen-friendly vapes with flavors like fruit, mint/menthol, and candy/dessert seemed to work for marketers, with more than 80% of US adolescents and young adults who were current users in 2020 saying they vaped flavored products.
While most flavored vape cartridges, except for tobacco and menthol, were supposedly banned in the US in 2020, they are still available online or in certain products. In addition, a chemical known as diacetyl, which is known to cause lung damage, was once found in 39 out of 51 flavored vape brands according to one 2015 study, but has since been banned or removed from many.
Catherine Gordon, 21, who is also documenting her experience quitting nicotine for New Year's, explains how the marketing of nicotine products influenced her decision to try vaping.
"I did see ads on both social media and TV, which influenced my decision to vape in the first place. The ads also made vaping seem like a cool thing to do," Gordon told BuzzFeed News. "The flavors play a huge part in people buying vapes! There are so many 'good' flavors that people want to try, increasing the number of vapes being sold. Personally, the flavors of the vapes were what first originally had me try them. They were appealing and didn't sound as bad as cigarettes."
The physical and mental effects of nicotine use
Nicotine "directly impacts heart and other organ vessels by causing hardening and plaque formation, which can result in stroke and heart attack," Dr. Gabriel Rose, a board-certified emergency medicine physician, told BuzzFeed News. "Beyond that, nicotine is directly linked to formation of multiple forms of cancer, most notably lung cancer in smokers."
Dr. Sulman Aziz Mirza, a board-certified psychiatrist in adult, child, and adolescent psychiatry and addiction medicine at the Inova Kellar Center in Virginia, told BuzzFeed News how the addictive qualities of nicotine can affect users' psychological state.
"My own experience working with patients recovering from opioid use disorder aligns with this; that getting them off nicotine is often harder than stopping opioids. Nicotine exits the body quickly and withdrawal symptoms of irritability, worsened mood, anxiety, concentration/memory issues come about shortly and are readily observable, and are resolved with taking in more nicotine," Mirza said. "Nicotine use is often associated with various mental health disorders, including depression, anxiety, ADHD, and psychotic disorders like schizophrenia, though it is most often picked up as a way of self-medicating rather than a cause, due to its immediate effects.
Although withdrawal can be different for each person, almost everyone will have some form of symptoms from nicotine withdrawal. Some common withdrawal symptoms include nicotine cravings, which can result in frustration, difficulty concentrating, insomnia, restlessness, anxiety, depression, and increased appetite. Cognitive functioning, including attention, mood, learning, and impulse control, are affected by nicotine — especially for users under 25, whose brains are still developing.
For the first couple of days after quitting, Newton experienced withdrawal symptoms. "The first three days were horrible. Horrible in terms of mentality, not physical withdrawal symptoms… After the third day, I stopped thinking about nicotine and craving rips most of the time."
Like many who quit nicotine, finding ways to replace the use of e-cigarettes helped overcome withdrawal symptoms and continue going nic-free.
Alternatives to vaping
Nicotine replacement therapy (NRT) includes providing smaller doses of nicotine over time without the toxic chemicals found in cigarette smoke or vapes.
Over-the-counter replacements include skin patches, chewing gum, and lozenges. Prescription products include sprays and inhalers. Side effects and risks are still there — despite lower intake of nicotine – and they include changes in behavior, depressed mood, hostility, aggression, and even suicidal thoughts or actions. There are also smoking cessation medications like bupropion, varenicline, and others.
"Free and widely available resources on quitting are abundant," Rose said. "There are some FDA-approved medications that are very effective in helping people quit, which someone's general practitioner can prescribe. I think it's also important to restructure the habit loops that reinforce nicotine use by substituting the bad routine, like nicotine use, with a good routine, including chewing gum, exercising, meditating, and so on."
Gordon decided to quit nicotine cold turkey and shared how she switched out the nicotine for new activities.
"Some hobbies I have picked up while quitting are working out, doing my makeup, and painting," Gordon said. "All these things are physical and help keep me distracted from my cravings."
In addition to vlogging their experience, people on the app shared tips to replace the habit — including swapping the nicotine product with a sour candy spray.
Others are substituting the habit with exercise and picking up new hobbies.
"When I first quit, the first few days, I would do 10 squats every time I thought about vaping. I also bought a lot of hard candies to suck on, a breath control necklace pendant, and toothpicks that were flavored mint," Newton said. "Additionally, I got a no-nicotine vape stick for when times were tough and I just wanted that feeling. I feel like I've had more time to do other things. I've been running/going to the gym and reading now. I've had so much more energy, and I'm so proud of the progress I've made."
If you're considering going nic-free, sharing your experience on TikTok might be beneficial.
"Influencers documenting their no-nic January is very beneficial for themselves and other content creators who also want to quit vaping," Gordon said. "By posting their journey on social media, these influencers are not only holding themselves accountable for quitting but giving others trying to quit an outlet to talk about their struggles with the topic. Quitting vaping is hard in general, but watching a content creator share their journey on quitting can make it just a little bit easier to succeed!"