Muslim Groups Start Campaign To Raise Money For Burned Black Churches In The South
Less than a week after the nine people were massacred in a Charleston church, five predominantly black southern churches were burned to the ground -- some of the fires are believed to be the work of arsonists.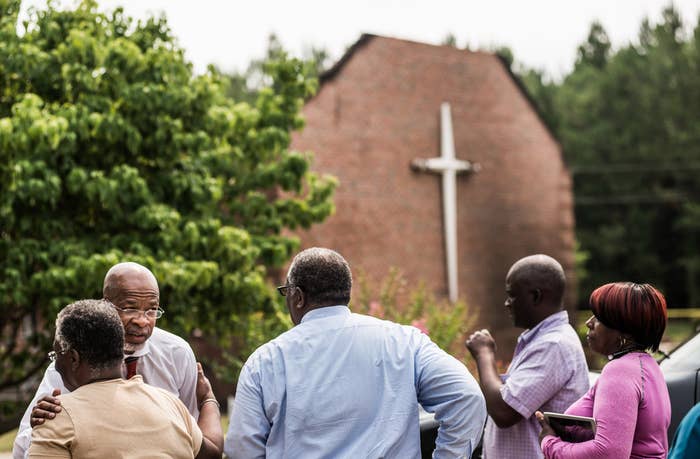 Muslim groups across the U.S. launched a fundraising campaign to help rebuild the southern black churches which have either been burned to the ground or badly damaged by fire over the last several weeks. As of Wednesday morning, the group had raised nearly $30,000.
The incidents, which authorities are investigating separately, started happening less than a week after white teenager Dylan Roof allegedly massacred nine parishioners inside the Emanuel African Methodist Episcopal Church, a historical black church in Charleston, South Carolina, on June 17.
At least five churches in Tennessee, Georgia, North Carolina, and South Carolina have been damaged or destroyed by fire. It is now confirmed that three of those fires was the work of arsonists.
Authorities are still investigating the church fires and it's not clear if the acts of arson constitute a hate crime.
For U.S. Muslim groups, though, the recent destruction of a number of black churches is a reminder that there are some people out there still intent on intimidating and striking fear within the black community.
"These kinds of attacks on Black churches are a very old form of intimidation in the South, historically used to strike fear into the hearts of Black people," the group wrote on the campaign's LaunchGood page.
Muslim-American Scholar Imam Zaid Shakir went on to say that although his community cannot claim to know what it is like to suffer the type of racism experienced by African-Americans, he stands in solidarity with the black community.
"The American-Muslim community cannot claim to have experienced anything close to the systematic and institutionalized racism and racist violence that has been visited upon African-Americans. We do, however, understand the climate of racially inspired hate and bigotry that is being reignited in this country," reads a short statement by Shakir on the campaign's LaunchGood page.
Pastor Cleveland Hobdy III, whose College Hills Seventh Day Adventist Church in Knoxville, Tenessee, was also targeted by what police called "vandalism", said it was hard to comprehend the motives behind such attacks.
"It's sad either way that someone would put their mind to try to damage a church that's trying to help people," he said.
The initiative, which has the support of the Muslim ARC, the Arab American Association of New York and Ummah Wide, has raised almost $30,000 so far. The cash raised will then be distributed to "the churches that need it most."
Muslims around the world are currently observing the holy month of Ramadan, a period in which Islam's followers are encouraged to engage in charitable causes.