Indonesian Military Plane That Crashed Into Homes Likely Suffered Stalled Engine
The C-130 Hercules burst into flames when it crashed Tuesday into two houses in a residential area in the city of Medan.
Air Marshal Agus Supriatna told reporters on Thursday that the plane likely suffered from a stalled engine, the AP reported. There was a propeller "abnormality" that suggests that the pilot had "feathered" a propeller.
"If there was feathering that means the engine was dead," he said.
Feathering is a technical term used to describe a "high-angle position for the blades that reduces the tendency of the plane to swing in the direction of the failed engine," according to the AP.
Supriatna also said that the fact that the plane was traveling a slower speed and had turned toward the right following takeoff also indicates a possible engine failure.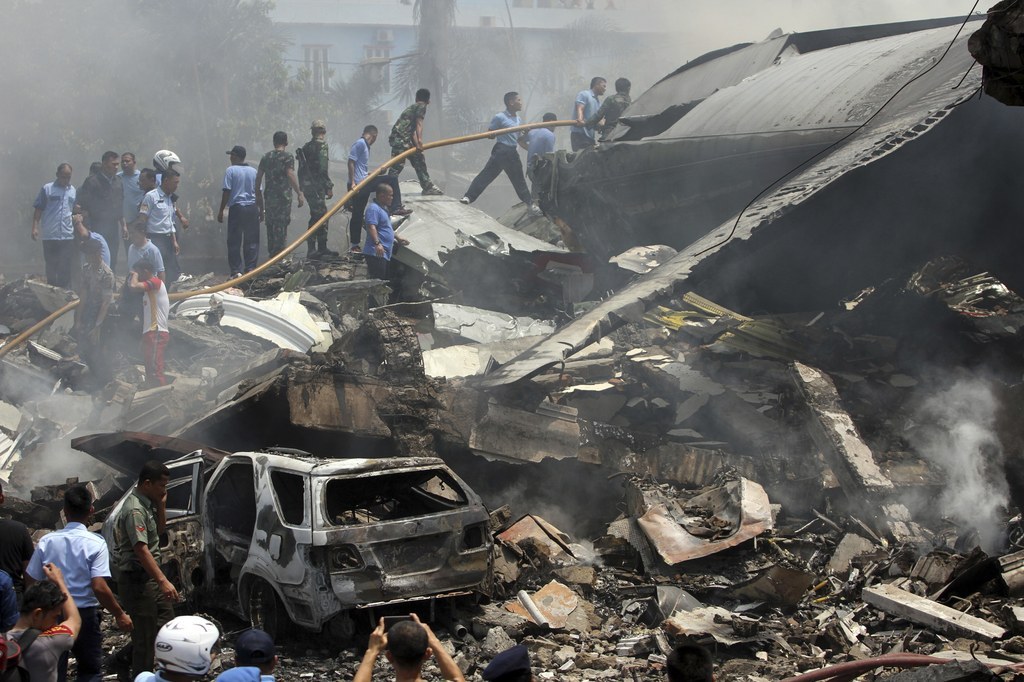 An Indonesian military plane crashed into homes shortly after takeoff Tuesday in the city of Medan, bursting into flames and killing 141 people.
The C-130 Hercules, carrying military personnel and their families, appeared to have developed engine problems shortly after takeoff, according to Indonesian Air Force officials.
At the time of the crash, 113 people were on board and Air Force chief Agus Supriatna told AFP there were no survivors. The death toll later rose to 141 people, according to AFP, .
Air force chief Agus Supriatna said the manifest showed there were 113 people on board the plane -- 12 crew and 101 passengers -- when it crashed, and he did not believe any had survived. He later told the AP there were 122 people on board.
Civilians who were on the ground were also killed from falling debris, AFP reported.
Supriatna said that "the plane crashed while it was turning right to return to the airport," according to AP.
The victims have not yet been identified and it was not immediately clear how many of the deceased were military personnel and how many were civilians.
"I saw the plane from the direction of the airport and it was tilting already, then I saw smoke billowing," a local witness told Agence France-Presse.
This is the second plane to crash in Medan — Indonesia's third largest city — in 10 years.
In 2005, a Boeing 737 also crashed in a busy residential area, killing a total of 143 people.
Janson Halomoan Sinagam, who had several relatives on board the plane, rushed to the crash site on Tuesday, desperate for information about his loved ones.
"We just want to know their fate," he told MetroTV, a local station. "But we have not yet received any information from the hospital," he said.
There has been concern in the past over Indonesia's aviation safety. The European Union banned the country's airlines from flying into Europe between 2007 and 2009, amid concerns over safety. Last December, an AirAsia airlines flight with 162 people on board crashed in the Java Sea after it left Surabaya to Singapore.