Dozens Of Migrants Feared Dead In Latest Mediterranean Disaster
Survivors who arrived in southern Italy on Tuesday reported that those who died fell from a rubber boat into the water, drowning as a rescue ship approached.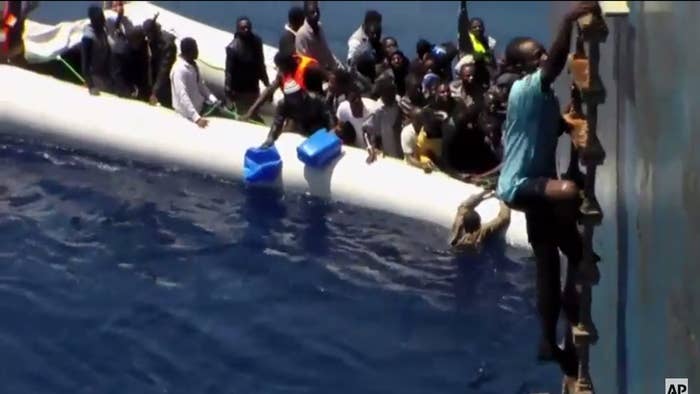 Dozens of migrants were feared to have drowned in the waters of the Mediterranean on Sunday, according to eyewitness accounts from a group of survivors who arrived in southern Italy on Tuesday.
The surviving migrants told the Associated Press they saw many people fall overboard from the rubber boat on which they were traveling after a rescue vessel approached.
Giovanna di Benedetto, from the charity Save the Children, told AP the exact death toll is not yet clear.
Two rubber boats were picked up by a commercial ship on Sunday, each with more than 100 people on board, a Save the Children spokesperson told BuzzFeed News in a statement. Those on board were from Ghana, Gambia, Senegal, and Ivory Coast, with five dead bodies brought to the Italian port city of Catania so far, the spokesperson said.
This past weekend was particularly busy for those conducting rescue operations in the Mediterranean: The Italian navy and NGOs pulled almost 7,000 people from smugglers' boats drifting in the Mediterranean.
As summer approaches and weather conditions improve, the number of those trying to reach European shores from north Africa is expected to drastically increase, aid agencies have warned.
Almost 2,000 people, most of them fleeing war and poverty in Africa and the Middle East, have died so far this year trying to reach the shores of Italy, Malta, Greece, and Spain — the European countries that are geographically closest to Africa.
Most are unlikely to be given legal rights to remain on European soil.
Last year Italy's government shut down Mare Nostrum, a large search-and-rescue program, which reportedly cost $10 million a month to run. Rome claimed it only encouraged more migrants to undertake the perilous journey.
Doctors Without Borders Director for Human Affairs Hernan del Valle told BuzzFeed News that E.U. officials need to take further steps to help the migrants.
"If you look at the numbers of people dying, the figures are higher than in some of the world's war zones," Valle said. "Regardless of your politics, it's shocking that people are willing to just sit back and refuse to help these people."
Save the Children also called for the E.U. to establish a new rescue program.
"It is of the utmost urgency that a robust and efficient search-and-rescue operation at sea — with the same capacity as the previous Mare Nostrum operation — be restored off the Italian coast," Carlotta Bellini, the charity's head of child protection said in a statement to BuzzFeed News.
"We cannot let 2015 be the year when the Mediterranean claims the highest number of migrant deaths," she said.