At Least 6,800 Migrants Rescued In Mediterranean Waters This Weekend
Among those rescued was a woman who gave birth to a baby girl onboard an Italian navy ship.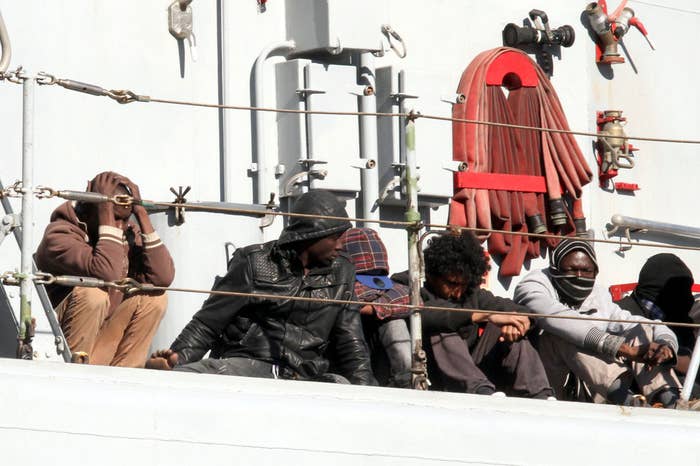 At least 6,800 migrants were rescued from smugglers boats in the Mediterranean sea this weekend, as traffickers took advantage of mild temperatures and calm waters, Reuters reported.
Among those saved by the Italian navy was a woman who gave birth to a baby girl onboard one of the rescue ships.
"Both mother and daughter are in good health," the Italian navy said in a statement to Reuters.
On Saturday, over 3,500 were pulled from smugglers' boats in Mediterranean waters in an effort that took 17 different rescue operations.
The figures from this weekend come two weeks after at least 600 migrants died trying to make the perilous journey from north Africa to southern Europe.
So far this year, at least 1,700 people have died in Mediterranean waters.
Speaking to BuzzFeed News on Sunday, Medecins Sans Frontieres (Doctors Without Borders) Director of Humanitarian Affairs Hernan Del Valle said the sheer number of fatalities is alarming.
"If you look at the numbers of people dying, the figures are higher than in some of the world's war zones."
Last year, the Italian government shut Mare Nostrum – a proactive search and rescue program, which costed a reported 9 million euros a month.
In addition to being costly, Rome claimed it only encouraged more migrants to undertake the perilous journey.
But with some 1,700 people dead in the Mediterranean so far this year, EU politicians are under pressure to both stop people from drowning at sea and take in those who are fleeing war-torn countries.
Immigration is a contentious topic in Europe at the moment, however, and with the rise of far-right parties in some of the EU's biggest economies, politicians seem reticent to open the floodgates.
"Regardless of your politics, it's shocking that people are willing to just sit back and refuse to help these people," Valle said.