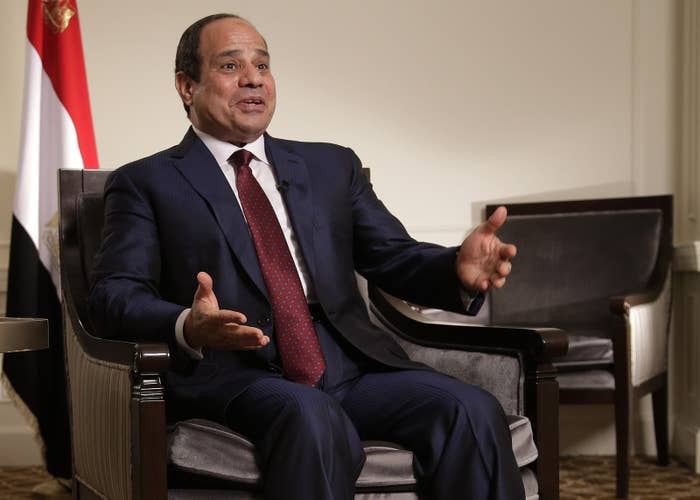 CAIRO — Amr Nohan, a 22-year-old law graduate, was serving in the military when he decided to share a photo-shopped picture of Egyptian President Abdel Fattah El Sisi with Mickey Mouse ears on Facebook back on May 9. Sisi appears mid-chuckle, eyes squinting and with a clipped smile.
A military prosecutor issued an indictment against Nohan on 22 August for posting pictures and activity on Facebook considered contravening with the behaviour of a soldier in the armed forces as well as pictures of him in army fatigues during his service. Less than four months later, he was sentenced to three years behind bars.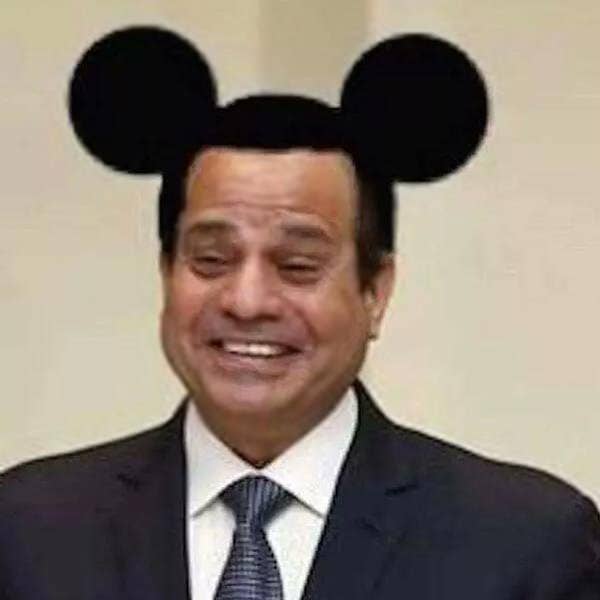 The Mickey Mouse post was troubling enough to be included in the indictment and he was court-martialed, charged with misconduct as a soldier. According to text from the military prosecutor's indictment against Nohan seen by BuzzFeed News, he was deemed to have "thoughts inside of him that run contrary to that of the ruling regime."
Nohan was nearing the end of his compulsory military service, which he began in mid-2014 in Matrouh, a town close to the Libyan border with Egypt. Military service is mandatory for Egyptian males from 18 to 30 who have brothers and can last up to three years. Five days before tasting the freedom of civilian life, he was convicted in a military court.
"Amr is a normal Egyptian guy — he was just expressing his opinion online," Mansour Nohan, his brother, told Buzzfeed News.
With today marking the fifth anniversary of the Arab Spring, the political landscape of the region had irrevocably changed. Rising internet penetration and the use of social media as one of the means of mobilisation of young Egyptians had become a potent mix for the Mubarak regime that was overthrown after 18 days.
"We didn't even have our own personal Facebook pages till after the revolution started. I remember we were text messaging our friends after Ben Ali fled on a plane from Tunis telling them that [former Egyptian president Hosni] Mubarak is going to be the on the next plane. Little did we know that they played us, the revolution was outplayed," he recounted nostalgically.
"Egyptians became news junkies as a result of their country's revolutionary history" explained Adel Iskandar, a professor of Arab media at Simon Fraser University in Canada. "A whole new inventory of political vocabulary and folklore has been created and which is both fodder for and the subject of humor and satire."
Sisi, who was director of military intelligence under Mubarak, has used the same playbook when it comes to dealing with freedom of expression online.
In March of this year, Sisi warned of the threat of the misuse of the internet by terrorist groups. A cyber crimes law was drafted shortly after in April which Human Rights Watch criticized as containing "broadly worded provisions that could be abused to penalize legitimate expression online and through social media sites".
In the throes of the euphoria of the 2011 revolution, Nohan's Facebook timeline mirrored the political turbulence the country experienced over the past five years.
One screenshot included as evidence in the indictment is of Nohan posting a picture of graffiti mocking Field Marshal Mohamed Tantawi, the head of the Supreme Council of the Armed Forces which ruled the country in the transitional period from Mubarak's overthrow until Morsi's election in mid 2012.
He also posted a comment saying "Down with Sisi, Morsi and Mubarak" according to the indictment. ( What they dubbed as "an insult to national figures.")
Nohan was active in the overthrow of Muslim Brotherhood-backed President Mohammed Morsi in July 2013, gathering signatures to withdraw confidence from the regime. He also informally joined Tamarod, a supposed grassroots movement which later was exposed to be collaborating with the army.
The indictment spells out the dates of when he posted this material with attached screenshots. It also set out the expected moral behavior of a military conscript tried under martial law who pushed the bounds of acceptability.
The military investigators admit in the indictment that they had tampered with Nohan's account — changing his password, monitoring his conversations with "revolutionary" friends mouthing off about the tough conditions he faced during his military service, and that he had posted pictures of himself in army fatigues next to a military plane. They also delved into his personal life laying out in full how Amr had found out online that another older brother of his, Mohammed, was killed while reporting in Syria.
In one screenshot from his now closed account included in the indictment, he pines for longer breaks in Alexandria saying, "the holidays are evaporating so quickly like petrol left out in the open air." He's currently in Borg El Arab prison near Alexandria, where ousted president Morsi also served part of his sentence in the same prison in late 2013.
It is not the first time that Mickey Mouse has been controversial in Egypt. Naguib Sawires, one of Egypt's richest men, tweeted a photo of the loveable Disney character donning a beard and Minnie Mouse with a niqab in June 2011. He faced a trial on charges of blasphemy brought forward by conservative Islamists but the court ultimately dismissed the trial.
Iskandar argues that even for a regime averse to being mocked, it cannot afford to ignore the criticisms behind the satire. "A meme that levels a critique of a government policy or presidential gaffe can have serious repercussions in public opinion" Iskandar told Buzzfeed News.
The regime's gaffes have provided plenty of material for youth online ready to meme, including the announcement last year that the state had devices that would cure AIDS and Hepatitis C patients.
"With the gradual shutting down of spaces for popular dissent, memes may be the only arena for oppositional engagement."
Quick-talking Mansour, 30, echoes Iskandar's view, noting that "during one of the hearings, Amr's lawyer told us that the judge smiled when he first saw the Mickey Mouse picture as evidence."
"I don't even think the judge is convinced by the absurdity of this situation. We are truly living in a Mickey Mouse state."
The crackdown since Morsi's ouster has deepened with a raft of draconian laws passed in the absence of a functioning parliament since 2012. There are more than 40,000 political prisoners languishing in Egyptian jails including Mahmoud Hussein, a 19 year old, held for 700 days for wearing a T-shirt with the motto "A Nation without Torture".
Egypt is second only to China in jailing journalists worldwide with 23 imprisoned according to the Committee to Protect Journalists including Shawkan Abu Zeid, a photojournalist who reported alongside Buzzfeed's Mike Giglio. He has spent over 850 days in pre-trial detention and his case was postponed recently because the judge deemed that there was no room in the holding dock for all defendants.
Mansour sees his brother's case differently than the thousands of others in Egypt because he chose to freely express himself online and has paid the price for having thoughts that run counter to that of the regime's.
"The failure of the Egyptian revolution led to the faltering of the others (in the Middle East and North Africa). The people now are being kicked in the guts with the ruler's shoe" he added.