Introducing The "Trillion Dollar Industry That Is Dying To Be Destructed"
A Silicon Valley startup is using an army of smartphone users to generate economic data that closely matches official figures. The numbers can help with everything from understanding disease outbreaks to making lots of money.
For years, much of Liberia was an information black hole, with even major roads appearing not to exist according to official maps. That was until the Ebola outbreak swept through its capital, Monrovia. Suddenly, aid organizations were clamoring for as much data as they could get their hands on to map and combat the disease.
Enter Premise, an all-purpose data-gatherer that uses an army of people on the ground to collect information from parts of the world plagued by missing figures. The Silicon Valley firm found that as the number of cases of Ebola climbed in Liberia, the cost of staple foods soared, effectively alerting authorities to a potential food crisis and giving them a way to measure price shifts.
The food data was captured by people plugged into Premise's system, photographing fruit and vegetable prices in local markets. It was another example of how new technologies capitalizing on widespread smartphone use can now supplement official economic statistics, and in some cases, particularly in emerging economies, improve upon them.
"A picture can be worth about 1,000 data points," said David Soloff, co-founder and CEO at Premise, and with potentially "billions of photographers around the world," the possibility for new, radically different ways of measuring economic activity are emerging. As the ebola outbreak worsened, Premise partnered with Vulcan, the company that manages Microsoft co-founder Paul Allen's estimated $17 billion wealth, to deploy thousands of mobile phones preloaded with Premise software to aid workers on the frontlines in Liberia, Sierra Leone, Mali, and Guinea.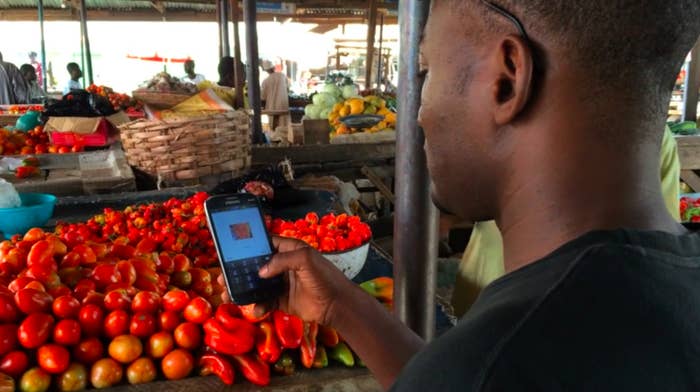 Financial and economic data, from quarterly corporate results to government statistical releases, forms the lifeblood of the global economy, informing decisions on investment and public policy. It shapes the way those in business and government understand the world. And a growing number of technology companies believe they can produce their own versions of such data, faster, cheaper, or on their own timelines.
Some have used satellite imagery to predict agricultural harvests or foot traffic in retail stores, and others have tried to estimate consumer sentiment using social media posts. The official versions of such numbers can move commodity prices and stock markets, and getting an early peak can be extremely valuable.
Premise is still fine-tuning its systems, but already its food price indices have signaled inflation weeks ahead of the official announcements in countries including China, India, and the U.S. The company is already on the radar of high-level organizations including the United Nations Food and Agriculture Organization, which published a paper in November that pitted Premise's data for Brazil against numbers from the Instituto Brasileiro de Geografia e Estatistica (IBGE), the country's official statistics agency.
The company has also created snappy charts like the Coca Cola Index, a riff on The Economist's famous Big Mac Index. The Coca Cola Index, Premise claims, reveals economic trends about the world based on the price of a bottle of Coke. In China, for instance, a bottle is roughly half the price it is in the U.S., which could hint at an undervalued renminbi, Premise says.
In February, Premise signed a deal with the World Bank to help figure out the impact of the Philippine government's implementation of the Sin Tax Bill, a controversial law that aims to restructure the existing tax on tobacco and alcohol and help raise revenue for the country's universal health program.
Premise will use its network of data contributors to capture information on price, volume, size, and quantity of cigarettes and spirits to create a new index, published in real-time for the World Bank. Some data is so granular that it includes measuring alcohol content. The information will be used to determine a floor for the Sin Tax price and availability on tobacco and alcohol.
The company has also partnered with the financial industry, working with Standard Chartered bank to create several economic indices in Nigeria and Ghana. It also works with Bloomberg, which carries several feeds of Premise data in its terminals.
Its contributors, who upload snapshots of local prices, are paid through various electronic means, including PayPal and bank transfers. Some are paid with mobile air-time — basically phone credit, which has emerged as a form of digital currency in some emerging economies. Others get compensated through alternative currencies like bitcoin. Depending on where they are in the world and their tasks, workers earn between $30 to $100 per week, sometimes more, Premise said.
Soloff, a Berkeley graduate who in past lives has worked as a rare books curator, a Greek and Latin tutor, and a rock 'n' roll musician, runs Premise alongside Joseph Reisinger, a one-time Google Ph.D. fellow and former chief scientist at Metamarkets. The pair are chasing what could be a massively lucrative financial prize: early access to the world's most important economic numbers.
"If we build the same sample approach as the governments do, we can typically print three, four, five weeks in advance. We're skipping so much of the supply chain and sausage-making that exists in official economists' data," Soloff said. "We've gone straight to the source and process the data immediately. The way I look at the global data market, it's a trillion-dollar industry that is dying to be destructed."
Premise's top advisers, Hal Varian, Google's chief economist, and Alan Krueger, Princeton's professor of economics and former chairman of President Obama's council of economic advisers, have caught the attention of economists.
In Argentina, for example, where the government is widely suspected of manipulating official inflation figures for political gain (and to reduce payments on the country's inflation-indexed debt) Premise has created real-time inflation data on food prices, putting Argentina's annualized inflation in its consumer price index at 30%.
That's a "very accurate" figure for inflation on food and beverages, according to Eric Ritondale, a senior economist at Econviews, a Buenos Aires-based research firm, and is an important component of the general consumer price index.
Premise has "separated from the pack" says Steve Hanke, professor of applied economics at Johns Hopkins University, and director of the Troubled Currencies Project at the Cato Institute. "Right away for me, as a professional economist, I'd pay attention to this." But Hanke said that while the data may be useful to provide an early warning about the changing rates of inflation, he is skeptical that Premise's numbers could completely replace official statistics, because the data focuses on food prices, which are the most volatile numbers among consumer prices and cannot be taken on their own.
As a new service, Premise's data lacks a historical element, which can also cause problems for those looking to use it in decision-making. The company has struggled to win the business of large hedge funds — which are often voracious consumers of economic data — because most funds require at least 10 years of data.
"The company doesn't have a lot of history," said a person whose business has had discussions with Premise. "But the way I see it, they can give you the ground truth of what's going on anywhere in the world."
The next big break for Premise, Soloff said, will come with countries that have a dearth of information but are desperate to build up their infrastructure. "It might be places like India or South Africa, where the Marshall Plan era, the big iron data, has not been built up in the last 60 or 70 years but there's a need to stay on top of rapid shifts that are a precondition for doing business and attracting investment," he said. "Not surprisingly, that for Premise, is the biggest opportunity."