Meet The Designer Making Furniture Float
Jessica Banks was temporarily blinded as a child, and says she's seen the world differently ever since. Now she designs household objects with an otherworldly flair.
In a small lab on Brooklyn's waterfront, an inventive furniture designer is working away at a rethink on how we sit on chairs, lie in beds, and work at desks, applying ideas from classical physics and modern engineering to the design of coffee tables and chandeliers.
Jessica Banks, 42, runs Rock Paper Robot, the firm she incorporated in 2014. Its products include a coffee table that appears to levitate thanks to a matrix of magnetized wooden cubes, a diamond-shaped table that balances on its point, and a mechanized chandelier that lights up, contracts, and retracts as you walk beneath it.
The objects have an otherworldly quality to them, and Banks says she quite literally sees the world differently than the average designer. She was temporarily blinded by a freak accident in high school involving a beauty product that was eventually taken off the market. The accident left her with severe corrosion on her corneas, but as she recovered, she regained eyesight that she now says is better than 20/20.
She compares it to the laser eye surgery that many use to correct vision problems. Banks describes seeing shapes very acutely, and from all sides, as well as visualizing shapes that don't yet exist, inspiring many of her designs. Her work is informed both by this unconventional inspiration and by eight years of study at MIT.
"It often feels like I'm lifting weights with my eyes. My eyeballs feel heavy, but then geometries in the world will cross and I make these visual mistakes that make me think, Whoa." she said. "My brain doesn't know a mistake right away, so the world becomes more magical."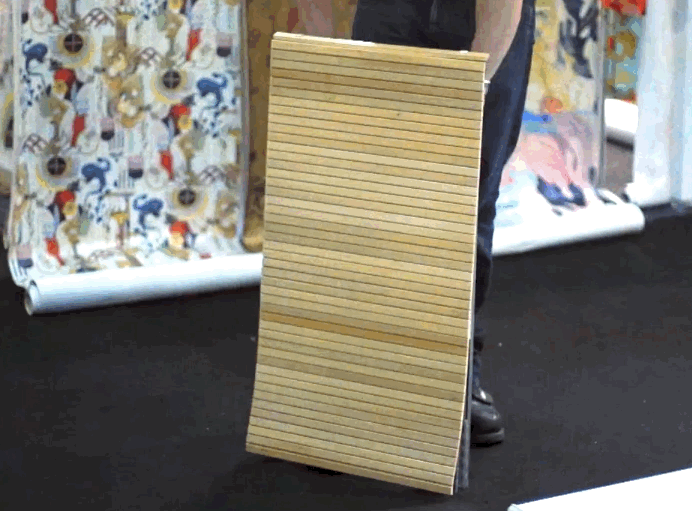 The strange shapes and styles in Rock Paper Robot's current lineup are the early stages of a much larger plan. The next project, Banks says, will look at how furniture can adapt to a person's body and fit into the growing world of health trackers and wearable computers.
"How do we equip our chairs, desk, and beds and the things we use to work and live with enough sensing availability that your desk could prevent you from having repetitive stress injury, or your chair could take your historical information to move in a way to keep you healthy?" she said.
"You can learn that you walk this far or that you slept poorly, but there is nothing the world does to help. So I think our projects can enhance and take that data and make our lives better."
Banks isn't the only one thinking about furniture as a new frontier for computing and robotics — at MIT, researchers have been working on a project that could eventually manifest itself as a chair that transforms from a rocker to a lounge based on sensing its owner's mood. That's still essentially a pipe dream, but in the meantime, Banks recently put more accessible objects on sale, including floating vases and tissue boxes and a pull-out table that can extend as long as a banquet table or shrink as small as a shelf and disappear into the wall.
Rock Paper Robot has raised a $1 million seed round and has attracted backers including investor Joanne Wilson, who has made dozens of investments in startups ranging from technology to food and education (her husband, Fred Wilson, leads Union Square Ventures, which was an early investor in tech success stories like Twitter, Tumblr, and Zynga).
Another investor is Two Sigma Ventures, a division of high-tech hedge fund Two Sigma Investments. Colin Beirne, the head of Two Sigma Ventures, described Banks' work as "out-on-a-limb applications of robotics and design" that should eventually get international attention.
"A lot of people these days are making predictions about the devices and software we use, but Jess was thinking about the physical world around us," Beirne said. "In the long-term, our homes, our working environments, and our school environments will all be impacted by the types of things Jess is working on."
For the time being, that work is limited to her more outlandish objects, sold at prices on the higher end of the furniture spectrum (you'll typically need $10,000 or more to buy a piece of her furniture). What a truly robotic chair would cost is anybody's guess. But price is all relative, Banks is eager to remind.
"Nobody really needs a levitating table," she said. "Nobody needs a Rembrandt either, but it's art."