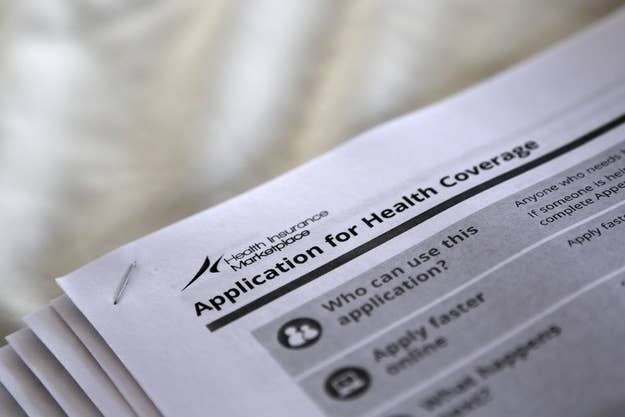 WASHINGTON — Saturday is National Youth Enrollment Day for Obamacare, a day designed to help make up for youth recruitment time lost while HealthCare.gov was down last year. It will be marked by a broad array of events, from Head Start information sessions to pub crawls.
The day will also feature a HealthCare.gov outage that came as a surprise to the White House allies who have been planning Feb. 15 enrollment activities for weeks.
"We just found that out," said Aaron Smith, co-founder of the recruitment group Young Invincibles. "Obviously it's unfortunate."
"It's not ideal," another Obamacare ally said.
With the website's enrollment system down, the administration is extending the Feb. 15 enrollment deadline for coverage by March 1, the official said, to Feb. 18.
"For those who are unable to finish signing up on Saturday but still want coverage starting March 1, [the Center for Medicaid Services] is allowing people to save their applications and finish enrolling on Feb. 18 and still have their coverage start on March 1," the official said. "Usually you have to finish by the 15th of a month to have your coverage start at the beginning of the next month."
Smith and other advocates participating in National Youth Enrollment Day said they found out about the scheduled HealthCare.gov outage — caused by maintenance to Social Security data verification services over the long President's Day weekend — when everyone else did, in a Monday release from the Department of Health and Human Services.
The Obamacare website outage begins at 3 p.m. ET and carries on through Tuesday at 5 a.m. ET. While the Social Security system is down for maintenance, HealthCare.gov users will not be able to formally send in an application for health insurance, though they will be able to browse plans and, the enrollment groups say, calculate what insurance will cost for their family.
A functioning website has always been pitched by the administration and its allies as key to securing youth enrollment in health care. It's not the most important thing, they say — affordability information is the key to getting youth enrollment. But a working website is a key piece to the puzzle.
The timing of the outage and the services that will remain functional on Healthcare.gov means the website downtime, though a clear optics problem for an enrollment team trying to tell young people the broken website they've heard so much about actually works, won't have much of an impact on National Enrollment Day, Smith and other advocates said.
"The maintenance starts at 3 p.m., which is fortunate because most of our enrollment events start in the morning," said Smith. "The night events are more about education and information."
There are hundreds of events scheduled for National Youth Enrollment Day across the country aimed at reaching a very broad population of the young and uninsured. In Austin, Texas, events on National Youth Enrollment day include an event at an African-American Heritage Festival, an enrollment event at a Baptist church, a neighborhood health care fair, and an "ACA pub crawl" starting at a bar called The Liberty.
The Obamacare recruitment groups say they'll have paper applications ready for those who can't use the website to apply and will direct potential enrollees to Navigators during the outage.
For its part, the Obama administration says everything's going ahead as planned with National Youth Enrollment Day, despite the inconvenient outage to HealthCare.gov.
"National Youth Enrollment day is still happening," an administration official said. "This is one of many on-the-ground efforts to help young adults enroll in coverage by March 31, the end of open enrollment."
The deadline extension from Feb. 15 to 18 will help, say the White House allies. But the real source of their confidence is the experience they've already had trying to get young people to enroll in Obamacare while the website is down.
"Given that we worked around the website being down for two months we'll be able to work around it," one White House ally said of this weekend's outage.
Smith said his recruiters are battle-hardened when it comes to convincing people health care is working while the health care website is not.
"You got to remember we went through a first month where folks were saying the website's never going to work," said Smith. "We roll with the punches. This is really not a big deal for us."
Update (2/12/14):
An HHS official sought to clarify Wednesday the enrollment downtime on Healthcare.gov and rejected the term "outage" to describe the loss of functionality at HealthCare.gov. Applicants who "filled out the application, got their eligibility determination before 3 p.m., they can still shop and choose a plan and finishing enrolling anytime even after 3 p.m. ET," the official said in an email. Would-be enrollees who begin the process of enrollment on National Youth Enrollment Day and do not receive their eligibility determination by 3 p.m. ET — or don't begin the signup process until after 3 p.m. ET — will not be able to sign up for health insurance through the website until the enrollment system comes back online.
Update (2/12/14 7:27 p.m.):
The Department of Health and Human Services said Wednesday that the extra time to sign up is not an extension of the deadline.
"The deadline isn't being 'extended,'" an HHS official said in an email. "If you have saved your application and wanted to complete your application on the 15th, but couldn't, you can contact our call center starting on the 18th to request a March 1 start date."
In the email Wednesday, HHS clarified that new enrollees would need to save an application by the end of the day on Feb. 15 to qualify for the additional application time. "An individual needs to call the call center and explain that they started on the 15th after 3 p.m. and could not finish," an official said. "We will check against our information in our system."