Why Hasn't Michael Boggs Dropped Out?
Obama's controversial judicial nominee has lost the Senate Democrats and doesn't have a lot of Republican friends either. "I promise you he'll be there until the very end," says a supporter.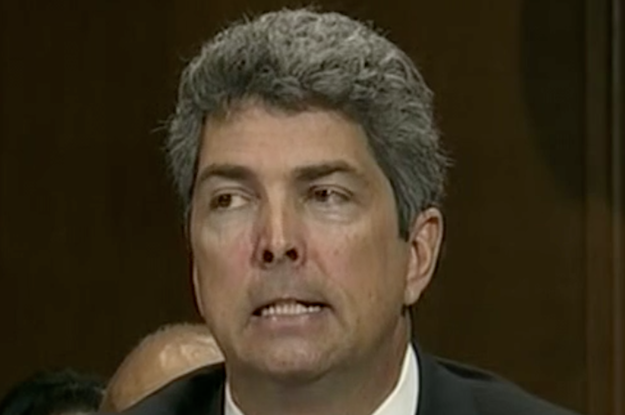 WASHINGTON — Michael Boggs is fighting an uphill battle on Capitol Hill. His friends say he likes it that way.
"There's an old country and western song, 'If I'm going to go down, I'm going to go down swinging,'" said John Thigpen, an attorney from Blackshear, Georgia, and a supporter of the embattled state Appeals Court judge nominated to the federal bench by President Obama. "He'll go down swinging."
"He's a determined man," Thigpen said. "I promise you he'll be there until the very end."
That attitude Thigpen describes might explain why Boggs is still kicking around. After all, his nomination has not gone well for Obama, the Republican senators who backed him, or for Boggs himself.
Progressives rallied against Boggs from the outset, forming an extraordinary coalition of abortion rights, LGBT rights and civil rights advocates that has successfully pressured top Democrats to formally oppose the nominee, including two members of the Judiciary Committee, suggesting Boggs might have trouble making it to a Senate floor vote. After a disastrous confirmation hearing, the White House — which nominated Boggs as part of a deal to get their other nominees past Republican opposition — bailed on Boggs, too. Following the hearing, Democrats demanded written answers from Boggs and when they got them, found them decidedly lacking.
On Wednesday, Senate Judiciary Committee chair Patrick Leahy, Democrat of Vermont, separated Boggs' name from the rest of the Georgia slate of nominees after Democrats demanded more answers from Boggs.
Federal nominees have dropped out for less, and back home in Georgia, attorneys are scratching their heads.
"Everyone is saying, 'Why hasn't he withdrawn?'" said Suzy Ockleberry, a lawyer and top official at Advocacy For Action, a Georgia-based group aimed at increasing racial diversity on the Georgia bench that opposes Boggs. After the Senate Judiciary Committee hearing and the continuing call for answers from Boggs from Democrats, Ockleberry said Boggs' refusal withdrawal is pure hubris.
"I think that it is surprising that he thinks his nomination is still viable," she said. "His positions in a lot of the follow-up questions would indicate that he probably should withdraw."
In Washington, those involved with the Boggs nomination are keeping tight-lipped about why he's still facing a Judiciary Committee vote. The White House did not respond to a request for comment about Boggs, and staff for Georgia Republican Sen. Saxby Chambliss — seen as the man who helped orchestrate the deal that put Boggs forward along with a slate of judges Obama wanted — said Chambliss "does not comment on judicial nominees."
Boggs didn't respond to a message left for him at his office in Georgia.
Progressive advocates in D.C. pushing Democrats to reject Boggs aren't willing to say his nomination is dead yet, and are moving ahead with their efforts even after Boggs' nomination was delayed.
"Michael Boggs not getting a vote this week in the Senate Judiciary Committee reaffirms his questionable record and inconsistent statements," said Ilyse Hogue, president of NARAL Pro-Choice America. "We will continue our efforts to make sure the committee, the full Senate, and the public are aware of Boggs' past and to defeat his confirmation."
Thigpen, a fellow attorney from a county Boggs represented in the state legislature, said Boggs could suffer in Georgia if he loses an embarrassingly lopsided confirmation vote in the U.S. Senate. Boggs is ambitious, and the next move for him if he doesn't get the federal judgeship could be an attempt to jump from the state court of appeals to the state supreme court. But Thigpen said the political risk isn't enough to stop Boggs from seeing the fight with the progressives in Washington to the bitter end.
"Any time you're rejected for anything you're damaged," Thigpen said. "But he'll come back and he'll overcome it."