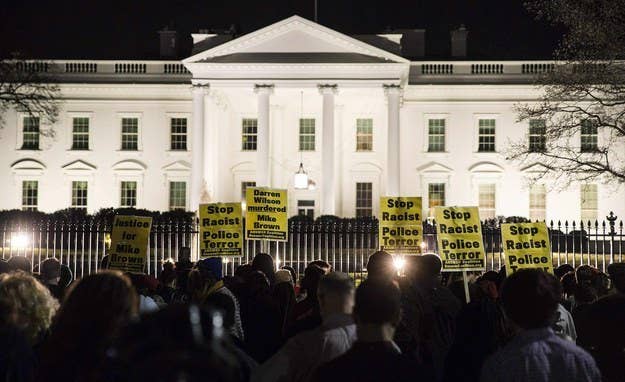 WASHINGTON — The White House review of police militarization ended Monday with no proposed major changes to federal programs that funnel military equipment to local law enforcement. A senior administration official said President Obama has no position on proposed legislation in Congress to curb the programs.
The review began in response to the violence in Ferguson, Missouri, between protesters and local police.
The administration is keeping its hands off the bipartisan militarization debate, which imploded after a brief surge in interest on Capitol Hill. Administration officials noted repeatedly that "the vast majority" of surplus military equipment sent to local police forces is not former combat equipment and said they could not alter programs created by Congress.
Asked about proposed legislation to limit the availability of military equipment to local police, proposed by Democrats and Republicans in the House and Senate, the official said the White House had not reviewed the bills.
"I don't have a specific position for you," the official said.
"Our assumption is Congress has an intent here to support local law enforcement with the use of this kind of equipment," the official said on a conference call with reporters Monday. "Our focus is on what kind of protections are in place to make sure it's used properly and safely."
While the administration is largely leaving the military equipment programs as they are, the White House is calling on greater scrutiny of how police operate. The administration is calling for new training programs and proposing a $75 million matching grants program to purchase body cameras for police officers to wear on duty.
Later in the day, Obama will announce an executive order aimed at addressing those safety concerns, part of a full afternoon of White House events focused on police-community relations after Ferguson.
Administration officials outlined plans to add additional layers of review before local police can obtain surplus military hardware or win federal grant money to purchase it new.
Several agencies across the federal government provide the grant funds to local police forces, while the Department of Defense oversees the surplus program. Obama's executive order will push localities to add civilian review boards that would approve police requests for military equipment. The order also focuses on boosting training programs for local police who use the equipment.
Changes to the programs suggested by the White House would also provide an increase in data collection on how military equipment is used by local cops. Demilitarization advocates have complained that police aren't required to keep track of exactly when military-grade equipment like MRAPs and M-16s are deployed, making it difficult to study. A 2014 ACLU state-by-state study of the use of military hardware found it is most often deployed as part of the drug war and against people of color.
Obama's executive order calls for "after-action analysis reports for significant incidents involving federally provided or federally-funded equipment."
In addition, Obama is creating a new task force to study the use of military equipment by local police in the future. The first, co-chaired by Charles Ramsey, the commissioner of the Philadelphia Police Department, and Laurie Robinson, a former top official at the Justice Department, is focused on building better relationships between police and some of the communities they serve. It is expected to report its findings in about three months.