White House To West: Climate Change Is Making Wildfires More Frequent And Worse
The Obama administration pivots off another natural disaster to make its case that climate change is real and Americans are already suffering because of it.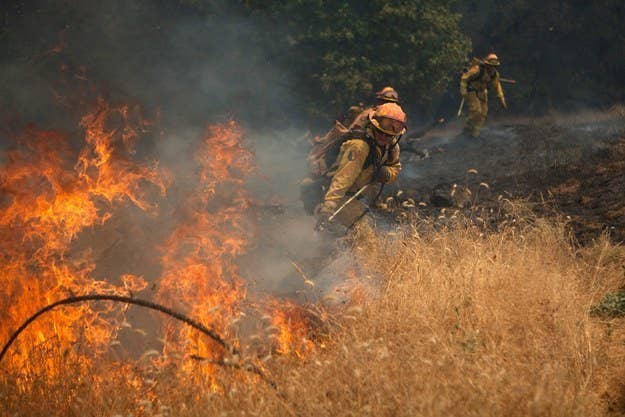 WASHINGTON — Americans living in fear of — and dealing with the aftermath from — deadly wildfires are suffering the effects of climate change, the Obama administration said Tuesday in the newest iteration of the White House push to discuss climate change as a clear and present danger rather than a future threat.
It's a strategy top White House officials said last week is changing some Republican minds on climate change, albeit not any of the ones who cast votes on legislation in Congress.
The latest iteration of the messaging strategy focuses on wildfire season. On Tuesday, the White House plans to launch a digital campaign that ties the wildfire threat directly to climate change and urges Americans to pressure Washington to take legislative action. Administration officials gave BuzzFeed an early look at the campaign Monday.
Top White House adviser John Podesta penned an email for the White House list scheduled for Tuesday morning that ties the ongoing wildfire emergency in California to climate change.
"In the western United States, changes in our climate are fueling wildfire seasons that are longer and more intense, putting people, communities, and businesses at risk," reads the email. "As we're seeing right now, wildfires unquestionably have devastating impacts on the lives of many Americans."
President Obama's Science Adviser, Dr. John Holdren, stars in a new White House video meant to illustrate the connection between climate change and wildfires. In the video, Holdren says that while "no single wildfire can be said to have been caused by climate change," shifting environmental conditions make them more frequent and harder to combat.
Holdren has become the face of the new White House climate efforts, deflecting climate change critics' contention in a January video that the Polar Vortex disproved climate change. Holdren was also the face on the administration's May Climate Assessment, which found ongoing impacts of climate change across the country.