White House: The Federal Government Still Opposes Legalizing Marijuana
"The Federal Government opposes drug legalization because it runs counter to a public health and safety approach to drug policy," a White House official tells BuzzFeed News after Loretta Lynch testifies.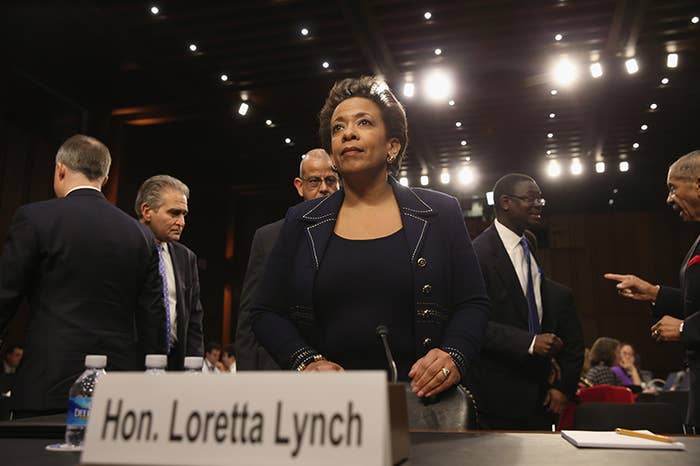 WASHINGTON — When Loretta Lynch told senators "I do not support the legalization of marijuana" during her confirmation hearing for Attorney General Wednesday, she upset a delicate balance for an Obama administration that has expressed support for current federal law banning pot use while also signaling a desire to loosen federal restrictions on the drug.
A White House official told BuzzFeed News Wednesday evening that Lynch's unequivocal opposition to marijuana legalization didn't set a new tone.
"Our position has been clear — marijuana remains illegal under Federal law," the official said in an email when asked if Lynch stated the administration position in her confirmation hearing. "The Federal Government opposes drug legalization because it runs counter to a public health and safety approach to drug policy."
But Obama has not been as hardline about marijuana as Lynch was Wednesday. Speaking to YouTube vlogger Hank Green last week, Obama said that pot was not a priority as the legal landscape has become muddied by states legalizing recreational use.
"The position of my administration has been that we still have federal laws that classify marijuana as an illegal substance," Obama said. "But we're not going to spend a lot of resources trying to turn back decisions that have been made at the state level on this issue."
Obama told the New Yorker last year that he doesn't think marijuana is any more dangerous than alcohol or cigarettes. In the interview with Green, he openly questioned the government's current approach to marijuana enforcement.
"You know, what we have done is instead of focusing on treatment, the same way we focused, say, with tobacco or drunk driving or other problems where we treat it as a public health problem, we've treated this exclusively as a criminal problem," Obama said. "And I think that it's been counterproductive, and it's been, you know, devastating in a lot of minority communities. It presents the possibility at least of unequal application of the law. And that has to be changed."
As he has in the past, Obama pivoted the question about marijuana to the push for changes to federal sentencing laws for drug offenders, which he has supported since the beginning of his presidency.
Since Colorado and Washington passed their state laws legalizing pot, the Justice Department has promised not to make prosecutions of recreational or medicinal users of marijuana a priority.
The White House official reiterated that stance after Lynch's testimony Wednesday. If confirmed, Lynch would be in charge of managing the prosecutorial discretion rules as Attorney General.
"The Administration's position on enforcement has been clear and consistent: while the prosecution of drug traffickers remains an important priority, targeting individual marijuana users – especially those with serious illnesses and their caregivers – is not the best allocation of limited Federal law enforcement resources," the official wrote.