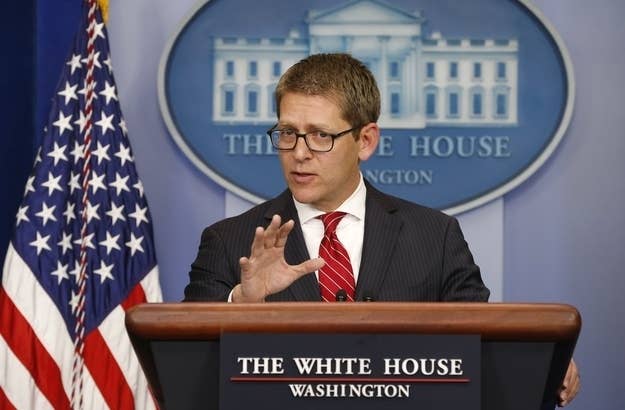 WASHINGTON — The White House Tuesday pushed back against congressional efforts to impose a new round of sanctions against Iran, arguing that while new sanctions remain on the table, acting before end of negotiations over the Islamic Republic's nuclear program could start a "march to war."
"The American people justifiably and understandably prefer a peaceful solution that prevents Iran from obtaining a nuclear weapon. And this agreement, if it's achieved, has the potential to do that," White House spokesman Jay Carney told reporters.
But "the American people do not want a march to war. And it is important to understand that if pursuing a resolution diplomatically is -- is -- is disallowed or ruled out, what options, then, do we and our allies have to prevent Iran from acquiring a nuclear weapon?" Carney added.
Carney stressed, however, that the administration isn't abandoning the sanctions strategy, but is rather looking for more time to let the negotiations play out.
"When it comes to the issue of new sanctions legislation, it's important to remember: No one is suggesting an open-ended delay for new sanctions, because there may come a point where additional sanctions are necessary," Carney said. "At the same time, it is important for Congress to reserve its ability to legislate for the moment when it is most effective in order to give the current P-5-plus-1 negotiations the best chance to make real progress in achieving our shared goal of preventing Iran from obtaining a nuclear weapon."
Secretary of State John Kerry is expected to ask a Senate panel Wednesday to delay a plan to stiffen sanctions on Iran. His visit to the Senate is part of a broader effort to lobby Congress against imposing new sanctions that has included calls from President Obama to lawmakers. Administration officials worry that new sanctions will upset fragile negotiations with Iran that could lead to the first major thaw in relations between Iran and the U.S. since 1979.
Carney stressed that the administration favors sanctions against Iran, just not new ones and not now.
"This is not about being for or against sanctions," he said. "This administration has imposed the most crippling sanctions in history against Iran, and we appreciate the leverage those sanctions have given us and we appreciate the partnership that Congress has given us in that effort."