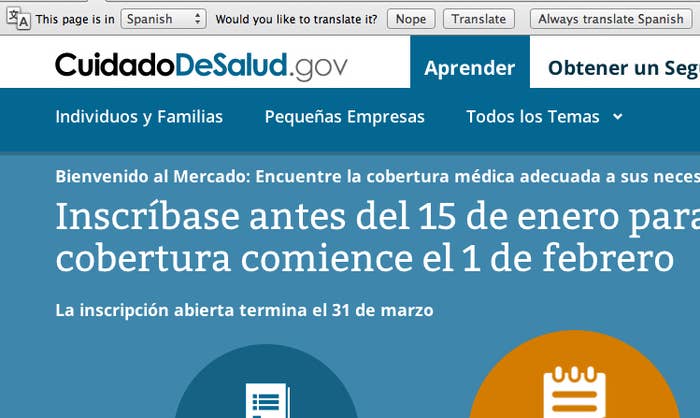 WASHINGTON — A senior White House official denied Monday that computers translated the Spanish-language Obamacare website.
Amid criticisms over amateurish and confusing Spanish found on the site, the White House pushed back hard on critics who said the text on CuidadoDeSalud.gov is "Spanglish."
The Spanish-language exchange site has seen a number of delays in recent months and is still not fully functional, with consumers unable to browse different plans. An Associated Press story published Sunday about the difficulties with the site also described the language on the Spanish-language site as "so clunky and full of grammatical mistakes that critics say they must have been computer-generated."
"To some extent that story would be a little over-torqued," a White House official said when asked about the AP article.
The White House official declined to say if "over-torqued" meant "wrong," when asked by BuzzFeed at a White House briefing on the health care enrollment numbers where attendees agreed not to quote participants by name.
A second official said some of the translations on CuidadoDeSalud.gov are "literal" translations of language on the English-language version of the site. The official denied the AP's suggestion that computers did the translating.
"The translation of CuidadodeSalud.gov is a collaboration between several in-house translators and employees of contracted translation companies," the official said in an email after the briefing. "We do not use automated translations."
The White House officials said they were aware of the sometimes-clunky Spanish. "We are committed to ongoing improvements," the senior official said via email.
The officials warned against assuming a less-than-ideal Spanish-language website would affect Latino enrollment numbers.
"The Latino community is using in-person assistance at a higher rate than the general public," the official said. Many Latinos speak English, administration officials have said, and so the Spanish-language site is not the primary way to reach them.
"This sort of translation does not affect your average Latino enrollee," the official said.
That logic is flawed, said Dr. Jane Delgado, president and CEO of the National Alliance for Hispanic Health. Delgado's group runs a national hotline aimed at helping Latinos register for health care. She said CuidadoDeSalud.gov has been "a major disappointment" and said that problems on the site are causing problems with Latino enrollment.
"The people who are uninsured, many more of them speak Spanish," she said, referring to the population she assists through her group.
For those who do speak English, Delgado said, it's often not their first language and so it can add confusion when Spanish options don't exist or aren't up to snuff.
"The language of insurance is new for people who are uninsured so it might be easier to for them to learn about it in a language they're comfortable with," she said.
The administration official said language on CuidadoDeSalud.gov was designed to appeal to the widest-possible Spanish-speaking audience.
"What we're doing is trying to make sure across a wide range of Spanish dialects that what we use for 'detectible' is meaningful to people in Texas and in California," the official said. "And if there's a gap on that that we're closing it with in-person assistance."
Three BuzzFeed staff members who speak Spanish reviewed CuidadoDeSalud.gov Monday and said that while the site's language is "clunky," with some phrases that appeared to be literal translations, the site is readable for the most part.
Problems with Spanish-language outreach has plagued the Affordable Care Act since enrollment began. Latino groups have complained that deadlines aren't reliable and that an early lack of Spanish-language training materials for "Certified Application Counsellors" made enrolling those most comfortable speaking Spanish difficult.
Gabriela Domenzain, director of Hispanic press outreach for President Obama's 2012 reelection campaign, said it's not always easy to create Spanish translations of English material and defended White House outreach to Latinos.
"Translating English material into Spanish is not only much harder than most assume, but prone to prompt many differences of opinions," said Domenzain, who's now a political consultant working outside the White House. "There are so many different colloquial expressions that can be right or wrong depending, literally, on what Spanish-speaking country's city or neighborhood you come from, that pleasing everyone is impossible."
"Latinos are the most uninsured and under-insured community in the United States," she said, "and I'm certain that the administration is committed to ensuring that CiudadoDeSalud.gov is as user friendly to all of them as possible."