White House Lays Groundwork For Environmental Push
A rejuvenated Council on Environmental Quality is expected to be a big part of John Podesta's legacy at the White House. "It's going to get the job done," says an advocate.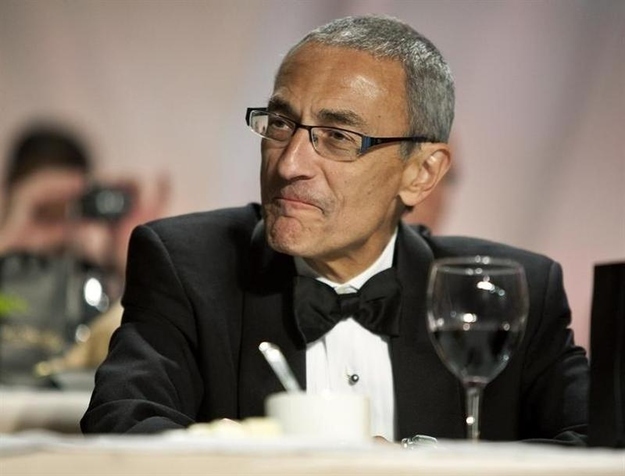 WASHINGTON — The Obama administration is getting ready to give a lot more juice to a key executive environmental office in a year officials say will be marked by the White House acting on its own when Congress won't.
The administration, led by newly installed senior adviser John Podesta, is expected to boost the profile of the Council on Environmental Quality (CEQ), a division of the executive branch that saw a much higher profile during the Clinton and Bush administrations than it has under Obama. The backstage reshuffling hints at a streamlined process for bold new regulatory moves aimed at curbing greenhouse gases and standing up the alternative energy industry.
Activists say CEQ could also bring a new focus to the conservation side of environmentalism, which they say has been on a back burner at the White House while a "climate czar" focused on climate change and alternative fuels.
For the Obama team, a newly empowered CEQ could be one of Podesta's lasting legacies and a defining part of his return to the federal government. Podesta is said to be strongly leaning toward a high-profile nominee to lead the CEQ, a prospect made easier by the Senate's adoption of the so-called nuclear option late last year to allow nominations to proceed with a simple majority of votes.
Senior administration officials have recently characterized the new year as one with a new focus on executive power. The CEQ could be one of the starkest examples of Podesta helping Obama use that executive power to sidestep Congress. A powerful CEQ would be a "cop on the beat," one top environmental activist in Washington said, publicly and through the levers of power, pushing the administration to take more action on the environment.
"It's become very difficult on some of these issues to do them legislatively and [Obama] has the opportunity to move forward through regulation," said
Delaware Gov. Jack Markell, a Democrat who sits on Obama's Climate Preparedness Task Force, which has met once since the White House launched it last year.
Obama, who once made stopping the rising oceans a core part of his mission, has failed to enact major climate legislation in his first five years, though he has already taken some major executive action, like raising vehicle emissions standards. He's also locked in a pitched battle with climate activists who used to support him over the Keystone XL pipeline that would bring oil from Alberta, Canada.
Now, sources say the president is poised to open a new front. Established by Congress during the Nixon administration, the CEQ was designed to act as the central clearinghouse for environmental policy in the executive branch. With so many agencies involved in policy decisions affecting the environment, the CEQ is supposed to settle territorial squabbles. Taking its cues from the Oval Office, the CEQ is intended to enforce policy discipline, keeping the federal bureaucracy moving in one direction set by the president. Under Bush, that meant seeding skepticism toward climate change and an abiding focus on deregulation. The chief of staff for Bush's CEQ resigned after documents showing he edited government reports "in ways that play down links between [greenhouse gas] emissions and global warming," according to New York Times reporting at the time. Clinton's CEQ reflected Vice President Al Gore's focus on climate change, with leaders of the council coming from Gore's orbit.
But Obama hasn't used the CEQ the same way since he took office. Instead he appointed former Clinton Environmental Protection Agency administrator Carol Browner as his "climate czar" (officially, the director of the White House Office of Energy and Climate Change Policy) in 2009. Asked about that approach last week, some senior climate activists in Washington said the Obama years have lacked the single "front door" to the White House a powerful CEQ provides and the use of a climate-focused czar has meant conservation efforts have lagged.
"That part of the environmental stuff has not had as much of a focus," said David Goldston, government affairs director at the National Resources Defense Board.
"It's harder to make progress and it's harder for environmental voices to be heard" with a weak CEQ, he added. "A lot of CEQ's role is dealing with environmental priorities that are not climate."
When Browner left the administration in 2011, there was speculation that the departure would bring a new, higher profile to the CEQ. With Podesta, who oversaw a powerful CEQ as Clinton's chief of staff, stepping in and Senate Democrats clearing the runway for Senate-confirmed nominees, the time for that new profile appears to have come. Within days of Podesta's return to the White House, paywalled industry publications were hinting that a big change at the CEQ was coming.
The face of that change will likely be a high-profile name to lead the CEQ. There has been some speculation that a former Democratic governor like Christine Gregoire of Washington or Jennifer Granholm of Michigan could get the job. (Granholm appears to be out of the running, having teed herself up for a major role in 2016 by taking a top job at Obama's old super PAC.)
But environmental activists in Washington last week said they doubt that an ex-governor will take the job, expecting Podesta to push for an expert in D.C. bureaucracy instead as part of his overall goal to help Obama use his executive powers more effectively. Other names that have been raised include Browner's former deputy Heather Zichal. She didn't respond to a request for comment on the future of the CEQ. Current chair Nancy Sutley, a veteran of the Obama presidential transition team, is due to step down in February, suggesting a new CEQ chair will announced sooner rather than later.
White House officials haven't spoken publicly about the future of the CEQ, but an official didn't quibble with the suggestion that it's poised to take on a more central role. What that means on the climate change side of the ledger is largely understood already, activists say, pointing to Obama's big speech on the topic last July.
Melinda Peirce, a top member of Sierra Club's Federal Policy Team, ticked off the goals from that speech like she'd memorized them: new fuel economy standards for heavy-duty vehicles, emissions standards for existing power plants, acceleration of alternative energy development on some public lands, "fixing and modernizing the electrical grid," and creating more controversial energy usage standards for walk-in freezers and other industrial equipment.
"All those energy-efficiency standards that have been languishing" could get a jumpstart with a more powerful and more public CEQ, she said.
Activists also hope a newly empowered CEQ will expand the White House environmental portfolio to include a greater focus on executive actions like establishing national monuments and protecting federal land from traditional energy exploration. Conservationists have felt left out of the all-climate-all-the-time Obama years, and they said last week they hope a boost for the CEQ means a boost for them as well.
Raising the stature of the CEQ, with its promise of streamlined executive actions on greenhouse gas regulation, is sure to raise alarm among Republicans.
In recent years, many Republicans have expressed skepticism about consensus scientific views of human-caused climate change, and since Obama's election conservatives have railed against executive power. Members of Congress of both parties from oil- and coal-producing states have also resisted attempts to regulate greenhouse gas emissions. Senior White House officials have said they're happy to work with Congress when the chance arises, something they're cautiously optimistic might happen more in early 2014. But no one expects major legislative action on climate. In a familiar catch-22, environmental activists admit that executive action on climate isn't going to help make legislative environmental action any more likely. But they say in the current political climate Obama has no other choice.
"The bottom line question for all these things is how do you move the country forward," said Markell, one of his party's leading voices on climate regulation. If Obama, he said, has regulatory opportunities to make policy, then "all the more power to him and he ought to be doing it."
Environmental activists, who were sometimes critical of Obama in his first term, sound optimistic about Podesta's CEQ relaunch. But they agree the bureaucratic changing of the guard in favor of the CEQ is the best they're going to get as long as the political landscape includes one party for the most part diametrically opposed to environmentalism.
"I can be excited but it's not glamorous," said Pierce. "None of [the executive action expected] is glamorous. It's really just grinding it out. I'm excited because I know it's going to get the job done."