What Is — And Is Not — Likely To Happen In Syria
A national security expert listened in on the White House's Syria call Thursday. Here are her takeaways. "We didn't get any closer to a no-fly zone today."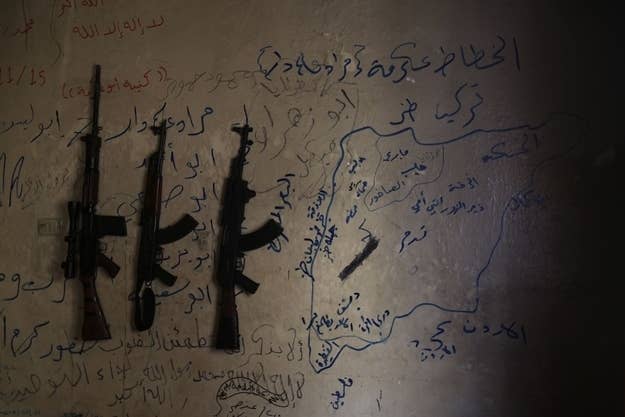 WASHINGTON — On Thursday, the White House announced the red line had been crossed in Syria. President Bashar Assad's regime has used chemical weapons, National Security Council deputy advisor Ben Rhodes told reporters on a conference call, and that means "military support" for the Syrian rebels.
What does "military support" mean, exactly? Rhodes was vague about what the phrase entailed for the U.S.. But experts and politicians have been kicking around ideas for how to use the American military in Syria for quite a while now, and the crossing of President Obama's red line by Assad leads to several likely options, they say.
One of those experts, National Security Network executive director Heather Hurlburt, listened in on Rhodes' call and gave BuzzFeed a readout.
What "Military Support" Could Mean
There are several ways to provide military aid, Hurlburt said. The first is by providing access to training and technology, which can change the dynamics on the battlefield without providing weapons or ammunition.
"There's lots of categories of things that are not by themselves lethal but that make you a better and more lethal soldier," she said.
1. Military Training
U.S. allies England and France have said they're willing to provide arms to the Syrian rebels. Military assistance from the U.S. could entail American training in military tactics and use of the arms.
"There's been rumors that some of that was already going on," Hurlburt said.
2. Communications Equipment
The U.S. military has some of the most advanced communications hardware of any military on the planet. Access to that technology could give the Syrian rebels an edge over Assad's forces.
"If you think about some of the sophisticated gear our guys in Afghanistan have, for example," Hurlburt said. "To put it in a layperson's term, you are your own mobile hotspot. But with the ability to operate where there aren't cellphone towers, where there aren't outlets, where you're operating in a ruined environment, or a rural environment or a mountainous environment."
3. Protective Equipment and "Military Humanitarian" aid
The U.S. could provide body armor and chemical-resistant equipment that would make it easier for the rebels to fight against the Syrian military, Hurlburt said.
By outfitting field hospitals and providing other military medical needs, the U.S. could bolster the rebels' lethality without providing arms.
4. Lethal Aid
Just before Rhodes started up the White House call, Sen. John McCain stepped onto the Senate floor and announced Obama had decided to send arms to the Syrian rebels. Later in the same speech, McCain retracted those comments.
On the White House call, Rhodes was vague about what kind of aid the U.S. will now provide to rebel forces, but he said it would be different from the aid the government is already providing. Hurlburt said it sounded to her like the U.S. is setting the stage to provide lethal assistance jointly with England and France.
"What's happening here is the U.S. is harmonizing its approach, so that the U.S., the U.K. and France can get together and say, 'ok, you give this and we'll give that,'" she said. "Basically you have he ability for the three most military sophisticated members of NATO to be operating in concert."
What "Military Support" Probably Does Not Mean
1. A No-Fly Zone
In Libya, the U.S. and its allies spent millions sending warplanes on sorties across the country to crush the regime's forces and clear the way for a rebel victory. Some, like McCain and fellow Republican Sen. Lindsey Graham, have called for the use of U.S. military (if only in the form of cruise missiles) to directly attack Assad's forces and aid the rebels.
Hurlburt said there's nothing to suggest that kind of action is around the corner.
"We didn't get any closer to a no-fly zone today," she said. "There's nothing that [came from the White House] that suggested we're any closer to that. Lethal assistance is very different from U.S. or allied action."
2. Boots On The Ground
Also not happening, Hurlburt said: A ground invasion of Syria by U.S. or allied forces.
"I don't know anyone who thinks that would be a good idea," she said. "This is kind of the key factor: [The Syrian rebels] have never said they wanted an American occupation of their country or a NATO occupation of their country."