What Happens Next After Obama's Unprecedented Commutation Of Nonviolent Drug Offenders
The former federal public defender who helped the White House choose who to let out of prison Monday — and other advocates — want the commutations to just be the beginning for criminal justice.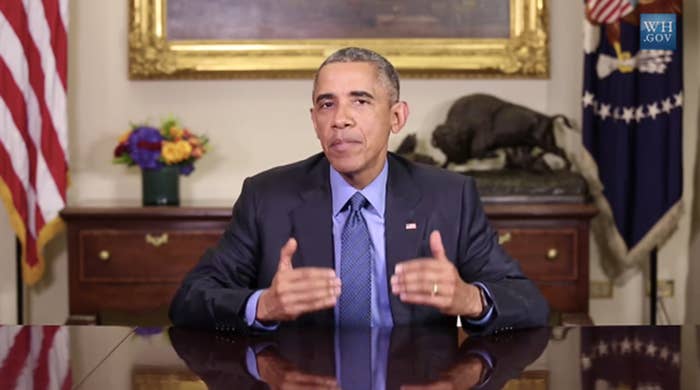 WASHINGTON — Monday's sweeping commutations by President Obama are meant to serve two purposes, says the former federal public defender who helped the White House select which prisoners got to leave custody early.
One was to correct the sentences of inmates serving time under old guidelines that no longer apply to newly sentenced prisoners. For them, a long and sometimes difficult journey is just beginning.
The other was to push Congress to enact changes to the criminal justice system a growing bipartisan coalition of advocates and the White House have been pushing for years.
"I became a lawyer to do this, to speak for people who don't have a voice who have no hope," Cynthia Roseberry, the director of the Clemency Project 2014 — a group of lawyers and advocates that helped process thousands of applications for early release from federal prisoners ahead of today's announcement — told BuzzFeed News in a recent interview. "These are my people, they grew up in the same place I was reared in."
Roseberry grew up in a poor, inner-city Atlanta neighborhood. Her career has been focused on providing legal help to the people she grew up with, a community she said often gets the short end of the stick when it comes to the long arm of the law. She spent years as a high-profile criminal defense attorney in Georgia, helping found the state's Innocence Project and eventually serving as a federal public defender. She moved to D.C. to run the Clemency Project, which was formed after the Department of Justice requested early last year lawyers offer assistance to federal prisoners who believed they might be eligible for early release but couldn't afford attorneys to help them.
The Clemency Project sorted through tens of thousands of applications for clemency. The group couldn't decide who would get their sentences commuted — that power rests solely with the president — but it was able to help find applicants who lawyers working for the project believed matched the eligibility guidelines laid out by the Obama administration. Thirteen-thousand applications were screened out. Around 50 were sent first to the justice department's pardon attorney and then on to the White House for review. Not all applicants used the Clemency Project; some used their own attorneys. The Clemency Project offered free legal help through funding from the American Bar Association, the American Civil Liberties Union, Families Against Mandatory Minimums, Federal Public and Community Defenders, and the National Association of Criminal Defense Lawyers.
In the end, the White House chose 46 federal prisoners, originally sentenced for nonviolent drug offenses, for early release.
"These men and women were not hardened criminals," President Obama said in a Facebook video announcing the commutations. "But the overwhelming majority had been sentenced to at least 20 years. Fourteen of them had been sentenced to life ... so their punishments didn't fit the crime."
The prisoners granted clemency will, for the most part, enter the federal probation system, where they'll be live under supervised release for several years. Some of the outside advocates who helped Monday's commutations are expected to help with the uphill climb to a job and housing by forming an outreach group that will help track the progress of prisoners who had their sentences reduced today.
"They're going to be entering an alien world," Roseberry said of prisoners who may have put behind bars before smartphones and the internet.
Obama used the Facebook video to again call on Congress to act on existing legislative proposals that would retroactively reduce certain minimum non-violent drug sentences to current levels set by Congress in 2010. Activists pushing for an end to mandatory minimums for drug offenders entirely say the commutations could help push their efforts in Congress, where Republican leaders have shown signs of softening their tough on crime stance when it comes to some minimum sentencing.
"The fact that we put nonviolent drugs offenders in prison for the rest of their natural lives, or even just decades, is appalling, and today's commutations recognize that a free country shouldn't do that, particularly not when there are much better evidence-based penalties available to deter recidivism and improve public without permanently fracturing families and communities," Mike Riggs, spokesman for Families Against Mandatory Minimums, told BuzzFeed News in a statement. "We know that members of Congress know this as well. It's time for them to act."
It was not clear in the hours following the White House announcement exactly how advocates would leverage the commutations to push congressional action, but the White House move puts more than two dozen public faces on the issue of criminal justice. Roseberry said the move sets a presidential precedent as well.
"I hope that it carries on with the next president," she said. "I hope that whomever is elected next is bold enough to continue this."
Republican-leaning criminal justice advocates in Congress and around Washington said last week they don't view Obama's commutations as damaging the way pro-immigration Republicans viewed the president's executive actions on DREAMers and other groups. For one thing, they say, it's crystal clear that commuting sentences a power the president has. White House critics said the president overstepped his bounds when it came to those executive actions last year. There was some worry that it might be harder to get wavering Republicans to come down on the side of supporting criminal justice advocates now that Obama has so strongly made support for them a focus of his remaining time in office, but overall the commutations were not expected to derail things on Capitol Hill.
For Roseberry, the commutations were another chapter in a lifetime of advocating for poor clients she said are often unfairly treated by the justice system. She cited the bipartisan efforts that have brought together evangelical Republicans, libertarians, and social justice progressives under one tent to support changes to the criminal justice system. Like Obama, she said the commutations should produce energy in Congress to act.
"All politicians now have the power to do this from the people," she said. "That's why this is such a historic moment."
This post has been updated to correct the spelling of Cynthia Roseberry's name.