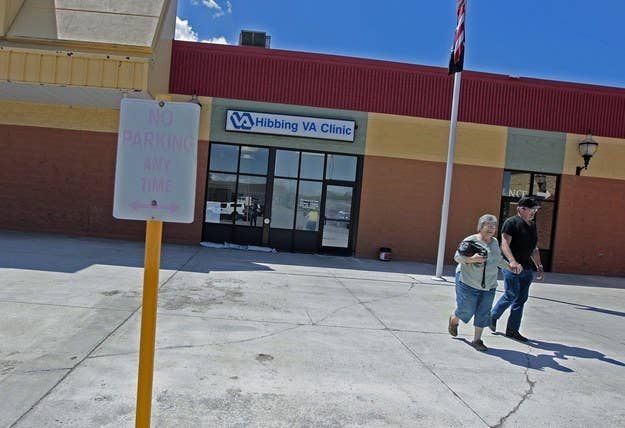 WASHINGTON — Former and current VA employees will tell congress at a hearing Tuesday that whistleblowing can entail severe retaliation from superiors at the VA, including reassignment to a windowless basement, separation from family and — in one case — a stress-induced heart attack.
Three VA doctors and a program administrator are set to testify at Tuesday's House Veteran's Affairs Committee hearing, specifically focused on whistleblowers. All provided information on what they saw as inept practices inside the VA and say they faced retaliation, including being placed on leave.
The hearing should also provide illumination on the case of the VA's aggressive actions toward an outside veterans group that has called for whistleblowers to come forward.
In May, the Inspector General for the Veteran's Administration issued an extraordinary subpoena demanding a list of anonymous whistleblowers collected through a joint effort launched by the Project For Government Oversight, a watchdog group, and the Iraq and Afghanistan Veterans of America, one of the nation's most vocal advocates for veterans of post-9/11 conflicts. The groups built a special website for VA employees and veterans to anonymously report problems with the way the federally-owned hospital network was delivering care to vets.
POGO and IAVA have collected around 800 names through the website and have pledged to keep them secret. The Inspector General's subpoena required POGO to hand them over so federal investigators can look into the claims. In an June letter to members of congress, VA Inspector General Richard Griffin wrote that the subpoena was necessary because Griffin's team can't investigate claims of wrongdoing by IAVA and POGO unless they can independently verify the allegations themselves. Griffin pledged to keep the names secret and warned that unless he was able see the list himself, the complaints gathered by POGO and IAVA were "mere allegations."
POGO and IAVA officials say that would violate the promise they made to their whistleblowers, and so, on June 13, the groups publicly let the deadline for compliance with the subpoena pass, earning praise from media critics and the backing of Republican Sen. Tom Coburn, who warned that the subpoena could have a chilling effect on future whistleblowers coming forward. On Monday, POGO announced more than 18,000 had signed an online petition demanding the inspector general drop the subpoena.
A month after they made their stand, the groups say they haven't heard a word from the inspector general about the subpoena, or what the feds plan to do now that they've ignored it. That hasn't calmed their nerves.
"We have not received anything, no phone call, no fax, no anything. There's really nothing we can read into that either," said Joe Newman, POGO spokesperson. "We'd like to think it's because they're rethinking their decision but anything we say is just speculation. It's just radio silence for now."
Experts agree that no word is not necessarily good word when it comes to ducking federal subpoenas.
"Hearing nothing doesn't mean they're doing nothing," said Jessica Levinson, a Loyola law professor who writes about the intersection of law and politics. "You don't get to ignore a subpoena," she added.
POGO and IAVA may be benefitting from the fact that the optics of dragging veterans' advocates into court to force them to reveal the names of anonymous whistleblowers are not exactly ideal, she said.
"POGO is the sympathetic party in this situation and the VA is not," she said. "This is not a time that the VA wants to be seen as strong-arming and leaning on people who want to facilitate whistleblowers."
While Coburn has been the most vocal defender of POGO and IAVA against the subpoena, there are signs congressional wariness about the inspector general's move is growing. POGO and IAVA have said their whistleblowers are afraid of retaliation inside the VA if they get found out. Stories like those of the witnesses for Tuesday's House hearing — and ongoing federal investigations into more than two dozen cases of retaliation against whistleblowers at VA — fuel those fears, the advocates say.
Dr. Jose Matthews, former head of psychiatry at the St. Louis VA hospital, is among those testifying Tuesday. He's detailed in the media before how he was stripped of his position and transferred to a windowless basement after he complained doctors in his department were operating a deliberately inefficient pace.
Staff at the House Veterans Affairs committee told BuzzFeed they've reviewed many cases of whistleblower retaliation in advance of the hearing Tuesday.
"We've seen some very egregious stuff," one committee staff member said. One woman suffered what the staffer called a "stress heart attack" related to the treatment she received after she blew the whistle, which included feeling forced to resign and live away from her family for two years while seeking a new job.
Committee staff say stories like that are bolstering the case for POGO and IAVA, who want congress to help pressure the VA Inspector General to drop the subpoena.
"Which is more important, the issue or the whistleblower's identity?" said a committee staffer, who said the inspector general should investigate the claims raised by POGO first and then only ask for names if the investigation requires it. "If there's a concern about the validity of the data, then maybe you have to go the extra mile. I don't think that because you don't know the identity that you should be prevented from investigating."
"The who isn't as important as the what yet," the staffer added.