U.S. Government Watching Ottawa Developments, Not Increasing Threat Level
President Obama has been briefed, but the threat level across most of the federal government has not been changed.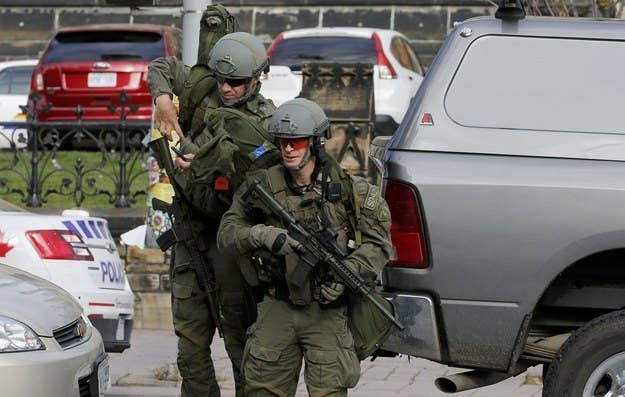 WASHINGTON — United States officials are monitoring the situation following the shootings at a Canadian parliament building in Ottawa Wednesday.
Early reports that various parts of the federal government are stepping up their security posture appeared to be either overstated or were not able to be confirmed.
President Obama was briefed by one of his top national security aides, Homeland Security Advisor Lisa Monaco, on the situation, White House press secretary Josh Earnest told reporters. Earnest said he was not aware of any government agency increasing its security posture amid the news from Ottawa.
President Obama on the phone with Prime Minister Stephen Harper "condemned these outrageous attacks, and reaffirmed the close friendship and alliance between our people," according to a statement from the White House. "The President offered any assistance Canada needed in responding to these attacks. Prime Minister Harper thanked the President and the two leaders discussed the assault and agreed to continue coordination between our governments moving forward."
The Secret Service did not immediately respond to a request for comment about the security posture at the White House, but other government agencies indicated the Canadian shootings had not led to an increase in security on the American side of the border.
NORAD told BuzzFeed News the tweet did not indicate increased security measures at its facilities.
"We have not raised our force protection," NORAD public information officer and U.S. Air Force Major Beth Martin told BuzzFeed News.
An official statement Martin said "NORAD is taking appropriate and prudent steps to ensure we are adequately postured to respond quickly to any incidents involving aviation in Canada."
Martin said U.S. NORAD personnel are "coordinating" with their Canadian partners in the joint air defense initiative.
The FBI told BuzzFeed News there has been no official increase in the threat level at field offices.
"Although there is no specific reporting indicating a threat to the United States, as a matter of precaution due to recent events, the FBI has reminded our field offices and government partners to remain vigilant in light of recent calls for attacks against government personnel by terrorist groups and like-minded individuals," an FBI spokesperson said in a statement. "We stand ready to assist our Canadian partners as they deal with the ongoing situation in their capital."