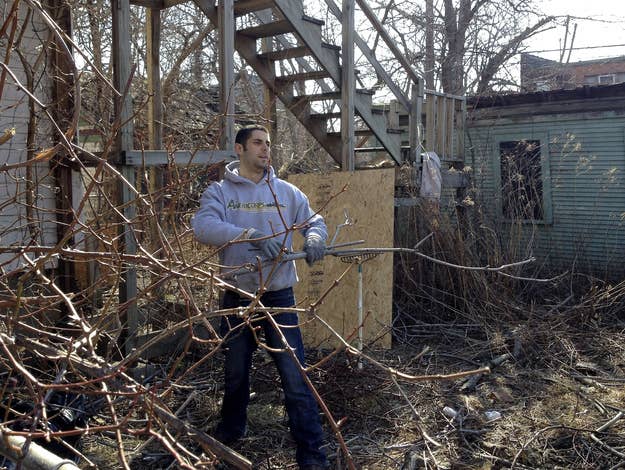 WASHINGTON — Last month, Jay Leno, the late-night voice of middle America, was doing an interview with President Obama when he came up with a great idea.
"Would it be possible to do a modern WPA, almost like an America Peace Corps where kids get paid a decent wage, you give them food, and they fix up Detroit, they fix up other cities — whatever — they fix bridges?" Leno asked.
Watching the show from home, Zach Maurin, the executive director of the advocacy ServiceNation, and a man who graduated from just such a program more than a decade ago, sighed.
"It's like, 'Dude, you got something. It's been around for 20 years. A million people have done it,'" he recalled in a recent interview with BuzzFeed.
It's been two decades since President Clinton controversially created AmeriCorps, the national service program that provides a small stipend to around 80,000 young people each year in return for a year or so of work for nonprofits. The organization helps Americans across the country, and the idea seems like an easy sell for Republicans and Democrats alike.
It's pretty simple and, budget-wise, pretty cheap: The government funds slots for young people who work with existing nonprofits across the country, providing young people who are trying to figure out what to do next in their life with some money and experience, while also providing nonprofits like the Red Cross with the warm bodies they desperately need. AmeriCorps members helped rebuild New Orleans after Katrina; the Northeast after Sandy; and places like Joplin, Missouri, after the tornado hit there. Corps members work in schools, national parks, day care centers, soup kitchens, and in cities by the thousands every year.
Yet the program has never really caught on with actual young people on a large scale, says Maurin, and that's left AmeriCorps both misunderstood and politically vulnerable. That's why Maurin's nonprofit advocacy group is launching an effort to make national service cool.
Relying on a campaign tactic last used successfully by Mothers Against Drunk Driving to make something else seen as uncool — designated drivers — into something commonplace, ServiceNation hopes to make sure that no one asks the question Leno asked Obama ever again, and to once and for all make a year of paid service to the nation commonplace. If it's successful, AmeriCorps will finally be the central part of society so many say they want it to be.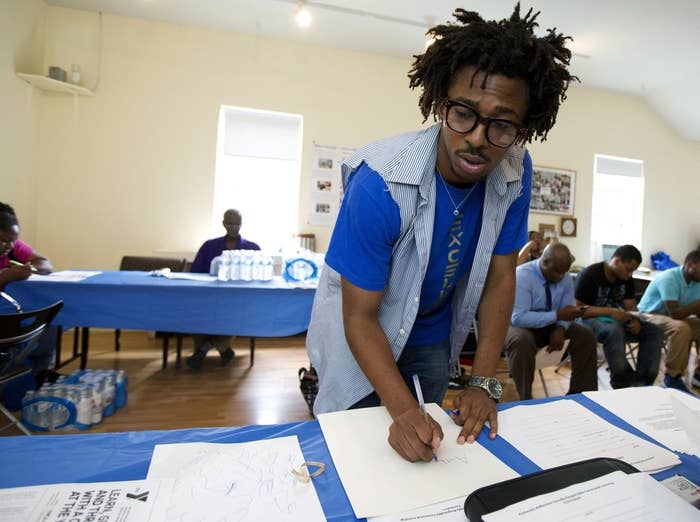 AmeriCorps has one main problem, Maurin says. People who should be thinking about it (Americans aged 20–28 are ServiceNation's target group) aren't. The more they do, the stronger the support for AmeriCorps in Congress will be and the easier it will be to expand the program. Maurin's statistics show there are 30% fewer Google searches for AmeriCorps now than there were 10 years ago. Numbers of applicants have risen, but nowhere near to where they should be.
"Last year there was a record number of applications: 582,000 for 80,000 positions," he said. "Everyone was excited because that's a record, but it's actually a really, really small percentage of millennials. So while that's exciting, and it's a great story to tell Congress, it's actually a really small number, especially given unemployment among young people. So we think that's a great indicator the awareness is not there."
Maurin's got a plan to make that cribbed from an unlikely source, the campaign to raise awareness to make designated drivers popular. Following the lead of MADD years ago, ServiceNation is meeting with writers and producers of hit TV shows to urge them to insert AmeriCorps into their plotlines.
"Shows are already depicting young people and what they want to do," Maurin said. "Whether they're going to go to college or trying to find a job or whatever else."
Maurin specifically mentioned plotlines on Parenthood and Modern Family, where characters around that 20–28 age bracket have been featured in plotlines about people trying to figure out what to do next.
"Working with writers and showrunners, as they're putting together their scripts, we believe…we can make the case that this is a powerful idea they can include in their scripts both to have an interesting story — because we have to respect the creative process — but at the same time really highlight a powerful idea that this generation will respond to," he said. "And then they'll help cultivate what I like to say will be the next greatest generation."
President Obama has made national service a big priority, announcing a taskforce in July that seeks to expand the number of opportunities for people to serve their country through national programs that put paid corps members on the ground with nonprofits after natural disasters, in schools, and helping out with infrastructure projects across the country. It's not something Obama gets criticized a lot for on the right — though the program was controversial when it was founded, AmeriCorps was fully embraced by President George W. Bush and eventually became a program with bipartisan support.
But growing the program didn't become a reality. Obama's campaign promise to expand the program from 80,000 corps members to 250,000 was never realized after Congress failed to fund the move. After Republicans took over the House in 2010, eliminating AmeriCorps became one of their budget goals.
Supporters of AmeriCorps in Congress say that desire to cut the program comes less from a majority view among Republicans that AmeriCorps is bad and more from a mentality that cutting things is generally a good thing to do.
"It's a sign of the times. We've moved from having a debate about how to balance the budget and fix our fiscal challenges to a debate about whether or not government is necessary," said Sen. Martin Heinrich, a Democrat from New Mexico and the first AmeriCorps alum to be elected to Congress. "And so from that frame, suddenly things that historically have been bipartisan and very noncontroversial become opportunities to fight that debate over and over. And I think [AmeriCorps] is just caught up like many other programs."
Heinrich said AmeriCorps can be saved from the current budget battles if members are made more aware of what it does.
"It's really hard to visit one of these afterschool programs that wouldn't exist without AmeriCorps and not see the value of having kids focused on their schoolwork in the hours of 3–6 instead of being latchkey kids. I mean, that has an enormous not only social value but economic value," he said. "The more that they can see that firsthand and not just have an ideological or an intellectual debate about it here in Washington, the more that I think it will have broad support."
AmeriCorps boosters point to numerous examples of national service skeptics in Congress changing their mind after seeing the impact of AmeriCorps in their districts. Therefore, they say, greater exposure for AmeriCorps can only help the program. The program funnels young people to existing nonprofits across the country, supporters say, providing a system that's friendly to locals but difficult to quantify: AmeriCorps is all over the place, but sometimes its members look like Red Cross volunteers or other groups' volunteers.
AmeriCorps' new CEO, Wendy Spencer, is seeking to raise exposure for the group by expanding its role across government. Over the next couple months, she's meeting with every cabinet secretary to find ways AmeriCorps members can serve their agencies, broadening the reach of the program and, she says, saving significant taxpayer money.
"I just challenged my entire leadership here to be broadcasters," she said. "I told them to broadcast the great work that you're doing. Because we can engage in national service, we can run great programs, we can have great evaluations of outcomes in an evidence-based way, but if we don't tell anybody about it, it's like the tree in the forest. Does it make a noise? We have got to tell our citizens and our constituents why it works, how it works, and the outcomes."
For Maurin, the outcome of the program for him was a career. Around a decade ago, he was a young guy trying to figure out what to do with himself, something "productive" that wasn't part of school. National service programs offer something other programs for young people like internships do not: money. The small stipend Maurin earned as an AmeriCorps member helped him live, and it helped kick off a lifelong passion.
"I found AmeriCorps and it changed my life," he said.
Maurin has ambitious goals for his awareness program. In a matter of years, he wants to boost interest in AmeriCorps from the current half-million applicants tenfold. Five million young people interested in national service will finally give the idea the momentum it deserves, he says.
"If we're going to scale this, we need a movement of everyday Americans, alumni, people who are passionate about this pressing their members of Congress," he said. "But at the same time, we need to get it in front of the American people in a much more powerful way."