Labor Secretary's Name Goes In The Attorney General Replacement Hopper
Sources tell BuzzFeed News Tom Perez has White House supporters who want him to be the nation's next top lawyer.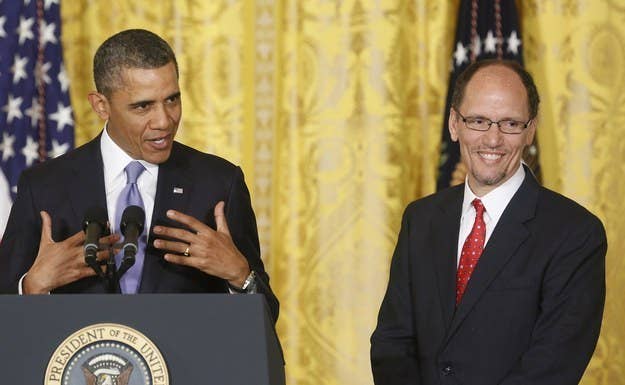 WASHINGTON — Add Labor Secretary Tom Perez to the list of names being bandied about in the hours following Attorney General Eric Holder's resignation Thursday.
A source familiar with internal White House chatter said Perez' name has been mentioned as a possible replacement for Holder, though it was not clear how serious the conversations were or if Perez is on the official White House shortlist. NPR reported President Obama is expected to formally announce Holder's replacement in "days."
The reason Perez' name is floating around: his past as head of the Justice Department's Civil Rights Division. Civil rights issues are very near and dear to both Holder and Obama, and those who spent time with Perez when he was at the Justice Department said he and Holder formed a close bond on civil rights issues.
"They were really colleagues at DOJ. As a necessity [of Perez' job,] they had a lot of interactions," said Vicki Schultz, a former Perez deputy at the Justice Department, now an associate dean at the University Of Baltimore law school. "They became good colleagues and close colleagues. And i think developed a great respect for one another."
Schultz said she doesn't have much regular contact with Perez these days, and said she didn't know if he was under consideration for the Attorney General's job. But she said he'd be a good pick.
Some Perez allies cite his highly contentious 2013 confirmation as a reason why Obama might want to avoid sending him back to the Senate for another debate. But John Kane, a former state Republican Party chair in Maryland who worked with Perez when Perez was the state's Secretary of Labor, said Perez had proved himself as Labor Secretary and doubted Republicans would be as hard on him in a new confirmation fight as they were the last time.
"He'd be a lot easier to confirm in that role," Kane said. "They'd have no compelling reason not to. He's already been vetted, twice, so if they wanted to block it they'd have to have a reason why or else they'd just be obstructionists."
Despite that, Kane said he doesn't expect Perez to get the job. That's because he expects Obama to nominate a woman who can lead a strong fight against domestic violence in the wake of the NFL scandal.
"My bet is he picks a woman and Perez stays at labor," Kane said. He predicted the president would want an "activist" on domestic violence issue who can be a leader as the country deals with its "tone-deafness about it."
Perez' office did not direct respond to a request for comment on the speculation, but forwarded a copy of Perez' statement on Holder's resignation.
"Eric Holder is a man of extraordinary conscience and competence. It was a unique honor to serve with him at the Justice Department, and I am enormously grateful for his unwavering commitment to the cause of civil rights and to reinvigorating the Civil Rights Division in particular," Perez said.
In the pen-and-a phone era at the White House — where the president is focused almost solely on unilateral executive action rather than legislative pushes through congress — the cabinet secretary job has a new importance. That might make it hard for Perez to leave the Labor Department, those in his orbit say.
"Tom Perez would make an outstanding Attorney General (as would any number of other names I've heard)," said Samuel Bagenstos, another former Perez deputy at the Justice Department. "He's a terrific leader and manager, and he obviously knows the Department of Justice inside and out. The only downside would be that it would be hard to find a replacement as Secretary of Labor who would be nearly as good as he is."