Things Are Already Getting Chippy In New Hampshire On The Democratic Side
The first day of post-Iowa campaigning included Bernie Sanders questioning Hillary Clinton's commitment to progressivism and the Clinton campaign attacking him for it.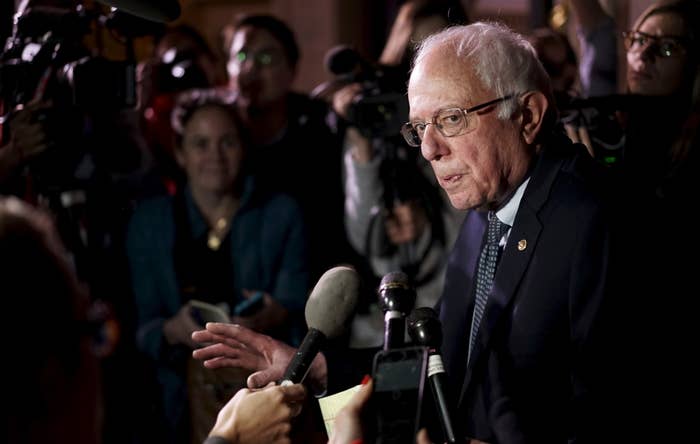 CLAREMONT, New Hampshire — It took a while to get going on Twitter.
Earlier in the day, Bernie Sanders was tough on Hillary Clinton in a gaggle with reporters, which took place after a large Get Out The Vote rally in Keene. He focused as he has for a while on donations to Clinton super PACs from big corporations and Wall Street. He noted Clinton has a times in the 2016 cycle embraced the label of "moderate."
His take: Clinton doesn't have the record he does to claim herself as a liberal like he can. He strongly suggested it in his Keene speech and then was more than happy to say it straight out when a reporter asked, "Is Hillary Clinton a progressive?"
"Some days, yes," he replied.
"Except when she announces that she's a proud moderate. And then I guess she's not a progressive," he went on. "I think frankly, it is very hard to be a real progressive and to take on the establishment in the way that I think has to be taken when you become as dependent as she has through her super PAC and through other ways on Wall Street or drug company money."
Hours later, as reporters in Sanders's ever-growing traveling press corps were back on the buses headed for Manchester after Sanders's Claremont stop, senior aides to Clinton picked out the "some days, yes" part of the Sanders quote and suggested there was a tinge of sexism to it:
This is where it is less than 24 hours after a wild caucus night in Iowa that left Clinton the extremely narrow official winner — the first woman to ever cross that line — and Sanders saying that a "virtual tie" should go to him.
Sanders refused to concede Iowa during the press gaggle. His campaign is actively trying to examine the results for irregularities.
Iowa gave Clinton a reason to try and fight for New Hampshire, a state where she trails Sanders badly in public opinion polling. Iowa winners often get momentum into the New Hampshire contest that can change poll numbers in a matter of days. But Iowa also gave Sanders a reason to believe that fighting harder, pushing harder, could fuel more upward momentum for his growing movement candidacy.
There's also, still, an open spat over debates which may or may not mean Sanders and Clinton meet on stage for the first time without any other candidates Thursday in Manchester. By the time the Sanders buses rolled from Claremont, that debate about debate, too, had become a sharp-elbowed spat between the rival campaigns.
Democratic Party officials — who never wanted the debate in the first place — are left to referee that one.