The White House Says It's Winning The Gun Control Debate
Months after Obama's gun control push went down in flames, opponents and supporters of the effort agree that it reframed the conversation. Vice President Joe Biden will give a speech Tuesday celebrating the White House's efforts.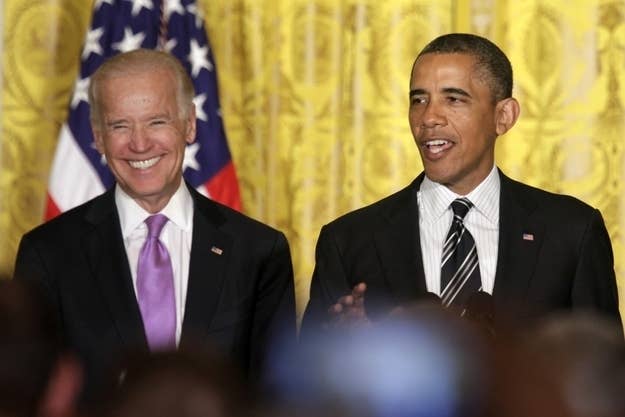 WASHINGTON — On Tuesday, Vice President Biden will celebrate the Obama administration's efforts to reduce gun violence with a speech at the White House. The event is not meant to be sarcastic in nature.
Three months and a day after Senate fractures defeated the White House efforts to create new gun control legislation, Obama administration officials insist guns are still at the top of their agenda — and that they've made real progress in paving the way to eventual gun control by changing the political conversation.
Biden is scheduled to announce that all but two of the 23 executive actions the president announced in the wake of the Newtown shooting are now in place. The two outstanding actions include putting a head of the Bureau of Alcohol, Tobacco, Firearms and Explosives in place (Obama has sent a nominee to the Senate for confirmation) and expanding access to mental health care, which will be addressed in federal regulations due out from the Department of Health and Human Services later this year. To coincide with the speech, Biden will release a "progress report" on the executive actions already in place.
Thanks to opponents of gun control in Congress, supporters of new gun legislation are unlikely to get anything better than Obama's executive actions until after 2014: Advocates and observers on all sides reached by BuzzFeed agreed that the vote tally hasn't changed since the Senate voted down universal background checks. Biden will call for a new vote on gun control in Congress, but few believe the White House will succeed in getting it — and that they are unlikely to win if they do.
But weeks after the defeat of background checks, which saw Obama fail in his most involved legislative push since winning re-election, the White House and its allies say they've succeeded in making Democrats comfortable talking about gun control again, which they believe will mean eventual victory for gun control legislation.
"What was on display in April, despite the fact that the outcome was not what we had supported, there was an indication both in that vote and the immediate aftermath of that vote, that the dynamics of that political conversation are changing," a senior Obama administration official said Monday. "And they're doing so rather rapidly. The backlash that we saw, politically speaking, at the grassroots level [after the April vote] was not against Democrats who supported a common sense compromise measure to strengthen background checks. Instead, we saw a pretty intense backlash against some Democrats and some Republicans who voted against expanding those background checks."
"That is a pretty significant change," the official said.
An NRA spokesman told BuzzFeed he agreed the potential for about gun control remains on the table thanks to Obama and allies like New York Mayor Mike Bloomberg — who has pledged to spend heavily to promote gun control and has already made good on that promise with millions in advertising — but the gun rights proponents say that while it may be fashionable to talk about gun control, it's still politically dangerous.
"We know that Michael Bloomberg is determined, as is President Obama, and we have billions of reasons to take Michael Bloomberg at his word, and we have every reason to take President Obama seriously when he says he's determined to pass gun control while he's president," NRA spokesperson Andrew Arulanandam said. "What they've done is they've heightened the profile of the issue," he added. "What they're still striving to do is to try and win the hearts and minds of the American people. They're having a tough time doing that because the American people believe in what the National Rifle Association stands for."
Arulanandam questioned the timing of Biden's event, suggesting that after weeks of Washington scandals enveloping the national conversation, the White House may want to change the subject back to something it likes discussing.
"I think any number of people would have any number of theories given the headlines that we've seen over the past two weeks," he said.
Arulanandam said the NRA was reserving judgment about what impact the executive actions might have on the rights of gun owners.
"I think the effects remain to be seen," he said. "The executive actions were a means to circumvent Congress and go over the will of the American people. The whole issue in and by itself is pretty clear issue: If someone is breaking the law, arrest them, prosecute them and punish them. If they're not, leave them alone."
The NRA has already shown it is ready to push back against a new White House drive for gun control, leveraging its considerable grassroots resources to stop gun control advocates in their tracks. Arulanandam said they're ready to keep it up, casting the powerful group as the underdog against Bloomberg's fortune.
The issue returned to Capitol Hill last week, as members marked the six-month anniversary of the Newtown shooting. Gun control advocates say the amount of activity around the date proves the gun control fight is here to stay.
"Just days after the six-month anniversary of the Sandy Hook shooting, we're glad to see a continued effort at the state and federal level to enact common-sense solutions to the gun violence that is plaguing our country," Pia Carusone, the executive director of Americans for Responsible Solutions, the group founded by Gabby Giffords and Mark Kelly, said. "Despite some lawmakers' best wishes, this issue is not going away."
For now, the gun control fight is more likely to be waged on the campaign trail instead of in the halls of Congress. The NRA and Sen. Joe Manchin, the West Virginia Democrat who turned on his old allies in the gun rights movement to sponsor background check legislation, are fighting an ad war on the airwaves of Manchin's home state. Bloomberg's group is targeting Democrats who voted against background checks in the Senate, running ads against Arkansas' Mark Pryor, and calling on wealthy donors to abandon Pryor and others up for re-election next year.
Republicans watching the fight seem just as happy to see the gun control battle continue, if it means more attacks on Democrats from Bloomberg and others.
"Every time the White House re-engages this debate, life gets that much more uncomfortable for [Alaska Sen.] Mark Begich and Mark Pryor," said Brian Walsh, a former top official at the National Republican Senatorial Committee. "It may be good politically for the White House to show their base that they're still fighting, but it's certainly not helpful as Senate Democrats fight to hold onto these two key Senate seats."
For the foreseeable future, advocates and observers say, gun control is here to stay despite the collapse of background checks in April and even as public pressure for congressional action on guns has softened since its highs after Newtown. How continued focus on guns shakes out is still anybody's guess, but the fact that gun control is under discussion at all proves that Obama has succeeded in making the topic a centerpiece of the political conversation, his allies say.
"For a decade, guns were seen as a losing political issue for a lot of Democrats and it was avoided whenever possible. Sandy Hook changed that, and the Manchin-Toomey bill solidified the view that it was possible to be pro-gun rights and support reasonable restrictions," said Glenn Kessler, a veteran of the gun control fight of the 1990s and the current senior VP for policy at the moderate think tank Third Way. "The White House and Democrats are unified about wanting to get this issue back in play."