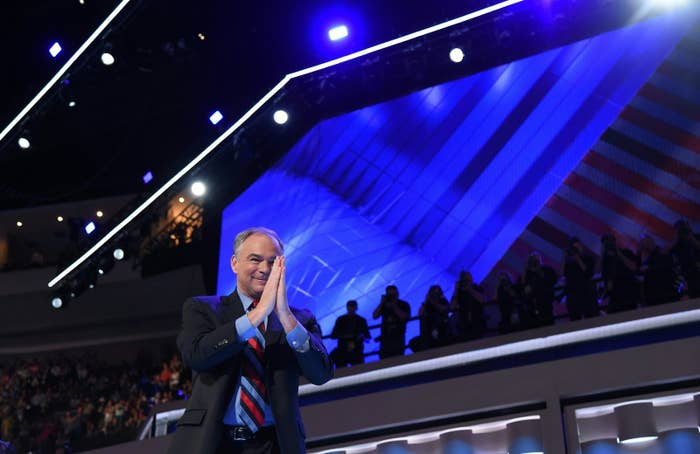 PHILADELPHIA — If you look hard, you can find the moderate Democrats here.

There are, in fact, Democrats who really like TPP and Democrats who'd rather not talk about how bad the NRA is, lest they run afoul of voters who live between cities.
Hillary Clinton is a candidate Democrats like those Democrats like. But her convention is one they don't love.
Philadelphia looks a lot more like a Bernie Sanders policy conference than it does a 1990s Bill Clinton Democratic Leadership Council, tie-dye-under-oxford-shirt celebration. Night one saw Bernie fans booing everything. Nights two and three featured many Democrats begging those Bernie fans to stop booing and vote for Hillary Clinton with speeches that focused on police violence, gun control, liberal immigration policy, abortion rights, and the dangers of free trade.
Noted Trans-Pacific Partnership supporter Tim Kaine recently did what his new boss did months before: come out in opposition to the trade deal the White House still hopes to pass with the help of Republicans this year. No one wants to talk about how great the trade deal is — not even President Obama, who negotiated it and who did not mention it among his list of accomplishments in his speech on Wednesday night.
Meanwhile, Bernie-backing Democrats succeeded in recrafting the party platform in the image of the angry left that fueled his campaign.
"We don't love the platform," Matt Bennett, co-founder of the centrist Democratic group Third Way told BuzzFeed News. "But nobody has ever voted in history on what's in or what's not in the platform."
Third Way is in Philadelphia — they've got a space across from the downtown Convention Center, miles from the Wells Fargo. Bennett's group is holding daily policy briefings, working politicians as it can.
He's not fazed by Kaine's shift away from TPP. As far as Bennett is concerned, the selection of Kaine by Clinton means the November Democratic ticket is heading his direction.
"No question the party has moved to the left," he said in an interview the morning after Bernie-or-Bust booed their way through Monday night's scripted convention lineup. "Last night was a concentrated dose of that. But don't forget the nominees are Hillary Clinton and Tim Kaine. It's not exactly as if the party has swung completely off into some far off galaxy."
Bennett actually likes Sanders people. The louder they are, he said, the more obvious it is that there's a part of the Democratic party that is not them.
"The far far left is distinguishing itself from the rest of the party in real time here," he said. "When you're booing the nominee when the [Republican] opponent is essentially a demagogic racist you've really gone off the rails."
Yes, Bennett is "disappointed" that Clinton and Kaine are backing away from free trade. But he said the rest of the convention lineup after that Monday night progressive fest gave him reason to be happy.
"You're not going to see some sort of Zell Miller come out," he said. "But all of the principals speaking from here on out have feet in both sides."
Other Democrats don't see such a rosy picture for moderates in Philadelphia. The old notion that a liberal top of the ticket means bad news for people down the ballot just isn't true in the age of Donald Trump, say strategists and operatives of all Democratic ideological stripes gathered in Philly this week.
"The problem is, we're no longer really having a conversation about left and right. We're having a conversation about up and down … between populists and non-populists. And they're just not a part of that," said Mo Elleithee, Executive Director of the Georgetown Institute of Politics and Public Policy.
Elleithee, a former communications director for the Democratic National Committee, bluntly warned that as for moderates' hopes that Clinton will make significant moves to the center following the convention, "That's not gonna happen."
Multiple Democrats argued the country's sharply divided political climate makes a move to the center difficult for Clinton — or, for that matter, Trump.
Democratic strategist Rodell Mollineau, who has worked for moderates like former Sen. Mark Pryor as well as Senate Minority Leader Harry Reid, said moderates have little to worry from Clinton's policy positions in the end. "I haven't heard a Republican explain why her policy positions are bad. It's all about the fact that she's a woman who's trying to get hers," Mollineau argued of Republican opposition. And given the stark political divisions of the electorate, on issues like gun control "whether or not she moves further left on that issue, I don't see that as a reason a Democrat would run away from her."
Still, many Democrats believe Clinton will need to move to the middle. For instance, a Virginia Democratic operative — whose state will be one of the epicenters of this fall's election — said while that there's little Clinton can do to soften her image for most voters, on issues like infrastructure, small business assistance, and direct attacks on the NRA the campaign will likely pivot to a more traditional, centrist approach in the coming weeks.
Near the very bottom of the ballot are some of the most important races to be run this cycle. State Legislative victories by Republicans in recent years have put Democrats in red and purple states on their heels and forced them to contend with a much more conservative GOP even as the top of their own party shifts left.
But Carolyn Fiddler, communications director for the Democratic Legislative Campaign Committee argued for state house races and even congressional contests, lawmakers "hold power based more on their ties to their districts than party power or dynamics," making retail politicking much more important than Clinton's position on guns or trade.
That said, Fiddler did say they have seen some impacts on down-ballot races — but from Trump, not Clinton. Fiddler argued that in states like Michigan, Nevada, Arizona, and Colorado, Trump's unpopularity with minority and women voters is driving up Democratic voter registrations. That, Democrats hope, will translate into gains at the state level, and could help shore up vulnerable Democrats in the House.