The Disastrous Collapse Of Kentucky's Least Effective Liberal Group
Whatever Progress Kentucky is trying to do, it should probably stop right now.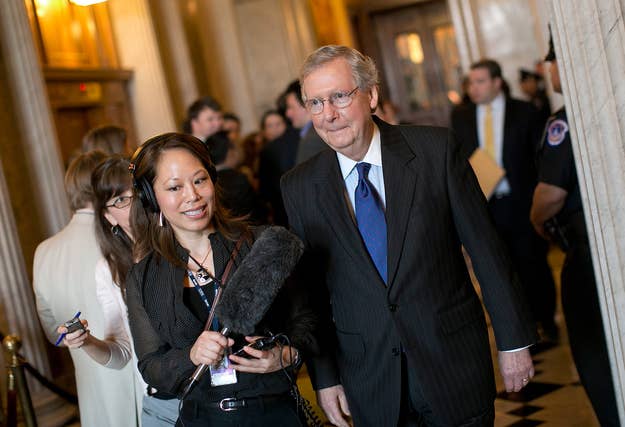 WASHINGTON — It's probably possible for a political group to be worse at accomplishing its core mission than Progress Kentucky is, but it's difficult to imagine how.
In its short lifespan, the super PAC focused solely on defeating Sen. Mitch McConnell has instead helped the Republican incumbent deflect his low approval rating and conservative critics by subjecting McConnell to comically incompetent political attacks.
"They've managed to become McConnell's favorite whipping boy," said Jimmy Cauley, a longtime Kentucky Democratic strategist. "It's kind of laughable because they didn't exist four months ago. And yet they've gotten wrapped up in a string of four or five controversies."
Kentucky Democrats aren't ready to say Progress Kentucky has helped McConnell, but national Democratic observers have their jaws on the floor as they watch the group turn McConnell into a sympathetic figure, generating good headlines for him time and again.
The latest came on Thursday when a Kentucky county Democratic chair fingered Progress Kentucky as the group behind the recording of a McConnell strategy session that included an unsavory opposition research report about would-be opponent Ashley Judd that showed McConnell was willing to use mental problems Judd had written about in the past against her on the campaign trail. (Judd decided not to run.)
If the leakers of the tape wanted it to hurt McConnell, their plan backfired. McConnell raised money off his claim that he had been the victim of "Nixonian" tactics, and generally fomented conservative support with his outrage-based spin strategy after the tape came to light. Now that it looks like McConnell might be proven right about the origins of the tape, it's likely he'll get even more mileage out of Progress Kentucky.
Progress Kentucky's founder, Shawn Reilly, has denied responsibility for the incident — which is now under investigation by the FBI — and has instead saddled the blame with Curtis Morrison, whom Reilly's attorney calls a "former volunteer" for the PAC.
"Shawn is completely innocent of any criminal wrongdoing," said Annie O'Connell, Reilly's lawyer. "He is a witness, not a suspect. He has fully cooperated with the United States Attorney's office for the Western district of Kentucky since the recording became public."
O'Connell told BuzzFeed that her client "voluntarily" cooperated with the authorities as soon as 8 a.m. Tuesday, just hours after the tape was made public, to provide "material assistance to the investigators, specifically information that we believe has been helpful in locating Curtis Morrison."
Asked if she and her client believed Morrison was responsible for the recording, O'Connell said, "Yes."
But Morrison, a Louisville blogger and activist, is actually a former top official with the organization who resigned in March after Progress Kentucky's last major scandal. BuzzFeed tracked him down, and over email he said he's "not making a statement at this time." He did not respond to multiple follow-up calls.
Meanwhile, Terry Boyd, founder and executive editor of Insider Louisville, the site where Morrison is a contributing reporter, told BuzzFeed he doubted Morrison was behind the tapes.
"I can't imagine him doing that. He's a real good reporter with skills. But in my opinion, it just doesn't add up that he'd do something like that," he said, adding that he last heard from Morrison Wednesday. "I have no idea where he is. I'm not even sure how I can get in touch with him. He actually owes us stories."
"I don't know what the hell is going on with the Mitch McConnell thing, and I don't want to know," Boyd said.
This kind of chaos is par for the course with Progress Kentucky.
The PAC's treasurer reportedly resigned Thursday but didn't say if the tape came from his group. But if the allegation about the recording is proven true, it will be the latest example of the group helping McConnell when they were trying to hurt him.
Back in February, the group posted a series of racist tweets about Elaine Chao, McConnell's wife (as well as some questioning McConnell's sexuality), leading to an apology from Progress Kentucky and more room for McConnell to claim that Democrats are out to get him by any means necessary.
Republicans are passing around the popcorn.
"Democrats in Kentucky apparently don't want to touch challenging McConnell with a 10-foot pole, which has created this vacuum where morons like this can operate," said Scott Jennings, chair of the pro-McConnell PAC, Kentuckians for Strong Leadership, which has ties to Karl Rove. "I don't know how to measure exactly how badly they've damaged Democratic chances in this race, but it is at least a bushel or a barrelful."
As Jennings suggests, Progress Kentucky — for all the headlines it produces — is not part of the Democratic mainstream in the state.
"They've been misrepresented as legitimate ever since the whole tweet controversy about Elaine Chao. It's like three guys with a thousand dollars who are castoffs that no one takes seriously," said one well-connected Kentucky Democrat. "They have no connection to the Kentucky Democratic Party and have no influence. I know they were trying to raise money early on last year, and they had a really hard time getting Democrats to listen to them or take their calls."
"They're sketchy people," the official said.
It's true that the Democratic Party in Kentucky gave one of the strongest condemnations of Progress Kentucky during the Chao controversy. And the man who says he outed Progress Kentucky as the source of the McConnell meeting tape said he did so to "to protect the Democratic Party."
"I did not want their bad behavior, their poor mistakes — I shouldn't say 'bad behavior' — their mistakes, their lack of judgment, to hurt our party's efforts here in the state [of] Kentucky and in Jefferson County, here in Louisville," Jefferson County Democratic Party chair Jacob Conway told Fox News Thursday afternoon.
McConnell has real political problems, including low approval ratings and Tea Party types in the GOP who are less than thrilled with his leadership in the Senate. National Democrats fear that the repeated Progress Kentucky face-plants are letting McConnell coast along.
"If it was them, this is an idiotic move and something that could jeopardize the larger push against McConnell in '14," one senior Democratic strategist in D.C. said of the tape. "If this is true, you ask yourself why anybody would risk such a maneuver, especially on a tape that was damning but not a game changer."
In fact, Progress Kentucky is so bad at its stated task that some Democrats whisper behind the scenes (a better word is "hope") that it must to be a front set up by McConnell to make him look good and Democrats look terrible. Jennings had a message for those Democrats: no such luck.
"That's wishful thinking on the part of Democrats, I am sure, who seriously want to be as far away from these people as possible," he said.