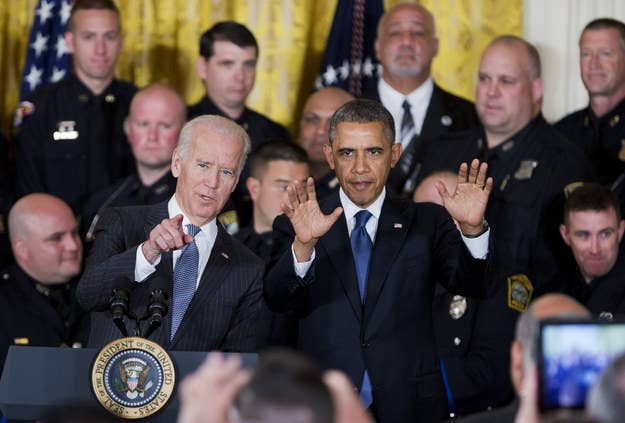 WASHINGTON — The prolonged battle between progressives and the White House over a federal judicial nominee will come to a head Tuesday at the confirmation hearing of Michael Boggs, the Georgia state judge President Obama wants to put on the federal bench.
One thing is clear: The White House is not budging in its support for the nominee, and is taking a sharp tone with the progressives trying to slow him down. That's set the stage for the Senate Judiciary Committee hearing Tuesday that could force Democratic senators to choose between some of the most powerful voices in their base and the president.
Several months into a campaign that's seen a rare linking of abortion rights, gay rights, and African-American rights advocates, progressives will be watching closely as Boggs takes questions from senators at the hearing. He's expected to face tough questions from Obama allies over his past support for abortion restrictions, the Confederate flag, and fervent opposition to marriage equality while serving as a Democratic member of the Georgia legislature.
The progressives say they're fighting the White House at every turn, claiming the administration is putting its weight behind pushing the Boggs nomination through. Boggs was nominated as part of a deal with the Georgia's Republican senators designed to get a slate of judicial nominees past the "blue slip" process.
"I do," one source close to the progressive lobbying effort against Boggs said when asked if the White House was pushing Democratic senators to ignore the liberals. "I really don't know why. It can't just be stand by your man. He's not even their man."
In the eyes of the progressives, the White House's blue slip deal with the GOP meant Boggs had to get a nomination and fair hearing before the Senate. Now that he's getting his day before the Judiciary Committee, the progressives are frustrated about continuing to square off with Obama over the nomination.
"They already did their job getting the package through nomination," the progressive said. "Now he needs to stand on his own two feet like a big boy."
The White House response to this is threefold. First, the administration says Boggs has changed since his days as a conservative Democratic lawmaker. Second, officials emphasize that nominating him was not Obama's idea. Third, they argue that without Boggs getting a seat on the Georgia federal bench none of Obama's other nominees — including what could be the first African-American woman ever to get a seat — will get seated, either.
The language from the White House to Democrats on the Judiciary committee is not vague: The progressive critics of Boggs need to be defeated, the administration says.
"We have been trying to fill these judicial vacancies for more than three years, but two of the president's nominees were blocked for nearly 11 months and returned at the end of 2011," said Eric Schultz, a White House spokesperson. "Our choice is clear: Do we work with Republican senators to find a compromise or should we leave the seats vacant? Four of these vacancies are judicial emergencies, and we believe it would be grossly irresponsible for the president to leave these seats vacant."
Schultz noted that Boggs "was recommended to the president by Sens. [Johnny] Isakson and [Saxby] Chambliss, as part of a compromise to fill six judicial vacancies has been a state judge in Georgia for a decade."
But Schultz also referred to Boggs' decade as a state judge in Georgia, saying Obama "believes he is qualified for the federal bench."
"Of all the recent criticisms offered against Michael Boggs, not one is based on his record as a judge for the past 10 years," he said. "What has distinguished him as a state court judge at the trial level as well as on the court of appeals is that he has taken a keen interest and leading role in criminal justice reform."
Not all progressive are leaders calling for Boggs' nomination to be defeated. Georgia Rep. John Lewis, who condemned Boggs' nomination when it was announced, softened his view in an interview with the Atlanta Journal-Constitution last week.
"I'm just letting the process take place," he told the paper.
Still, the coalition of Obama allies fighting Boggs is sizable. It's not often that NARAL Pro Choice America and African-American rights groups like the Leadership Conference join forces to take on Obama.
And more groups usually allied with the president are taking him on over the Boggs nomination. After a 2004 video of Boggs denouncing "activist judges" who ruled in favor of same sex marriage surfaced Monday, the Human Rights Campaign expressed concern.
"Through this clear and unapologetic record Boggs has signaled his hostility towards issues of equality in his home state as an elected official," read an HRC statement. "If confirmed, Boggs' could entrench these destructive, anti-equality values on the federal bench for generations to come. These values are categorically inconsistent with those of the Human Rights Campaign and the judicial nominees that we support."
The progressive source said the video and other past statements from Boggs legislative tenure are rattling some Democrats on the Judiciary Committee.
"At least a couple of them are truly worried about what else might be out there," the progressive said. "Can you imagine voting to confirm this guy and then having something like that, or even worse, come out after you voted for him? I think that's a genuine concern."
Democratic senators on the committee have for the most part been tight-lipped about Boggs, with only Connecticut Sen. Richard Blumenthal going on record saying Boggs' past as a lawmaker "raises legitimate and important questions about Judge Boggs' record."
Blumenthal will chair Tuesday's hearing on Obama's judicial nominees, a move that worries the progressives.
The move potentially "disarms our staunchest advocate because the chair has to act differently than the rest," the progressive said.
Still, progressives expect some tough questioning of Boggs. With Democrats on the committee keeping so quiet about the nomination, however, it's not clear where that questioning will lead in the end. It's a big test for a vocal progressive coalition that has continued to fight Obama over Boggs.
"I will tell you whether I think it worked as well as it could have after this guy's not sitting in judgement of my personal decisions," said the source close to the progressive lobbying effort. "If he's not, it worked well. If he is, we didn't do good enough."