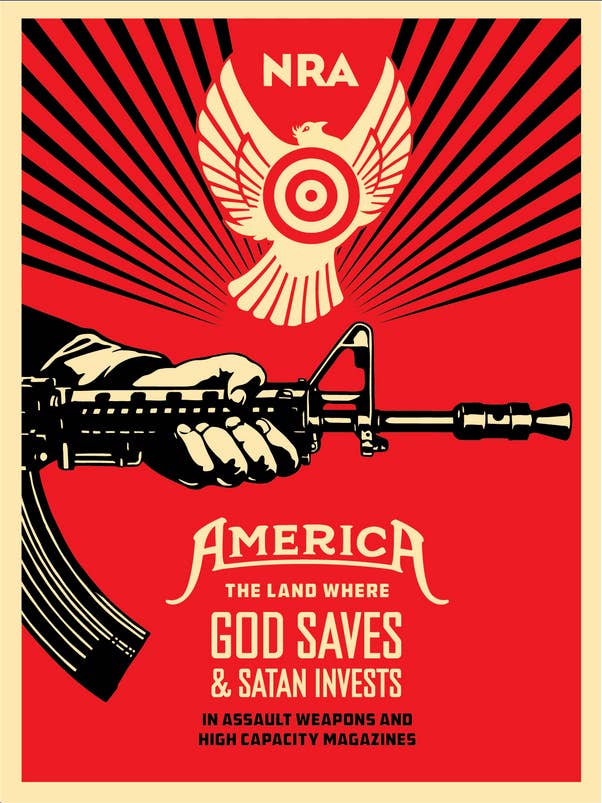 WASHINGTON — Artist Shepard Fairey will paper downtown D.C. Thursday with copies of a new work aimed at reigniting the push for gun control.
Fairey and hundreds of copies of a new version of his controversial "God Saves & Satan Invests" print focused on the National Rifle Association will be on hand at a rally sponsored by the progressive group Occupy The NRA. The orignal version of the work debuted last month and featured Fairey's trademark "OBEY" where the letters "NRA" can be found on the new work.
The Occupy The NRA rally and debut of Fairey's work was originally planned for the days preceding the Senate vote that effectively ended the gun control debate with a defeat for advocates looking for new laws after the shootings in Newtown, Connecticut. Protesters plan to highlight lobbyists paid by the NRA to fight gun control laws with a march down K Street and to deliver "crime-scene photos illustrating the devastating effects of gun violence to those firms' offices," according to an Occupy The NRA release. The organizers' original plan to deliver child coffins to the offices of NRA lobbyists appears to have been scrapped after the protest was postponed by the Boston bombings.
Fairey will sell a limited edition of the new poster on his website in conjunction with the rally Thursday.