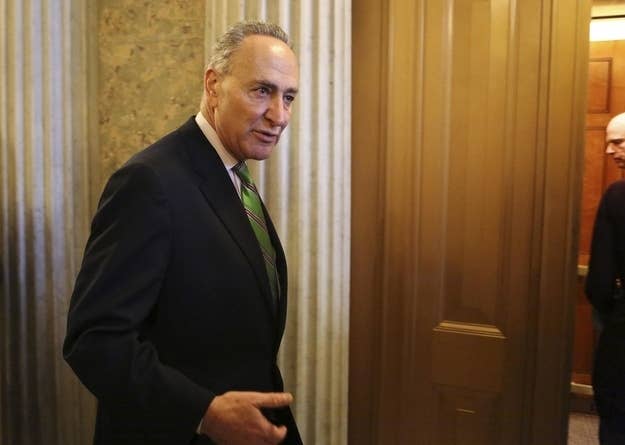 WASHINGTON — Top Senate Democrat Chuck Schumer said Friday he's going ahead with a bill to add new sanctions against Iran despite a Thursday veto threat from the White House. But he declined to weigh in on the bill's prospects for passage following the rebuke from the Obama administration.
"Right now we've just introduced it," he told BuzzFeed in an interview. "We'll see what happens."
The Iran sanctions bill is co-sponsored by New Jersey Democratic Sen. Bob Menendez and Illinois Republican Sen. Mark Kirk, along with Schumer, who represents New York. Though the Obama administration has called for a halt to the discussion of new sanctions while diplomats from the United States and Iran attempt to hammer out a nuclear arms deal, the Senate bill would set a trigger for new sanctions that would begin immediately after the six-month negotiations window between the two countries ends if no final agreement is reached, or if Iran breaches the interim deal.
On Thursday, White House Press Secretary Jay Carney told reporters the bill would not make it past the president's desk if sent his way by Congress.
"We don't think this action is necessary. We don't think it will be enacted," Carney said. "If it were enacted the president would veto it."
Schumer said he hasn't spoken to President Obama since the veto threat was issued, but said he discussed the sanctions issue with White House Chief of Staff Denis McDonough Thursday. He downplayed any rift between the White House and him, saying he supports the idea of negotiating an interim agreement with Iran, "but I don't think the reduction of sanctions made much sense."
"Basically, it's a judgement call. We have a disagreement with them," Schumer said. "Many of us believe that by ratcheting up sanctions, not by reducing sanctions, is the best way to produce peace and get Iran to forego a nuclear weapon."