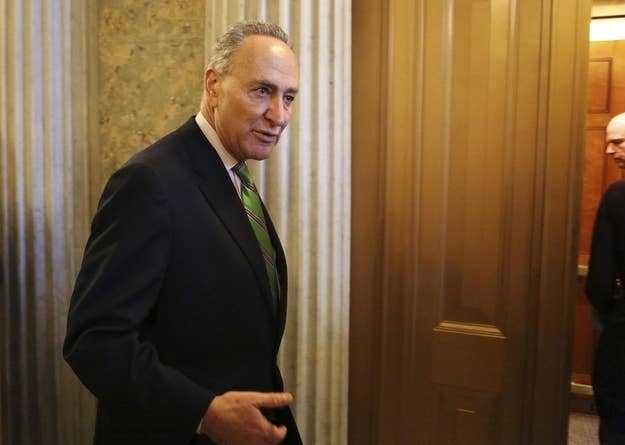 WASHINGTON — Democrats will seek to turn the 2014 midterm elections into a war over the minimum wage and other economic policy issues linked to the vast gap between rich and poor — but top officials say they will cast these issues in relentlessly practical terms, and shy away from the larger arguments about the American economic system.
"I wouldn't call it 'income inequality' so much, although that is certainly true," Schumer said Friday in an interview with BuzzFeed. "Because most Americans don't care how other people are doing, if they're doing okay. But when middle class incomes are declining, that's a very bad thing. And the country's really never experienced it."
"It's a more important issue than the deficit, and I believe that's what we ought to be focusing on for all of next year," he said.
Schumer said the time is politically right for a fight over wages, unemployment benefits, and the minimum wage — while shying away from the more abstract language and arguments that have rallied the progressive movement behind Massachusetts Senator Elizabeth Warren. Schumer said Democrats will kick off their year of economic populism with a focus on the minimum wage. He expects Senate action to begin on the topic as soon as members return from their holiday break. "It will be one of the issues we spend a lot of time on" in the first Senate session after the holidays, he said.
But even as the Democratic Party, led by the White House, prepares for an election cycle dominated by talk of growing divide between rich and poor, there are signs that the party is wary of engaging in the kind of rhetorical battle Republicans brand "class warfare."
Schumer said the best way to "encapsulate" the wage rhetoric is with a push to raise the minimum wage.
"Even though most of the people at the median income don't make minimum wage, they understand exactly what it means," Schumer said. "And almost all Americans feel that if you work 40 hours a week you ought to be able to provide a life of dignity, certainly not wealth, but some decency and some dignity to yourself and your family."
Last week, Schumer said talk of the minimum wage and economic populism will define 2014, outlining a strategy progressives and Democrats say will supersede Republican efforts to make the election about the failed rollout of Obamacare.
"Issues like job creation, minimum wage, and unemployment insurance are going to weigh on the minds of voters far more than Obamacare by the time the 2014 elections roll around," Schumer said at a Dec. 19 press conference.
In his own end of year press conference Friday, Obama touched on economic populist issues when outlining his plans for 2014 as a "year of action."
"We've got work to do to create more good jobs, to help more Americans earn the skills and education they need to do those jobs and to make sure that those jobs offer the wages and benefits that let families build a little bit of financial security," Obama said.
But Obama didn't mention the phrase "minimum wage," "income equality" or "poverty" in the presser, choosing to devote more attention to immigration reform — an area where Democrats desperately want a win, or at the very least, a renewed (and Latino-vote activating) bitter partisan political fight. Advocates for increasing the minimum wage were not concerned. Unemployment insurance — another intensely practical subject, immediate to millions — is the immediate political fight of the moment, and the economic populists were happy to see Obama contenting his support for it.
"The single most galling, time-sensitive and easy to fix calamity in our messed-up politics is the failure to renew unemployment insurance," said Jeff Hauser, a top spokesperson for the AFL-CIO, "and we appreciate the resident underscoring the urgency of addressing that before more than 1.3 million Americans lose insurance through no fault of their own."
Advocates for an increase in the minimum wage say Obama's increasing focus on the topic — and anticipated push for it in 2014 — is the result of years of work by progressives, who have been turning their attention to income disparity issues more and more since the Occupy Wall Street movement reenergized a fundamental branch of the political left. A fight between Elizabeth Warren and the New Democrat group Third Way earlier this month was the latest sign of a shift among mainstream Democrats away from Wall Street wooing toward a populist message that can sometimes leave a bad taste in the mouth of the wealthy who fuel campaign spending.
Progressives are especially heartened by the White House decision to bring in Center For American Progress chairman John Podesta to guide the Obama administration through the election season. To the economic populist left, the move is a clear sign that Obama is more than just talk on issues like the minimum wage. Progressives speak of outreach from the White House unprecedented in the early years of the Obama administration, when the White House was run by chiefs of staff like Rahm Emanuel and Bill Daley. Conversations with progressive leaders in the days leading up to Obama's end-of-year presser found a sense of excitement about the year ahead and high expectations.
Schumer said the political conditions are right for a battle over wages. The veteran of many a Senate battle said next year's fight over the minimum wage will be different than previous battles.
"It has far greater resonance today than it did even years ago," he said. "The issue of decline of income for 90% of the American public or 80% of the American public is so salient."
The minimum wage also has the added benefit of providing a clear divide between Democrats and the GOP, Schumer said.
"There's no way [the GOP] can sort of escape it," Schumer said with a chuckle. "They're either for it or against it. They say 'we'd rather do tax breaks for small business.' That's not gonna push minimum wage off the table, whatever you think of tax breaks for small business."