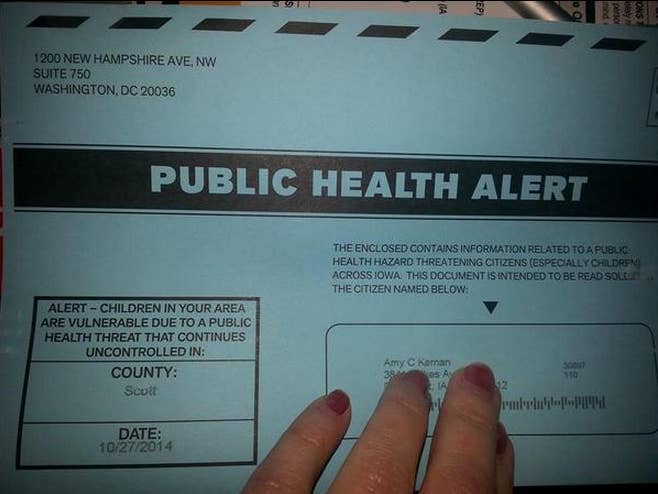 WASHINGTON — Susan B. Anthony's List, a prominent anti-abortion lobbying group based, is sending voters in Iowa a mailer that looks like an official warning of a disease outbreak.
"ALERT — CHILDREN IN YOUR AREA ARE VULNERABLE TO A PUBLIC HEALTH THREAT THAT CONTINUES UNCONTROLLED," reads the envelope.
Inside the mailer, the "potentially life-threatening public health danger" is revealed to be Democratic Senate nominee Bruce Braley's support for abortion rights. The letter contained inside the mailer, while carrying on the ominous tone from the envelope, uses fairly standard voter persuasion language.
Amy Kernan, a Davenport, Iowa FM radio host who says she is personally pro-life but favors legal abortions received the mailer Thursday. She said the envelope was jarring and called the mailer "disgusting."
"I get home from work, and this thing falls onto the ground and it says 'public health alert.' Of course, like anybody, even though I'm not scared of the whole Ebola thing I'm thinking, 'oh maybe they're telling us it's in our neighborhood,'" she said.
Kernan, who posted the mailer to Facebook, says she is a registered Democrat but regularly votes split tickets. She said the mailer helped turn her her against Republican nominee Joni Ernst and she intends to vote Braley.
The mailer was posted on Twitter, by the brother of one of Kernan's friends.
A representative for Susan B. Anthony's List did not respond to an email and phone call.
Update, 7:02 PM: SBA List sent this response to critics of the mailer.
"Abortion is a very serious public health risk both for the child whose life is ended and the mother who may suffer health complications," group spokesperson Mallory Quigley wrote in an email. "Voters deserve to know where their candidates stand on this life and death issue."