Sanders Pressed On Reparations At Forum On Black America
A crowd tried and failed to get Bernie Sanders to embrace reparations at a forum in Minneapolis.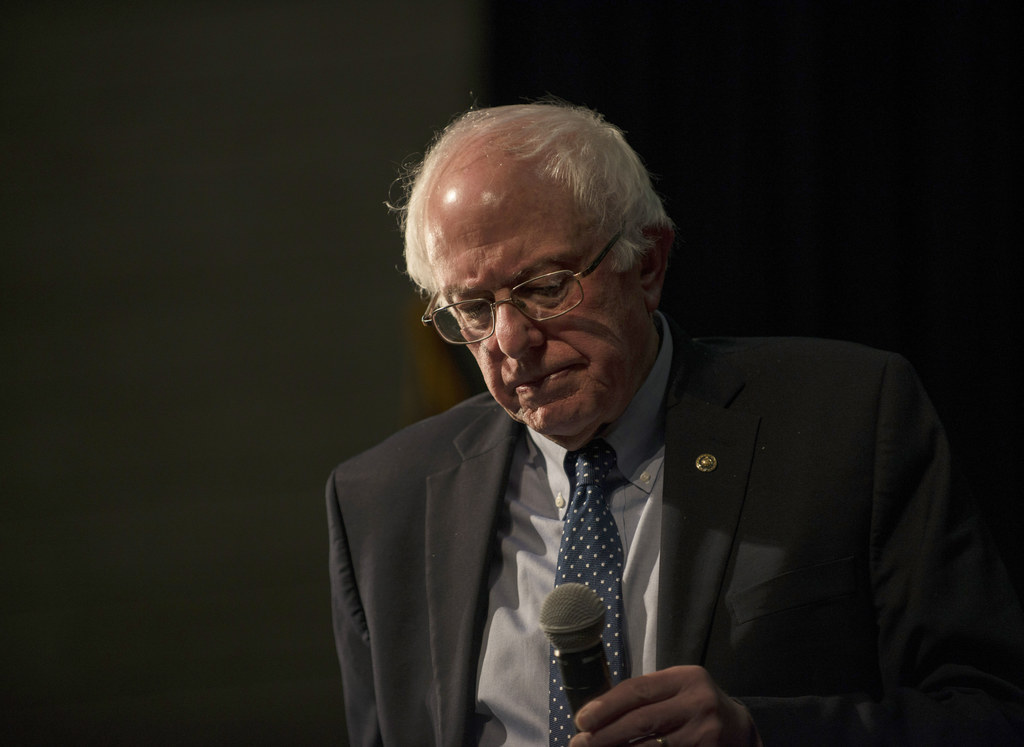 MINNEAPOLIS — "Say 'black!'" a member of the audience shouted at Bernie Sanders at a forum Friday as he tried to answer a question about reparations for slavery.
Sanders, who had just uttered the phrase "African American," looked frustrated.
"I said 'black' 50 times!" Sanders shouted into his microphone. "That's the 51st time."
The Black America Forum, hosted by Neighborhoods Organizing for Change, was billed by organizers as "a historic opportunity for communities that are usually overlooked on the campaign trail to have a conversation with a presidential candidate." The venue was not the Bern-feeling rally common to the Sanders campaign.
Minnesota Rep. Keith Ellison introduced Sanders, who gave a shortened version of his stump speech and then sat at a table with six local black activists and residents of the North Minneapolis neighborhood.
Native Americans in the audience, including famed American Indian Movement co-founder Clyde Bellecourt, took the floor to talk about native issues and economic problems.
Sanders was then pressed several times on the issue of reparations, specifically for black Americans and for slavery. Sanders' opposition to reparations raised a furor after Atlantic writer Ta-Nehisi Coates slammed him for it in print earlier this year. (Coates said he'll vote for Sanders earlier this week.)
Sanders addressed the issue directly after a woman rose and accused him of being "afraid to say the word 'black.'" The topic was Flint, Michigan, both Sanders and the questioner shared the view that poorer communities across the country face higher pollution rates.

"Every time we talk about black people, and us getting something for the systematic oppression and exploitation of our people we have to include every other person of color," she said. "Can you please talk about specifically black people and reparations?"
The woman said her son suffers from asthma and other illnesses because her home is near a location where garbage is regularly burned. She said black Americans deserve a special restitution for slavery and its after effects.
Sanders fell back to his general take that economic inequality unites lower-income people.

"You and I may disagree about this. This is not just black, it is Latino and there are areas in America, more rural areas where it's white," he said. "I believe that in a country which has more income and wealth inequality than any other country, the time is long overdue to start investing in poor [communities.]"
"What I believe we should do is invest most heavily in those communities most in need," Sanders continued. "And when you have 35% of black children living in poverty, when you have half of the kids in this country in public schools on free and reduced lunches, when youth unemployment in the African American community is 51%, those are exactly the kinds of communities that you invest in."
The line got sustained applause from the audience.
Anthony Newby, executive director of Neighborhoods Organizing for Change — which sponsored the event — told BuzzFeed News afterward that the tone of the forum reflected a fear in the black community that government largess promised by candidates like Sanders will never make it to the black community.
If Sanders wants to convince black people he understands their frustrations, Newby said, he has to talk about how his plans will specifically put money into black communities — not reparations per se, but something close.
"He has not shied away from talking about race generally," Newby said. "But unless there's a deliberate strategy [to invest in black communities,] it simply won't happen."
"We didn't get to that tonight," Newby said. "But the campaign trail is long."