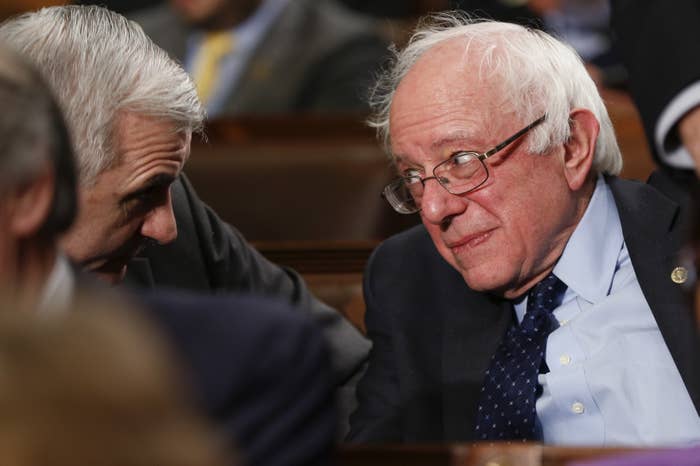 HANOVER, New Hampshire — As Bernie Sanders reveled in the potent insurgent campaign his small-dollar donors have given him on Thursday night, his campaign team was rolling out a new tool to instantly turn progressive frustration at Republican rhetoric into even more small-dollar cash for the Sanders campaign.
At 7 p.m. ET, Sanders supporters who signed up for campaign text messages were hit with the following:
Watch the GOP Debate tonight & donate $20 to Bernie through your ActBlue Express account. Simply REPLY to this msg with the word NOW every time they upset you!
Sanders was up at Dartmouth, stumping for New Hampshire primary votes and rolling out his most establishment backer yet, former DNC chair and interim U.S. Sen. Paul Kirk. Across the country, Revolution Messaging — the D.C. political firm that runs much of Sanders's operations, from digital to branding to his Artists for Bernie celebrity endorsement program — was debuting the new text-to-donate tool that an aide to the firm said was a first for modern politics.
The text-to-donate system will be officially rolled out Friday morning. BuzzFeed News obtained details of it shortly after the debut text message was sent to Sanders supporters on Thursday.
In order to use the system, Sanders supporters must have an ActBlue Express account — basically an Amazon one-click button for Democrats. Express users register a credit card or other payment source and then can just click once to make a donation at various progressive websites.
Revolution has added text messaging to the mix. Other campaigns have raised money with text messages before, but the money would be held for possibly weeks until donors paid their phone bills. The new system instantly blasts small-dollar donations directly into Sanders campaign coffers with a text message.
The result is a kind of debate drinking game on steroids. Instead of taking a shot or draining a beer each time a Republican says something they find provocative, Sanders supporters can now send $20 to the campaign each time they're upset. (There's an "Are you sure?"–style text that goes out every time a donor texts NOW to the system to make sure people aren't donating funds they don't intend to donate.)
Sanders' huge base of donors — more than 1 million people have sent in more than 2 million contributions, Sanders told reporters at Dartmouth — and their relatively small average donation means Sanders can go back to the same donors over and over again before they max out according to federal election law. In an election cycle pundits predicted would be dominated by big money and super PACs, Sanders' active and generous small-dollar funding base has proven to be one of the biggest surprises of the cycle.
Now, with weeks to go until caucusing begins in Iowa, the campaign has an even simpler way to pull in big numbers of small-dollar donations through the simple act of texting. On Thursday night, the motivating tool was the Republican field. On Sunday, the Democrats will debate, giving the campaign another nationally televised opportunity to ask donors to turn frustration into instant donations.