Sanders Campaign Distances Itself From Its Own Campaign Ads
"We haven't been doing ads that mention Hillary Clinton," a top Sanders aide told the Washington Post Saturday. But the campaign has been running sharp contrasts with Clinton online for weeks.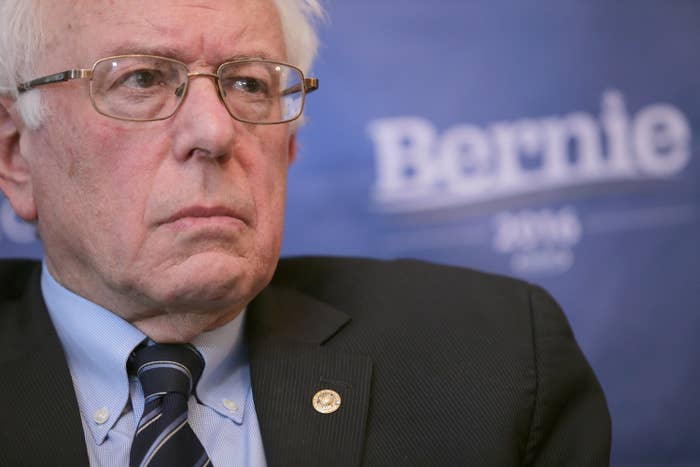 Bernie Sanders's pledge not to run a negative campaign is running into the reality of his digital campaign, which produces ads with sharp contrasts between Sanders and Hillary Clinton.
In targeted digital ads, the Sanders campaign has regularly attacked Clinton for her Wall Street ties, claiming that Clinton is (in the case of one digital ad) "Bank Funded" and in another, asserting that Clinton "May Have Wall Street, But Bernie Sanders Has You."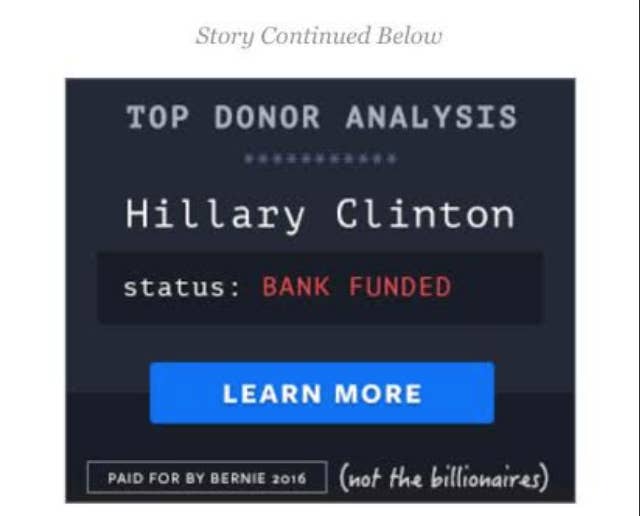 Both digital spots include lists of Clinton's top financial-sector donors.
On Saturday, campaign spokesman Michael Briggs told the Washington Post that the "Bank Funded" spot — which was spotted by several regular readers of Politico and shared widely with reporters — was a mistake and that the ad had been taken down. Briggs said the ad ran because of "a miscommunication in our communications shop."
"We haven't been doing ads that mention Hillary Clinton," Briggs told the paper.
But over the past few weeks, the Sanders campaign has run ads or ad-like posts with Clinton's name with a similar message to the Politico ad.
On Dec. 1, the Sanders campaign sent out fundraising email that cast Clinton as in the pocket of the financial industry. It linked to an online donation page reading, "Hillary Clinton may have Wall Street, but Bernie has YOU."
Three days later, an animated version of the email, which opens with, "When it comes to Wall Street buying our democracy, you just need to follow the money," was posted to the campaign's Facebook page. (A Facebook representative confirmed posting was not a "sponsored" or paid ad, which the Politico spot was.)
Asked about the Facebook spot, Briggs told BuzzFeed News the messaging will continue.
"We have said all along that contrasting records on issues was what the democratic process is all about," he said in an email. "We've done that and will continue to do that."
"We put out information that expressly mentions Secretary Clinton comparing her record and Bernie's. He does it in debates and interviews," he went on. "The rest of us in the campaign do it in press releases, fact sheets, links in Facebook and Twitter posts."
And before Thanksgiving, the Sanders campaign ran a long paid advertisement targeted at readers of online news site Talking Points Memo. The ad mentioned Clinton by name several times. Briggs said when he was referring to not using Clinton's names in ads, he was referring to negative spots.
"What I said was we don't use her name in negative ads," he said. "It's just not negative to put up something comparing the two on their college plans."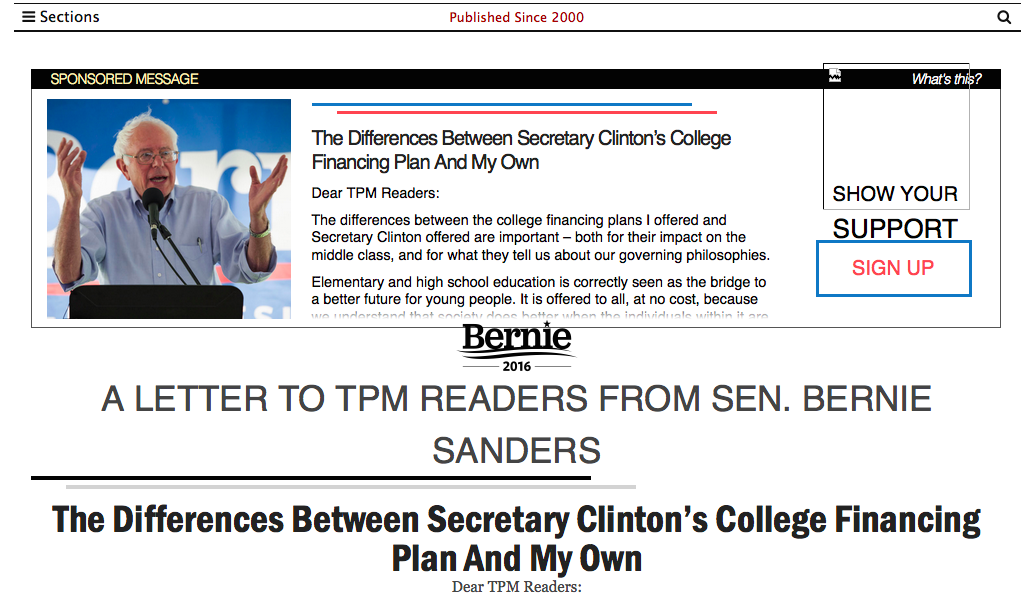 The paid ad was billed as "A Letter To TPM Readers From Sen. Bernie Sanders" that laid out "The differences between Sec. Clinton's college financing plan and my own."
(The main difference: Sanders wants to make all public college tuition-free, Clinton favors a "debt-free" approach that leaves students with a tuition bill but expands ways for them to earn their way school without taking loans.)
The TPM ad is several pages long, with Sanders laying out in bullet points why his plan is superior to Clinton's. Among them "The Clinton plan doesn't ask enough of the rich, it puts the burden on the middle class instead" and "The Clinton plan is unnecessarily complicated."
"The differences between the college financing plans I offered and Secretary Clinton offered are important — both of their impact on the middle class, and what they tell us about our governing philosophies," the letter reads.
The letter implies Clinton isn't willing to ask the wealthy to shoulder the burden of really fixing things (emphasis added):
Secretary Clinton defends her plan by saying that "I am not going to give free college tuition to wealthy kids." And yet Social Security, Medicare, public elementary and high schools, the federal highway system, and a host of other programs are are also available to all who qualify. Just as with these programs, the progressive way to finance education is by asking the wealthy to pay their fare share. If you don't think they're paying enough for what they're getting — which is what Clinton's remark implies — you don't create a system of fees, which would be trivial in truly wealthy households but burdensome for the middle class. You ask the rich to contribute in an equitable way.