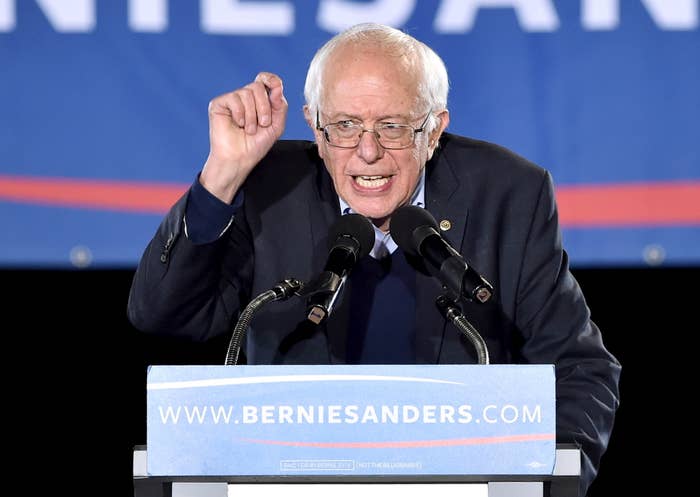 WASHINGTON — A top aide to Bernie Sanders' presidential campaign cried foul Monday after the League of Conservation Voters endorsed Hillary Clinton, despite her much lower score on the group's lifetime legislative scorecard.
The endorsement is a big one for Clinton, and comes as Sanders is trying to draw lines between his environmental views and hers — Sanders has put himself out front on the so-called Keep It In The Ground movement, the next great cause for an environmental left still sipping champagne over their Keystone XL victory.
Sanders has a 95% lifetime score from the League of Conservation Voters. Clinton, who was in the Senate from 2001 to 2009, racked up an 82% lifetime score.
The Sanders campaign questioned the endorsement of Clinton, given the competing scores.
"He has a 95% lifetime score from the League of Conservation Voters," Sanders' top communications aide, Michael Briggs, told reporters in a statement. "The league agreed with former Sen. Clinton only 82% of the time, so its endorsement is based on something other than the merits."
An LCV spokesperson defended the endorsement when asked about the scores by BuzzFeed News. Votes missed by Clinton during her time running for president in 2008 count as "no" in the LCV system, and the system only counts congressional votes.
"LCV scores are an important tool but not the only one we use to determine an endorsement," the group's vice president for communications, David Willett, wrote in a series of emails. "The scores are for votes taken in Congress. So it only would be a record of Congress, and does not capture Clinton's environmental record as Secretary of State or as a candidate."
Willett praised Clinton's time as secretary of state as well as her "skills and experience."
He also suggested electability may have been a factor in choosing Clinton over the Sanders.
"We are enthusiastically endorsing her because she's a proven leader," he said, "and we are confident she is the best candidate to both beat her eventual climate denier opponent in the general and then hit the ground running on day one as president."