Sanders: America's New Year's Resolution Is To Say "Enough Is Enough"
A Bernie Sanders New Year's.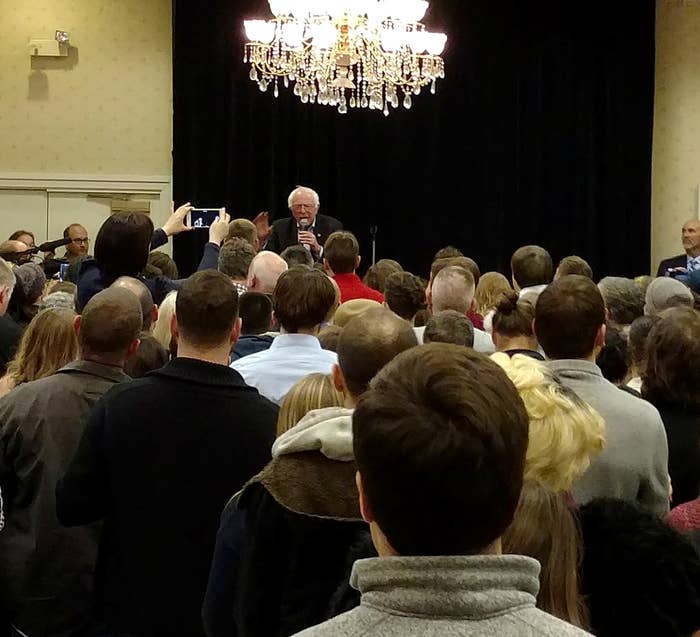 DES MOINES, Iowa — There are jokey party speeches, there are teary party speeches, and then there are Bernie Sanders speeches to ring in the new year.
At a large party in a downtown Des Moines hotel, Sanders kicked off an early-evening New Year's Eve party without some of the usual policy-heavy details — but the general attitude of throw-everything-out-and-start-over was still there. The mood was upbeat even as the substance was for the most part very serious.
"In a few hours we're going to be in 2016," Sanders said, before hundreds of supporters who paid a small fee for hors d'oeuvres, a cash bar with a two-drink-at-one-time limit, and Sanders. "And we together have an opportunity to make 2016 a year that history will long remember."

That new year, should Sanders win the nomination, would be the first step toward ending "the disgrace of the United States having more people in jail than any other country."

"We are going to reform a very broken criminal justice system and end institutional racism in America," Sanders said.
"We're not going to continue to destroy our planet," he added. "We are going to transform our energy system away from fossil fuel to energy efficiency and sustainable energy."
About 1,000 showed up on Thursday night, according to a campaign aide. The crowd, packed in tight and emblazoned with special Bernie Sanders New Year's Eve stickers, cheered along. Some blew holiday noisemakers.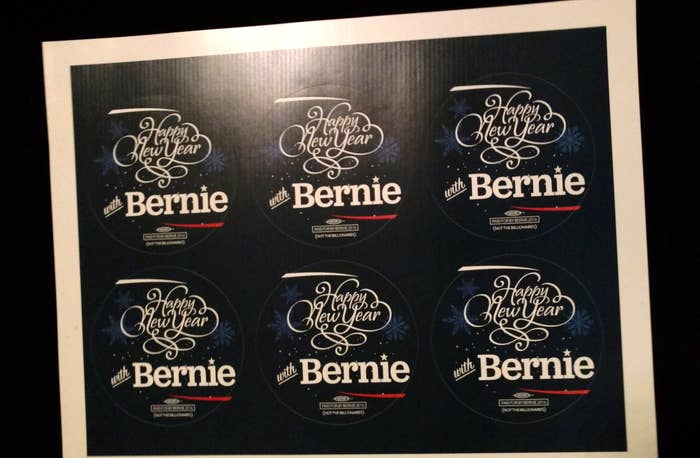 Sanders left the event well before midnight and hopped a plane back to the East Coast, where he is scheduled for another busy sprint of campaigning in Massachusetts and New Hampshire.
There was no real new year's resolution from Sanders, but there was a rallying cry.
"What this campaign is about is understanding that no president, not Bernie Sanders not anybody else can solve this nation's problems unless — unless — millions of people, Iowa and across this country begin to stand up and say loudly and clearly: Enough is Enough. Thank you."
The New Year's Eve event wrapped up a busy swing through Iowa, where the candidate was again met with overflow crowds. The breakneck pace was evident in a pronounced hoarseness from the candidate.

"I lost my voice in Iowa, I'm still looking for it, in a town south of here," Sanders said. "If you see it, tell me about it."