Sanders Aide Says Bernie's Cracked The Code On Latino Support
Despite polls showing Bernie Sanders trailing badly among minority groups, a top staffer says the Sanders campaign proved in Iowa they can make a play for Latino support in Nevada. But Nevada presents a far different challenge than Iowa.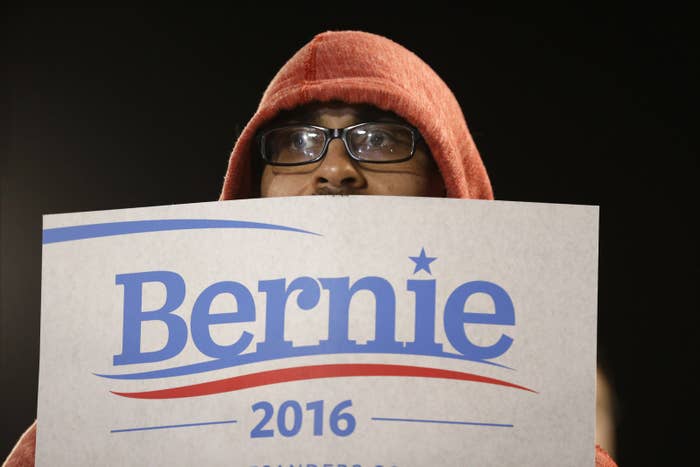 DURHAM, New Hampshire — Winning here is all fine and good for Bernie Sanders.
But if supporters of his political revolution want to prove they're a threat to Hillary Clinton in the long term, they'll have to show they can play in the next two states, Nevada and South Carolina, and they'll have to do it quickly.
Those states — and their significantly more diverse populations — have posed a problem for Sanders, whose aides cite an extremely low Sanders name ID as the reason.
It's a problem that the campaign's top Latino outreach official said Thursday that the campaign has cracked the code on — and Iowa proves it.
Erika Andiola, a DREAMer and immigration activist, joined Sanders's campaign in October as a member of his Latino outreach staff. She told BuzzFeed News in an interview following Thursday's debate at the University of New Hampshire that the results from Iowa show Sanders is going to do better with Latinos in Nevada than the conventional wisdom suggests.
"When you look at the 20 [counties] that have the most Latinos in Iowa, 20 of those [counties], 15 were won by Bernie. The fact is, we worked very hard to make sure that we did outreach to those communities," she said.
Andiola is citing the League of United Latin American Citizens (LULAC) in Iowa, which after a successful $300,000 effort to get 10,000 Hispanics to caucus, told BuzzFeed News on Tuesday that Sanders had done well in the biggest Latino population centers in the state by focusing on young Latinos drawn to the Vermont senator's message in much the same way young white liberals have been.
Christian Ucles, the group's political director said he is still waiting for more detailed data, but outlined the broad strokes from Iowa that played a role in keeping the results close, suggesting an avenue for future success in larger and more diverse states.

"These counties are very small so just having 100 Latinos participate can have a big time impact," he said.
The Sanders campaign, he said, leaned on the star power of Andiola and fellow DREAMer turned staffer Cesar Vargas to energize young Hispanics with their message focused on immigration.
Campaign officials are also buoyed by the demographics of the Latino vote in Iowa, where 47% are millennial voters, in line with the national figure release last month by Pew that showed 44% of Hispanics fall in the 18-35 age group.
Sanders, Ucles said, did well in small college towns that also have a meatpacking plant like Black Hawk county or Muscatine county, which is 17% Hispanic. These are places where the parents may not be U.S. citizens but their kids are.
The profile for Clinton's Latino supporters were people who had participated in past caucuses, older than 40, and most likely union members, he said, in places like Polk County and Wapello County.
But assuming that perceived success with the small Hispanic population in Iowa (exit polls show Clinton still won 58% of support from minority voters) will easily translate to Nevada would be a mistake. In January, Pew found that Iowa had 67,000 eligible Latino voters, or 2.9% of the electorate. Nevada has 328,000 — 17.2% of possible voters. It's a significantly more populous and geographically larger state, where size of organization may make a difference.
The Clinton campaign sees the contours of both states and the strategy needed to win as completely different. It began with a major organizational advantage. They planted their flag there in April of last year, hiring veteran Obama operatives Emmy Ruiz and Jorge Neri to run the state that they helped the president win with 70% of the Latino vote in 2012.
The Sanders campaign has been playing catch up in Nevada and hopes its energy from young voters will close the head start Clinton began the race with. Much of that ramp up for Sanders came in the fall, after Ruiz and Neri had done a summer bus tour around Nevada speaking to residents. In September, Sanders hired his first state director, who opened the campaign's first office in the state in October before leaving for personal reasons. The director was replaced by the respected Joan Kato.
But Andiola said the Sanders campaign out-hustled Clinton's when it came to the Iowa Latino vote, where Clinton focused on turning out likely caucus-goers, a lesson she said will apply to Nevada.

"We knew that Hillary Clinton was looking just in Nevada, they were doing absolutely no outreach in Iowa, we know because we were going to every single event. We had our staff making sure that we were talking to the Latino community, even it was a small percentage [of the population,]" Andiola said.
Ucles said that strategy was engaging many young DREAMers but also young Hispanic business professionals in their early 30s.
"And guess what? that paid off," Andiola said. "Fifteen out of the 20 precincts actually went to Bernie. For us, that's exactly what we need to do: work on the ground, talking to people."