Republicans Can't Agree On How To Talk About The Bernie Sanders Surge
Threat? Blessing? Reason to concern troll Democrats?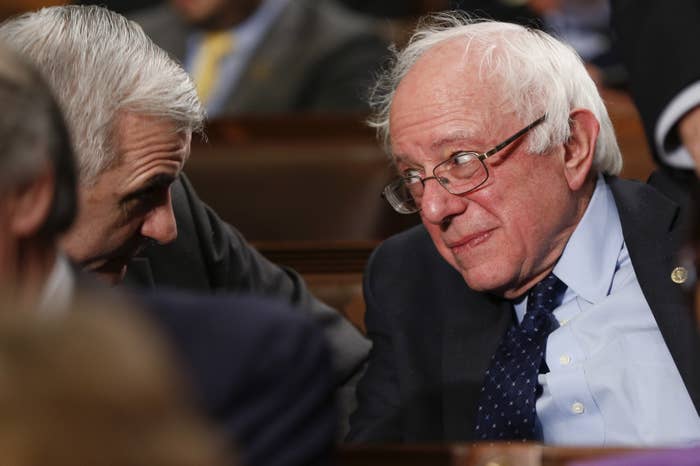 CHARLESTON, South Carolina — Bernie Sanders is the most electable person running in the Democratic presidential field. Or he's the least. He's a dangerous new threat to Republicans trying to retake the White House after two straight terms of Democratic rule. Or he's a blessing that can bring the GOP a much-needed victory.

The latest Sanders rise in the polls, coming as it has so close to the start of actual voting in the Democratic primary, has thrown a lot of things for a loop. Hillary Clinton, who just a few weeks ago was notably not mentioning her rivals for the nomination on the campaign trail, now talks about Sanders all the time. His aides talk about polls showing their man out-performing Clinton in hypothetical matchups with GOP candidates.
But Republicans themselves haven't quite settled on a central tone, offering a mix of seemingly genuine concern over Sanders, scoffing at his chances, and the same kind of classic concern trolling over his candidacy that Democrats use against the GOP regarding Donald Trump.
Friday, RNC chair Reince Preibus appeared to offer up a big helping of that kind of response to Sanders. "It's a tough call, but I guess I would take Hillary," he told a conservative radio show host when asked if he'd rather face Clinton or Sanders in November. "Although, I do think the sort of wild, socialistic, liberal Bernie Sanders would be fairly easy to beat as well."
At the Republican debate in South Carolina Thursday night, conversely, John Kasich didn't play that game. "We're going to win every state if Bernie Sanders is the nominee. That's not even an issue," he said. "I know Bernie, and I can promise you he's not going to be president of the United States."
Trump, the man handily beating Kasich (and the rest of the field) in Republican primary polls, has weaved between dismissing Sanders and spending a lot of time taking him seriously. Sanders is convinced his campaign can steal some of Trump's disaffected white, working-class voters, and at times Trump has shown at least some worry about what Sanders can do. In October, he launched an anti-Sanders Instagram ad and calling him out at a January campaign stop in Burlington, Vermont, where Sanders's political career began.
But he's also been pretty dismissive of Sanders.
"I think beating him ultimately would be easier than beating her," Trump told Byron York last week.
On Sean Hannity's radio show, Trump went further — saying a Sanders nomination would be a great day for the GOP.
"I would imagine beating a socialist or a communist in this country should be pretty easy. And I would certainly love to do that," he said. "I would think he'd be the weaker of the candidates."
Loving the idea of facing Sanders in a general election is not a new thing for Republicans. Over the summer, top Republicans spent so much time praising Sanders — a self-proclaimed socialist — that The Guardian published a long story about it. At the time, Republican operatives were happy to watch Sanders damage Clinton's appeal in a way that Republicans, despite millions of dollars and years of effort, had largely failed to do. The article was filled with praise for Sanders from Republican voices.
"[W]ith Bernie, voters are seeing someone who is everything Hillary is not; inauthentic, not seen as trustworthy, overly cautious," one strategist told The Guardian. "With Bernie it's not that way so you get these big crowds, get him moving up in the polls."
There's less praise now that Sanders is performing well. Now there's more "Sanders is a dangerous socialist radical" kind of talk. But the party has clearly picked its Democratic candidate.
"Why Bernie Sanders won last night's Democrat debate," the RNC posted to its blog Oct. 13.
An unaligned Republican operative who asked to remain nameless because of a client list that includes Republicans from all over the spectrum, warned conservatives stoked for Sanders to win to be careful what they wish for. For one thing, Sanders is showcasing a desire among progressives to take over the Democratic Party, the operative said. A left-leaning Democratic party could move the political poles, and tilt electoral gravity to the liberals, the operative warned.
"In the short term, Republicans would prefer to run against Sanders but only on the condition that Republicans have a strategy for thwarting the leftward movement of the Democratic Party," the operative said.
For now, Republicans are reveling in what has proven to be a much tougher primary for Clinton than anyone expected. Sanders, 74 years old and a democratic socialist, is certainly not the candidate the Democratic establishment would have hand-built if creating the ultimate 2016 standard-bearer. Republicans would be happy to see him get the nomination.
But they're especially excited to see the Democratic primary become a slugfest.
"I hope they will run as a ticket. We are thrilled to run against a committed socialist and a person under investigation by the FBI," said Matt Moore, South Carolina Republican Party chair. "They need each other politically. The divisions in the Democrat's voter base are real."