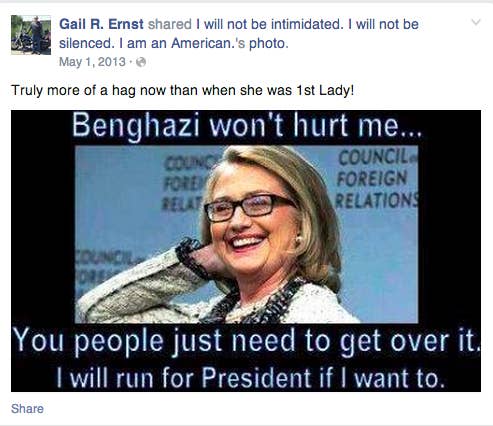 WASHINGTON — Last year, the husband of Iowa Republican state Sen. Joni Ernst, her party's nominee for Senate made his opinion known about Hillary Clinton on Facebook.
"Truly more of a hag now than when she was 1st Lady!" Gail Ernst wrote, sharing a Benghazi-related image.
Gail Ernst mostly uses his Facebook page — which is public — to rally supporters to his wife's Senate bid. Gail Ernst is a prominent surrogate for his wife, making official campaign appearances touted on Joni Ernst's official campaign Facebook page. He often comments on posts on his wife's campaign Facebook page from his own.
Currently, Ernst's campaign is attacking the Democratic nominee, Rep. Bruce Braley, for a TV ad, which features a baby chicken and attacks Ernst for "never making a peep" about government spending while in the state senate. After Republicans complained about the imagery and accused Democrats of hypocrisy, the spot generated a lot of negative media attention for Braley.
An Ernst spokesperson accused Braley of using imagery that said "degrades and insults Iowa women" and national Republicans condemned as "tone deaf, elitist, and offensive" to women.