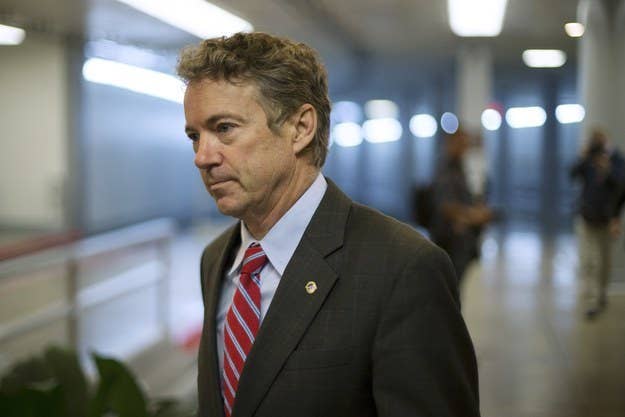 WASHINGTON — A version of the police militarization debate will be part of the Senate agenda next term.
Next year, Sen. Rand Paul will reintroduce a bill that goes after the federal programs that send military-grade equipment to local police departments, staff for the Kentucky Republican told BuzzFeed News.
Paul's decision to keep bill, which was crafted by the retiring Oklahoma Sen. Tom Coburn, alive will be a significant test for the political viability of the issue. Paul will be trying to force a Republican-controlled Senate to examine federal programs that funnel millions in grant money and surplus to arm local police forces with weapons and vehicles designed for the battlefield. Paul's expected presidential run, which will likely launch next year, could put the issue back on the national agenda as well.
Coburn's bill — which is very similar to legislation Democratic Rep. Hank Johnson of Georgia has vowed to reintroduce in the House next Congress — targets a small fraction of the millions of dollars worth of military surplus shipped by the Pentagon to local law enforcement each year under the Defense Department's so-called 1033 program. Most of the surplus equipment is mundane — office furniture, uniforms, etc. But the most controversial 1033 shipments see vehicles and weapons used by the U.S. armed forces sent to local police. Coburn's bill would ban that practice while keeping the non-lethal surplus flowing.
Paul has been the loudest Republican critic of 1033 since the Ferguson protests last August. Scenes of heavily-armed police in military-style vehicles confronting protesters led him to pen an op-ed in Time that called for an end to militarized policing.
After Paul's op-ed, President Obama called for a interagency review of 1033, which so far has resulted in new training and data collection requirements for local police departments that receive combat equipment.
The White House has so far declined to weigh in on legislation like Coburn's while defending the Pentagon surplus program and federal grant programs that help police buy new military-style equipment.
After some hearings on Capitol Hill in the fall, the bipartisan push for changes to the programs collapsed under pressure from police groups and, aides on the Hill say, political pressure ahead of the 2014 midterms.