Rand Paul Is Hosting A Bipartisan Coffee Chat On The Capitol Steps Thursday
Here's the invitation. Update: Paul's office says he's not hoping for a solution to the shutdown, but a "ratcheting down" of rhetoric that's become "too personal." So far one Democrat has signed up. Update, Oct 8: Heinrich's office says the Democrat never planned to attend and didn't go.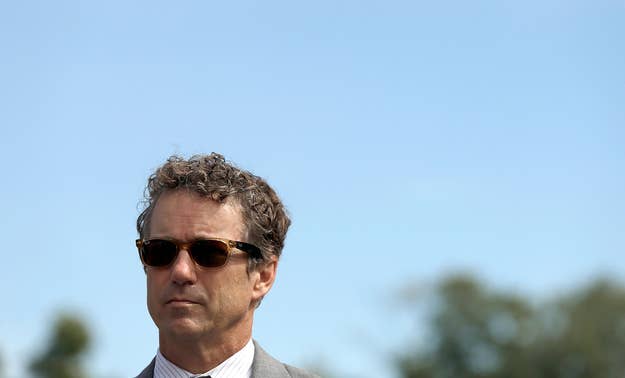 WASHINGTON — At one of the most politically divided moments in recent memory, Kentucky Sen. Rand Paul is asking his fellow senators to a "bipartisan coffee."
And he's hosting it right where cameras can find them, on the steps of the U.S. Capitol.
A top Paul aide told BuzzFeed that the coffee was not intended to be a photo-op, though he acknowledged the media will be able to mingle with the group at the Capitol steps location.
The aide also said the goal was not to negotiate an end to the shutdown.
"It's less about compromise and more about rhetoric," the aide said. Recent days have seen the rhetoric get "too personal," he said, and the coffee event is a chance for Senators to make some personal connections.
Paul fired off some incendiary rhetoric of his own Wednesday, suggesting President Obama cares more about keeping monuments in DC closed than he does about protecting the lives of American government employees in foreign lands.
"The president has assigned 7 security guards to guard the World War II monument. That's two more than he sent to Benghazi," Paul said. "We've got more people guarding the WWII monument than we had guarding the ambassador."
So is Paul partially responsible for the amped up rhetoric he's hoping to dissipate with his coffee event?
"Well, I guess. I mean, the parties are always going to be fighting, they're always going to be arguing and having debates, but I think what he wants to do is maybe ratchet down and have the members maybe actually get together and talk so it doesn't become personal," said the aide. "There's nothing wrong with members debating and arguing issues on the Senate floor, even in the media but they have to sit down, get along and have conversations as a means to just communicate and to make sure this doesn't devolve into personalities and personal attacks."
Republicans are praising Paul's bipartisan efforts, though early signs are there may not be many Democrats on hand Thursday to sip coffee with.
One Democratic Senate aide called the event a "a joke." But not all of the Senate's Democrats feel the same way. New Mexico Sen. Martin Heinrich RSVPd yes late Wednesday, according to Paul's office. So far he's the only one.
But the Paul aide said responses to the coffee event invite have been coming in slowly. "We've had a couple," the aide said, adding that they expect more to come in the morning.
BuzzFeed obtained a copy of the invite from a Democratic Senate office.
Update, Oct 8, 2013: Henrich's office says Paul's office had it wrong about the New Mexico Democrat.
"Senator Heinrich did not RSVP nor did he attend the event," Heinrich spokesperson Whitney Potter said in an email.