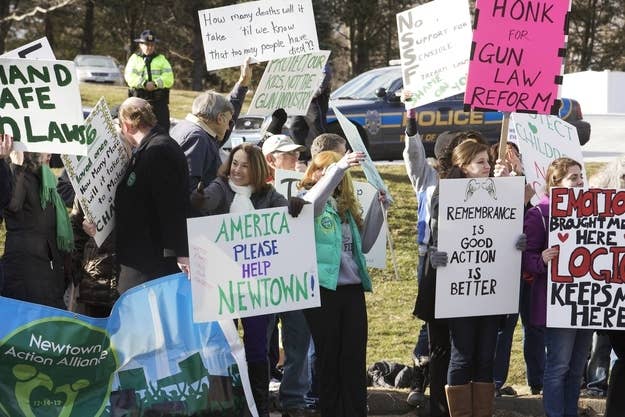 WASHINGTON — While the country turns its attention to the tragedy in Boston Monday, the push for gun control is grinding to a halt.
The deadly explosions that rocked Boston and shocked the nation are having a chilling effect on two big political pushes that were gaining momentum this week: immigration reform and gun control. Advocates involved in both debates are postponing events and scaling back after Boston.
Organizing For Action, the group formed from the remnants of President Obama's 2012 reelection campaign, announced Monday afternoon that it was postponing a scheduled "National Call Day on gun violence prevention" meant to urge Congress to get behind the gun control bill scheduled to hit the Senate floor this week. Prospects for the bill are extremely tenuous and Washington spent most of Monday before the Boston news broke counting Senate votes for and against. For now the debate pauses without any clear indication of the bill's chances.
Progressive groups and gun control advocates planned a downtown DC rally Tuesday focused on shaming the National Rifle Association over their opposition to the Senate gun control measure. The event was scheduled to feature a hearse and five child-size coffins that were to be delivered to the NRA's lobbyists at the end of the rally. Organizers postponed that event after the Boston attacks as well.
Meanwhile, sponsors of the highly-anticipated bipartisan immigration reform package in the Senate are also delaying the rollout of their bill scheduled for Tuesday due to the Boston attacks. Like gun control, immigration reform has been gathering momentum in recent weeks and this week was expected to be a big one for the debate. Boston has pushed that issue to the backburner as well.
Gun control advocates have not announced when they'll return to the public political stage after the Boston attacks. But they're not stepping away from the debate entirely: Mark Kelly, husband of former Arizona Rep. Gabrielle Giffords and the co-founder of a new pro-gun control super PAC, is scheduled to meet with reporters early Tuesday morning in Washington to discuss the next steps in the gun control push.