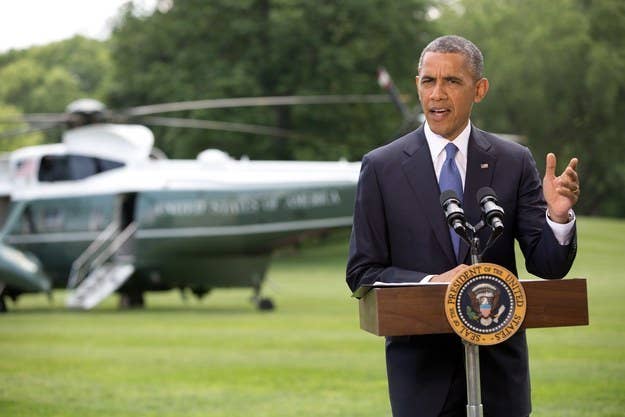 WASHINGTON — Progressive veterans of the last fight over U.S. military intervention in Iraq aren't waiting until President Obama decides what to do in Iraq this time around.
They've already begun laying the groundwork for a massive pushback on Obama should he decide to engage U.S. forces in the nation once again.
Obama has enjoyed a relatively good run with his progressive base since shifting away from trying to make deals with Republicans in Congress to his executive action-heavy "year of action." The traditional left has reveled as the White House has taken a hard line on climate change and backed away from plans to engage Republicans on entitlement benefit cuts. But now as a new — if limited — U.S. military entanglement in Iraq looms, Obama may be reigniting progressive frustration with his presidency.
Since Friday, thousands have added their names to two progressive petitions warning the president against military action in Iraq, one from San Francisco-based progressive group CREDO and the other hosted by MoveOn.org. Should Obama decide to go ahead with airstrikes in Iraq — he ruled out ground troops in a brief question-and-answer session with reporters at the White House Friday — progressive strategists told BuzzFeed Sunday the liberal grumbling could turn into an election year headache for the White House.
There are signs progressives are already feeling frustrated with the president.
"The whole thing feels way too predictable and depressing," said one big-name veteran of the progressive fight against the Iraq war in the early 2000s. "Pointing fingers and breaking countries and people die. Makes me want to puke. You?"
So far, the president has tried to walk a fine line on the sharply deteriorating situation in Iraq, where the extremist Islamist group ISIS has seized a contiguous region of the country in recent days. ISIS militants have claimed the mass executions of Iraqi military personnel and seized Iraqi military weaponry provided by the United States.
Obama has said any U.S. intervention in Iraq would be limited in scope and will only proceed with promises from the Iraqis that sectarian divisions within the current regime are under control.
To progressives, even a limited intervention in Iraq by Obama would be a betrayal of the base that helped get him to the White House six years ago.
Strong support from MoveOn in 2007 helped solidify Obama's position as the anti-Iraq war candidate. Now, with the potential for Obama-ordered American attacks on Iraqi targets, MoveOn is preparing to cast him as the latest architect of an American military quagmire in Iraq.
"The recent developments in Iraq are the tragic and predictable consequences of George W. Bush's reckless decision to invade in 2003, which destabilized the region and helped set the stage for Iraq's troubles today," MoveOn executive director Anna Galland said in a statement Friday. "The American people are sick and tired of more than a decade of war in the Middle East. President Obama should reject the use of military force in Iraq, including air strikes. We must not be dragged back into yet another war."
MoveOn is also calling on Capitol Hill to put a check on Obama by revoking the Iraq AUMF, "preventing any president from taking new military action without first getting explicit authorization from Congress," Galland said.
Leaders of CREDO, a group known for strong criticism of Obama over Keystone and other issues, are already equating Obama to his predecessor as U.S. military action in Iraq goes back on the table.
"If the president takes ownership of George W. Bush's disastrous decision to invade Iraq by launching a new round of bombing strikes, Iraq will become Barack Obama's war," reads the CREDO petition.
Asked if progressives were gearing up to go to war with Obama over Iraq, a senior official at another well-known progressive group said "that's fair."
A senior White House official referred to Obama's previous statements on potential action in Iraq when asked about the petitions and progressive complaints.
The nascent liberal campaign over new action in Iraq, with its foundations in the issue that united and inflamed progressives during the 2008 presidential, could have an impact in November, progressives say.
"I think it could have a big impact," said veteran progressive organizer Mike Lux. "Obama doesn't want to divide his party and piss off his base right before the mid-terms."