Police On The Hot Seat At First Meeting Of Obama's Policing Task Force
Marathon opening session of the President's task force on policing hosts skeptical law enforcement leaders. Signs of agreement around body cameras, expanded data collection on cops.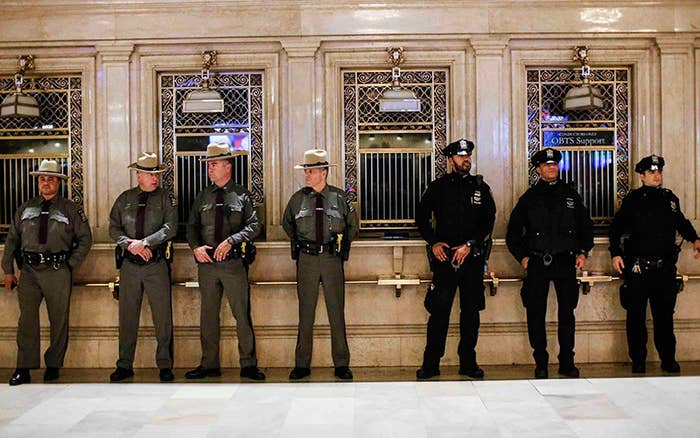 WASHINGTON — One question defined the eight-hour opening session of the President's Task Force on 21st Century Policing Tuesday, hosted Tuesday in a TV studio at the Newseum.
Crime is down, just about everywhere, but public perception of police has has remained steady for decades. White Americans are generally happy with policing, while nonwhite Americans are generally unhappy. Why?
Witnesses mostly said the answers focused on the police themselves. There was testimony from academics, civil liberties advocates, and police-protest leaders criticizing police training, tactics, and even the language police use when dealing with suspects. Bad language from police, Samuel Walker, a professor emeritus from the University of Nebraska, said, leads to a culture of invincibility among cops and anger among citizens who view the police as disrespectful.
Then, just before the lunch break, police leaders testified.
They were not ready to pin the blame on cops. Law enforcement leaders blamed budget cuts, political correctness, and the unintended consequences of laws passed to make law enforcement more effective for the problems plaguing community relations with the police that serve them. Leaders of the Fraternal Order of Police and International Association of Chiefs of Police bristled at what they saw as the suggestion that police are racist in the way they enforce the law.
Cops should face the same scrutiny as everyone else when it comes to fixing community relations, said Chuck Canterbury, FOP president.
"We all have the same responsibility towards society. I don't think a police officer should be held to any kind of a higher standard," he said in response to questions from task force members. "But we should take the lead and we should work with the communities to help build that trust."
In his opening statement, Canterbury lamented a "subculture" that he says "celebrates…resorting to violence and disrespect to police." The media has given a "shoulder shrug" to violence like the riots in Ferguson, Missouri, after a grand jury declined to indict Officer Darren Wilson. Police are "wary" of some interactions in the wake of the Brooklyn shooting of two police officers, he said, and that's why he's pushing for violence against police to be included in hate crimes statutes.
Richard Beary, president of the IACP, said "current smear campaigns aimed at law enforcement" had made policing dangerous in the current environment. He likened the attitude toward rank-and-file police officers to "the treatment of Vietnam vets coming home in the 1970s."
To men like Canterbury and Beary, policing is misunderstood and often mischaracterized. They blamed politicians for asking more and more of police while, they said, giving them fewer resources to do it with. Policing now, they said, includes social work, anti-terror work, and answering the call for drug overdoses and other calls that aren't public dangers. They said police hands had been tied by laws that prevented them from using their discretion in arrests in many cases, or for lawsuits and public sentiment that punishes police when they let someone go who later commits a high-profile crime. Racism is an accusation mostly without foundation that is thrown around a lot, Canterbury said.
"One of the worst things in a police department is you don't ever want to be accused of arresting somebody because of their race, which is an accusation that occurs a lot," he said.
Activists from the protest community seemed put off by the tone of the police leaders. "Three of you sounded extremely combative," Connie Rice, a task-force member and civil rights attorney from Los Angeles who helped lead LAPD community relations efforts in 2003.
Between panels, Carmen Perez executive director at the Gathering For Justice, a self-proclaimed "police reform" organization originally founded by Harry Belafonte, told BuzzFeed News the police leaders were "a little aggressive" in their public comments.
Not all police leaders addressing the panel or on the task force felt the same way. Andrew Peralta, a police lieutenant with the Las Vegas police department who also serves as president of the National Latino Peace Officers Association, agreed with the academics and activists calling for new training regimens and community outreach programs to bring police and communities together.
Police have generally favored the use of body cameras by officers on the beat, another area where they overlap with the activist community. Roberto Villasenor, chief of police in Tucson, Arizona and a task force member, also said he was "floored" by holes in police use of force data wasn't more available. Activists and academics addressing the panel uniformly called for better data collection by the federal government on local police forces.
The defensiveness by many police leaders in recent weeks has defined the push for changes in policing, with cops in New York City openly rejecting Democratic Mayor Bill de Blasio, who they see as an anti-police crusader. The White House policing panel, co-chaired by former Obama Department Of Justice Office Of Justice Programs director Laurie Robinson and Philadelphia Police Commissioner Charles Ramsey, is charged with bridging that gap and creating viable, tangible recommendations for improving police-community relations by March 2. There will be at least four more public meetings of the task force before it sets out to write the recommendations, which the co-chairs will deliver to Obama.
Philadelphia Mayor Michael Nutter testified before the task force Tuesday along with two other big city mayors who have faced the same kind of police-community divide on the local level that the task force is trying to fix across the country. In an interview after his testimony, he acknowledged that tensions among rank-and-file officers and activists are high, but he said there are national solutions to be found. They might take some time to go into effect however.
"It's clearly possible to recommend a change. Change is not going to happen in 90 days," Nutter said. "I think the president was smart, given the situation in the country right now, to not have a six-month, a nine-month a year-long process. Because that's just more frustration. Look, we know what a lot of these issues are all about. This is nowhere near rocket science. This is not even science. It's just common sense. So we know what the [issues] are. Put it together, get it out there, let the public know that we're really serious about it."