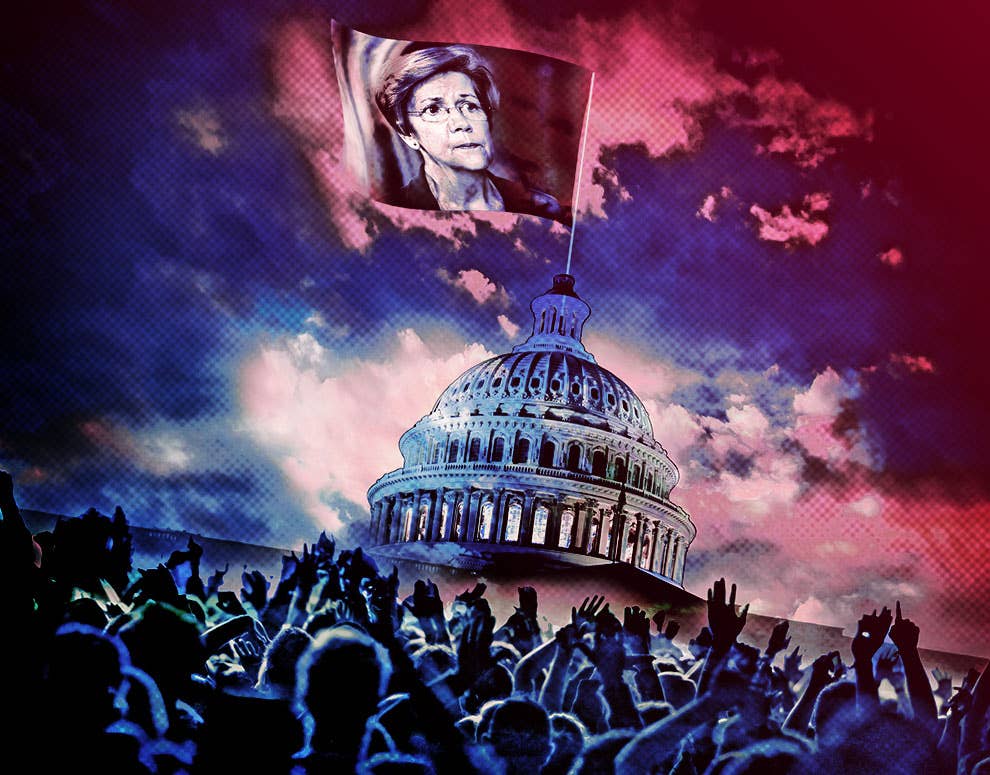 WASHINGTON — Last week was the biggest in the five-year history of the group formally known as the Progressive Change Campaign Committee — a week that saw the group catapulted to the homepage of The New York Times after a lefty-friendly battle with the remnants of Democratic centrism. But some Democrats here still hate them: The group is seen as an irritant and a drain, a parasite on liberal successes and a direct-marketing machine better at raising money than at changing policy or winning party-purifying primaries. Democratic political operatives regularly forward PCCC emails to reporters with asides like "LOL" and "ugh." Now, though, Washington is a town where purity rules and a sense of shame has little use. On the right, Heritage Action — once a digital mirror image of PCCC — just accomplished a transformation from ridiculed gadfly to a central cause of the shutdown of the American government. And PCCC's Democratic critics are increasingly loathe to discount the group's high-profile successes, even as they attack its methods. They say it's shameless. PCCC's co-founder and public face, Adam Green, is happy to take that on. Launched five years ago by Green and Stephanie Taylor, both former MoveOn staffers, the group has lofty ambitions. In 20 years, Green wants to put so-called "movement progressives" at the top of every major party and congressional committee — and, "yes, eventually," he says, he wants one in the White House too. The 37-year-old Green, bespectacled and intense, leaves himself a decade to accomplish that last one. The group's focus is largely on economic populism. PCCC hails Sen. Elizabeth Warren as its "North Star" and wants to remake the Democratic Party in her ideological image. The first-term Democratic senator from Massachusetts has become the mascot of PCCC — whether she likes it or not. There are many signs that she does. In the here and now, many operatives and lawmakers aren't exactly sure what to do with PCCC, or with Green. They scratch their heads at the group's political targets, question its aggressive fundraising tactics, laugh at what they see as a lousy win-loss record in Democratic primaries, and wonder whether PCCC's accomplishments on the ground will ever compare to the noise it makes in headlines. Take PCCC's headline-grabbing battle against the think tank Third Way last week — an operation with all the group's signature trimmings.
When Green saw PCCC's patron saint, Warren, assailed as "
disastrous
" by a moderate think tank in the pages of
The Wall Street Journal
last Monday night, he knew what had fallen into his lap. Within hours, he seized the opportunity — the kind he calls "a moment of accidental leverage." PCCC sent an email Tuesday to its nearly 1 million members demanding that Third Way, the veteran New Democrat organization with ties to Wall Street, disclose its corporate donors. The next step? The group turned its crosshairs on Rep. Allyson Schwartz, likely the Democratic Party's pick to become the next governor of Pennsylvania and, it so happens, an honorary co-chair of Third Way. "Allyson Schwartz group attacking Elizabeth Warren?" read the subject line of an email blast, fired off by Green on Wednesday. The message: "Can you call Allyson Schwartz today and tell her to drop her affiliation with Third Way immediately?" By Thursday, Schwartz had called the op-ed "outrageous" and distanced herself from the think tank. In an email to reporters, PCCC called the development "HUGE." The Schwartz fight proved the point that "punching hard and moving quick" can work as a strategy, Green said in an interview with BuzzFeed. Why Schwartz? She's "running in a progressive primary," providing PCCC with plenty of leverage. "There's a reason that she was chosen, and there's a reason she reacted so quickly," Green said. "She was the first domino to fall." The episode also captured why some Democrats view the progressive group with concern. Why go after Schwartz — a fairly progressive candidate, whose establishment support makes her Democrats' best shot at the Pennsylvania governor's mansion? Even PCCC's biggest ally wasn't thrilled. Team Warren expressed unease about the group's Schwartz attack to insiders who asked. The unease was mentioned in communications with PCCC too. Green wasn't surprised. "It would probably not be appropriate for any congressional office on the Democratic side to say they were happy about us pressuring Allyson Schwartz," Green told BuzzFeed. "With something like that, we don't ask permission. The Schwartz effort was the latest in a series of sharp-elbowed, unconventional tactics — owing as much to online direct sales practices as to politics — the group has tried out over the last few years. In 2011, if you didn't know how to spell "Stephen Colbert," the name of the Comedy Central television star, you ended up caught in Green's web. After Colbert launched a parody super PAC two years ago, Green bought four similar domain names that misspelled the comedian's name. (ColberSuperPAC.com, for example.) The four domains, whose registration was renewed this year, redirect to PCCC's site. The goal, Green said, was to give Colbert's progressive viewers a chance to donate to a real activist group.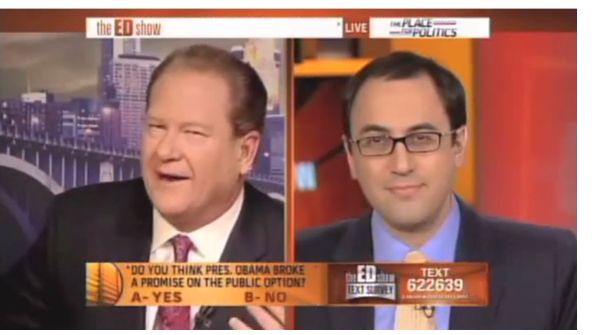 He conceived the idea during an "awesome late-night brainstorm," he said, explaining it was mostly supposed to be "kind of funny" and not a serious strategy. "It generated very few people." The fake Colbert sites caused some ire on the activist left. (Blogger Angry Black Lady called them "
dishonest
," for one.) Green dismissed the critics as "Obama-bots" angry over PCCC's campaigns against the current White House. He bought the URLs with his own money, not PCCC's, but acknowledged they linked back to his group's homepage. Butterfingered surfers are not the only unwitting internet users who could find themselves confronted with an offer to donate money to PCCC. Visitors to the group's "Draft Schweitzer" page, set up earlier this year to woo former Montana Gov. Brian Schweitzer into next year's Senate race, can still donate, despite Schweitzer's decision not to run more than five months ago. ("We were very much lining up Schweitzer to be the next Warren," Green said of the effort.) Fundraising sites for other former candidates on the progressive fundraising site, ActBlue, are also still active. Green said it's all part of how the internet works. "ActBlue pages don't go away. There are petitions from four years ago that are still on our homepage," he said. Since Schweitzer dropped out of the race in July, only 13 people have found the page and signed up to "volunteer," said Green. No one has donated. But next spring, after the filing deadline in the Montana Senate race passes, the money PCCC raised will be available for general use. "Right now it's just sitting in an escrow account waiting," said Green. "After [the deadline], then the money goes to us." This kind of stuff rankles many Democrats and progressives. But in the immediate aftermath of the Third Way battle, few were willing to speak ill of the group for attribution. "It's easy for Democrats to dismiss them, but look at what happened this week. It's now harder for anybody else to work with Third Way," said one Democratic strategist who has worked with PCCC before. "People said similar things about MoveOn.org for years, but you look at the longer game and they really did change the heart of the party." PCCC has expanded rapidly over the last two election cycles but is still a lean operation with about 20 staffers. Five are based in Washington, and the rest are scattered across the states, working remotely from places like New York, Minnesota, and Tennessee. The group keeps operating costs low while bundling relatively large sums of money online. Last year, PCCC raised $1 million for Warren's Senate bid, after helping draft her into the race in 2011. Though it often races to take credit for pushing primary candidates to the left, it's difficult to find an actual election in which its role has been decisive. "I don't know the real-world impact," said Michael Whitney, the U.S. email director at Change.org, a nonpartisan petition-based group and platform, "but they play this game well." Green says the strategy is working, and he shrugs off his critics. "Our goal is to build progressive power," he said, "and we think about things much more in terms of a 20-year plan than a two-year election cycle or a one-year legislative calendar." Green points to the 45 members of Congress, including Warren, he says he personally contacts by phone or email, as a measure of PCCC's growing influence. He described his organization's relationship with Warren as "seamless" and "extremely close" — a characterization the senator's staff did not dispute. When asked if he can pick up the phone and call Warren, Green said, "Yes. We interact with her quite often."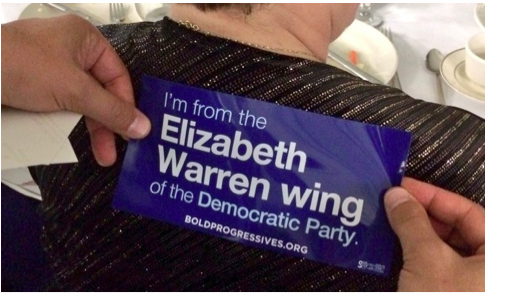 "We started out with zero, then probably had three our first year, and now we're up to 45," Green said of the members he can contact directly. "For us that's really power." The thought of Green commanding the attention of 45 members of Congress likely causes some Democratic strategists to break out in hives. Conversations with more than a dozen strategists over the past few weeks raised three core complaints about the group, each of which Green was happy — almost proud — to respond to. He takes negativity in stride, leaning into the critics and admitting a shameless, unapologetic campaign to shake up the Democratic Party. First off, observers say PCCC is unpredictable, jumping quickly at high-octane fights and launching unorthodox fundraising campaigns. "I'm not really clear on what they're trying to do," said one Democratic strategist who has faced them several times. More than one reporter's inbox lit up with snide quips when PCCC launched its "Edward Snowden Defense Fund." The campaign raised about $38,000, according to Green. He said the money went to a Washington-based law firm, Trout Cacheris, which represented the high-profile case of whistleblower John Kiriakou. Green has rebuffed critiques of the group's fundraising before. In an interview, he said he had successfully called off reporters from the Washington Post and Politico sniffing around PCCC's contributions to the Wisconsin recall fights of 2011. Skeptics alleged the organization raised a lot but spent a relatively small amount. Green said his critics are misreading the financial records and pointed to the two spiked stories as evidence he's on the right side of things. He bristled at questions about his group's legitimacy when it comes to fundraising. "We take integrity very seriously," said Green. Then there's the issue of self-promotion. Critics say PCCC's media strategy has made Green a sort of self-appointed spokesman for what the group calls the "Elizabeth Warren wing of the Democratic Party" — a slogan it recently printed on T-shirts and bumper stickers, now for sale online. When speculation over a possible Warren presidential bid dominated headlines, it was Green who appeared quoted in the much-discussed New Republic cover story, headlined "Hillary's Worst Nightmare," discussing how progressives view Hillary Clinton. And earlier this year, when PCCC led its Schweitzer draft campaign, it was Green who repeatedly pitched himself to MSNBC, saying that Schweitzer would soon announce his campaign, according to a producer at the network. Promotion? Of course, says Green. He is unabashed about courting press. "For us, the media is a key part of our model," he said. He is quick to stress, though, that he and his co-founder Taylor are equal partners in the organization at every level. "I tend to be more of the public face," he added. (The late tech visionary Aaron Swartz was also involved with the group.) Green said he was gratified when PCCC was recently described to him in conversation as "the most progressive group out there that's taken seriously in the media," which depends a bit on which reporter you talk to. Operatives who have worked with PCCC say Green excels more at "proxy wars" than electoral politics — in recognizing opportunities and seizing them — with several Democrats pointing to the Third Way dust-up as a prime example. "This is where PCCC excels: seizing moments that can get them placed highly in stories in TPM, Roll Call, Politico, and others to demonstrate their reach, the voice of their members, and show up in Beltway publications," said Whitney. And that leads to the core criticism of the group: that PCCC cares less about winning races than advancing the progressive mantle and its own identity, in whatever way possible. Whitney praised PCCC's ability to "hold the left flank" but hasn't been impressed with its record on the ground. "Their success with political campaigns has been elusive. If they really want to put themselves alongside the DCCC and DSCC in terms of candidate impact, they have a long way to go."
Its primary record isn't great — a fact Green readily acknowledges. He said that a "key part" of his group's model is getting "involved very early." But last year, PCCC endorsed just five candidates in congressional primaries. Four lost. Only one, Ann McLane Kuster of New Hampshire's 2nd District, became the Democratic nominee. (Warren was the only candidate PCCC backed in a Senate primary. In the general election, the group endorsed many more candidates: 30 federal, state, and local-level Democrats it backed ended up winning last November.) "Look, we've won some primaries and we've lost some primaries," Green said of his group's electoral record. He argued that PCCC has pushed the conversation to the left in every race it's played in: winning by not winning. "When we enter a primary, every candidate competes to be the most progressive in the race," Green said. "Our opponents are putting the word 'progressive' on all their literature." "For us, we care about the issues first," said Green. "Elections are just a means to that end — but they're a really important means." Progressives on Capitol Hill generally praise PCCC, even as they keep their distance from some of the group's methods. "Substantively we tend to agree, and even on tactics we tend to agree a lot, but there are times when I wouldn't have done something one way," said Rep. Keith Ellison, a Democrat from Minnesota and co-chair of the House Progressive Caucus. "I still support them, because we are better off with them than not." But there are also signs that PCCC doesn't always have the reach into progressive politics it advertises. Rep. Peter Welch, a progressive from Vermont, said he wasn't very familiar with PCCC but what he has seen gives him pause. "Ideological rigidness is generally counterproductive," Welch said. "Progressives have clear goals about how to create broader opportunity and equal rights, but the methods by which we get from here to there have to be determined under certain circumstances. What can we achieve today?" Last week's battle with Third Way splashed PCCC into the headlines and earned the group some respect from even critical observers. Still, the overall plan, so clear in Green's head, eludes many of the people who watch him work. But that doesn't mean they're not impressed. Josh Orton, the political and communications director for Progressives United, a group that has worked with PCCC, described Green's approach as "very aggressive" for good reason. "Sometimes PCCC can act like a bull in a china shop," Orton said. "And in the end, that's often what the Democratic Party needs." Additional reporting by Kate Nocera. UPDATE (Dec. 12, 2:56 p.m.): Green said PCCC operates "much more in terms of a 20-year plan than a two-year election cycle or a one-year legislative calendar." An earlier version of this article condensed that statement. Additionally, when asked if Green can pick up the phone and call Warren, Green said, "Yes. We interact with her quite often." An earlier version of this article described the communications between Green and Warren in different terms.